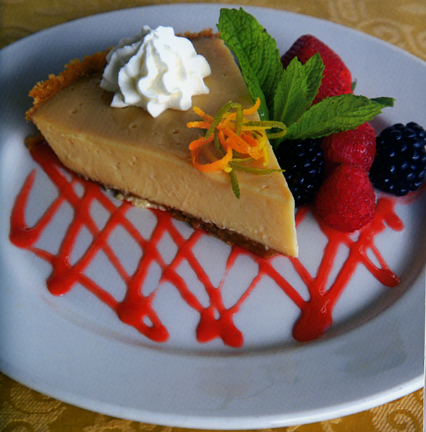 Three Citrus Pie, from Sevy's, sounds safe and easy to make.
Dallas Classic Desserts: Recipes from Favorite Restaurants
Helen Thompson
Pelican Publishing Company
$15.95
96 pps.
A D V E R T I S E M E N T
A D V E R T I S E M E N T
Powder Kegs
Make your own Dallas Desserts at home — carefully.
By MARGARET ALLYSON
Amon Carter would approve: Make classic Dallas desserts right here in Cowtown. It's possible with the new cookbook by Helen Thompson, Dallas Classic Desserts: Recipes from Favorite Restaurants.
The concept is clever: signature recipes from iconic Big D eateries, from Abacus to the Zodiac Room.
The six chapters cover cakes and soufflés, pies and tarts, puddings and custards, cobblers and crisps, cookies and candies, and ice cream. The dishes range from Grandma's kitchen (Dean Fearing's apple fritters and Peggy Sue BBQ's fried apricot pies) to the exotic (David Bull's pomegranate panna cotta with red wine gelée). Many of the recipes are dangerous, whether in the long run (now add 2 cups unsalted butter) or immediately (as in the case of the one that directs the cook to boil an unopened can of Eagle brand condensed milk for two hours, with cautions that end with "or it may explode"). We think we'll skip that one.
On the realistic side, though, is Kitchen 1924's coconut cream pie, with a thin layer of white chocolate between the custard and pie shell. Kenichi's Asian pear bread pudding's also tempting — well, there's the four cups of heavy cream. Let's just admit that these are not everyday desserts and move along.
Each recipe warrants a full two-page spread, with a brief account of the restaurant and chef, comprehensive directions (and some warnings), and just-this-side-of-pornographic photographs by Robert M. Peacock. Most restaurants featured are also photographed, whether inside or out, although this isn't true for all of them. We're guessing that these are expensive places to dine, making the book even more of a bargain. Not only do you not have to drive to Dallas, but you also don't have to pay the bill and leave a tip. See how easy it is to rationalize eating dessert? And make it seem virtuous almost?
The foreword is by Texas Monthly's Patricia Sharpe and includes a tribute to Helen Corbitt, whose signature creation was baked Alaska served in a clay flowerpot. Sounds wacky now, but as Sharpe reminds us "What Julia Child did for America, Helen Corbitt did for Dallas, and she started half a decade before."
Our palates are far more sophisticated than were those of the ladies who lunched at Neiman's back in the day, so we're willing to consider what seem like incongruous combinations at first glance: red grapefruit cake, chocolate cake with stout. Brownies generously laced with Wild Turkey and espresso sound downright dreamy. And for the still innocent among us, there's even a recipe that calls for Moon Pies and a package of pudding.
Just no explosions, please. We're not that adventurous.