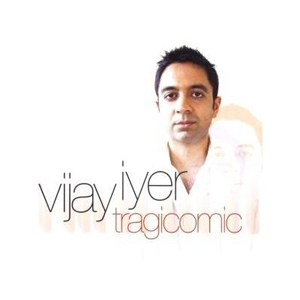 A D V E R T I S E M E N T
A D V E R T I S E M E N T
Vijay Iyer & Fieldwork
By Ken Shimamoto
Vijay Iyer
Tragicomic
(Sunnyside Records)

Fieldwork
Door
(Pi Recordings)

The hype surrounding jazz pianist Vijay Iyer is frighteningly reminiscent of the ocean of ink that greeted the arrival of trumpeter Wynton Marsalis and the "young lions" back in the '80s. But Iyer delivers the goods. The son of Indian immigrants and a holder of two doctoral degrees, he's a largely self-taught musician who apprenticed under creative leaders like Steve Coleman and Roscoe Mitchell. His playing encompasses the quirky dissonance of Thelonious Monk, the spiky impressionism of Andrew Hill, and the force-of-nature flow of Cecil Taylor. His composition technique incorporates the influence of those illustrious forebears as well as his own South Indian heritage and contemporary urban sounds. (He's collaborated with hip-hop/spoken word artist Mike Ladd.) Two relatively recent albums illustrate the scope and depth of Iyer's artistry.
Tragicomic is the latest offering from Iyer's quartet that includes alto saxophonist Rudresh Mahanthappa, a leader in his own right — the two also have dueted on 2006's Raw Materials. "The Weight of Things" manages to invoke both the semi-classical Carnatic sound of India and the spirituality of late-period Coltrane. On "Macaca Please" and "Machine Days," Iyer essays knotty melodic lines, then he and Mahanthappa drive each other to ever more turbulent emotional exchanges. Lest you think he's a one-trick pony, Iyer applies a sparse approach and ruminative swing to the standard "I'm All Smiles," an ironic choice, perhaps — he covered John Lennon's "Imagine" on his 2003 meditation on 9/11, Blood Sutra. He's even more somber on the appropriately named "Threnody." Teenage trap-kicker Marcus Gilmore is a polyrhythmic powerhouse who floats with the grace of his grandfather, the venerable bebopper Roy Haynes, and lends an electronica-like pulse to Bud Powell's "Coming Up," over which Iyer flows like a rushing river.
Door is the third release by the cooperative trio Fieldwork, a group that boasts unusual instrumentation (piano, alto sax, and drums) as well as players, including Iyer, who all contribute strong compositional input. The big news here is Tyshawn Sorey, who previously drummed on Blood Sutra. Sorey comes as close to dominating the proceedings here as Tony Williams did on Eric Dolphy's Out To Lunch and Miles Davis' Filles de Kilimanjaro, whether Sorey's working complex subdivisions of time or building to explosive crescendos. Alto saxophonist Steve Lehman is from the same cerebral school as Chicagoans Mitchell and Anthony Braxton, although he's also capable of releasing cathartic blasts of pure kinetic energy (as he does on "Pivot Point"). Iyer creates an ever-shifting harmonic framework for his bandmates to extemporize over. Bold and bracing, Fieldwork shows that there's still uncharted territory left for improvising musicians to explore.