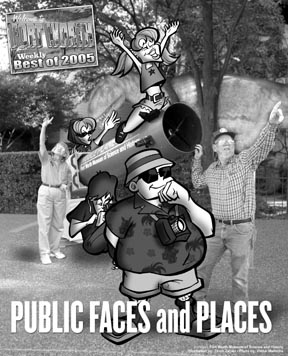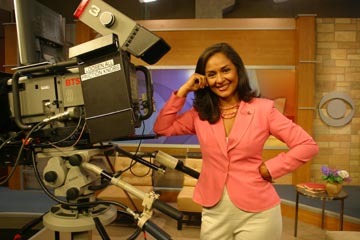 Maria Arita mixes news and movies on her resume.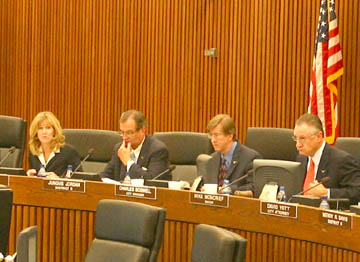 Moncrief and the Picht-less council: makeover candidate, grandma-seller, or public\r\npurse guardian?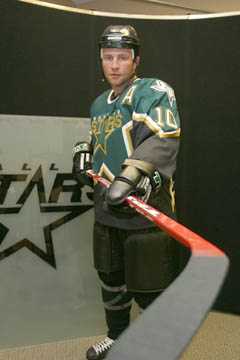 Dallas Stars left-winger Brendan Morrow and his teammates are back – and they're a bargain!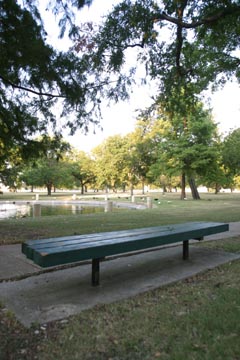 A place to nap, perchance to dream, in Trinity Park.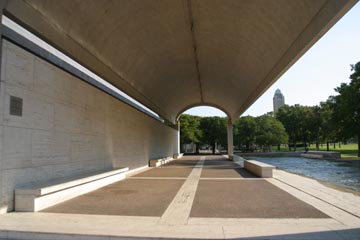 Why yes, dahlink, Mummy has a Monet. Doesn't yours?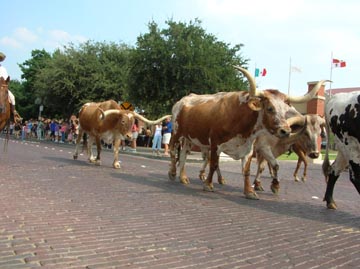 You easterners watch those moo muffins.
A D V E R T I S E M E N T
A D V E R T I S E M E N T
Public Faces and Places
TV News Reporter
Readers' choice: Jane McGarry, KXAS/NBC Channel 5
Staff choice: Maria Arita, KTVT/Channel 11
Most – though not all news folks are interchangeable, Teleprompter-reading, head-cocking-for-emphasis, self-important bores. The ones who stand out are either a.) the most annoying (Baron James' cadaver-like makeup, Mike Snyder's intense weirdness, the fingernail-on-chalkboard persona of Becky Oliver) or b.) the most fetching and intelligent. And that leads us to Arita, who joined Channel 11 in December 2003 and gave testosterone-deluged Metroplexians an early Christmas present. Juggling acting with news reporting, Arita has been in films (Universal Soldier: The Return, Hexed) and tv (Dallas, Serving Sara, Wishbone). Her best performance, however, might have been at the 2004 Katie Awards, where D Magazine's online blog, FrontBurner, lauded her "black, oh-so-sheer, see-through pants showing a whole [new] side to the anchor/reporter as she made the stage walk."
Weathercaster
Readers' choice: Troy Dungan, WFAA/Channel 8
Staff choice: Steve McCauley, WFAA/Channel 8
OK, we understand that every tv weather forecast is about the same. How can you make five days in a row of high 97/low 71 interesting? What are you supposed to rate these people on — best smile? Most precise pointing to the map? We decided to go for the unique. WFAA's Steve McCauley, the back-up boy for Troy Dungan, seems to be obsessed with something called the "Mexican plume." From what we can tell, the plume is either hot air or smoke from burning bushes, but it comes up into North Texas and does something to our weather. We're not sure what. But McCauley seems to think this is really important. So fire up that "Mexican plume," Steve, and we'll do the same at home while watching.
Sportscaster
Readers' choice: (tie) Dale Hansen, WFAA/Channel 8; and Newy Scruggs, KXAS/NBC Channel 5
Staff choice: Babe Laufenberg, KTVT/Channel 11
Getting ex-jocks to report sports is usually a bad idea, 'cause too often that turns out to be a cliché-spouting homer who is mostly eye candy. But former Dallas Cowboy quarterback Babe Laufenberg has established himself as a guy who knows his stuff and pulls no punches. He jumped all over Rangers pitcher Kenny Rogers when he went ape-shit on the cameramen. He pushes coach Bill Parcells during the Cowboys' press conferences. And he appears to be smart enough to diagram a sentence. Very rare for an ex-jock, sports media type.
Hottest Local Celebrity (Male)
Readers' choice: Russ Martin, KLLI/105.3-FM
Staff choice: Fort Worth Police Department spokesman Lt. Dean Sullivan
The word "celebrity" is used loosely here, although surely periodic face-time on local tv news broadcasts counts. We've been noticing Lt. Sullivan for a while now. It's hard to miss that silvery salt-n-pepper hair, those earnest gentle eyes, the noble aquiline nose, and the perilously steep sweep of his cheekbones. But it took the recent city hall shooting scare, with Lt. Sullivan holding forth stoically amid the chaos, for the impact of his hotness to hit home. Hey, lieutenant — do those handcuffs work? (Woof!)
Hottest Local Celebrity (Female)
Readers' choice: Kelly Clarkson
Staff choice: Miss Fort Worth, Morgan Matlock
It's been longer than a Tyra Banks hamstring since a Miss Fort Worth has donned the Miss Texas crown. (Does anyone remember Molly Grubb winning the title in 1967? Does anyone care?) It's a sin that Fort Worth, home of some of the state's most babe-alicious women, was snubbed for nigh on 40 years, until Matlock came along. The blonde-haired, blue-eyed beauty is a senior psychology major at Dallas Baptist University, and you know what they say about hot psych majors. Actually, we don't know what they say about hot psych majors, but Matlock can explore the recesses of our psyches anytime.
TV Pitchman
Staff choice: Rick Stacy of Stacy's Furniture
There's something oddly calming about furniture store patriarch Rick Stacy, whose perpetually jolly bass tones and mischievous crooked smile suggest a man who's on permanent vacation. In fact, it's hard for us to picture his younger self burning the candle at both ends to build his empire of affordable canopy beds and office desks. When we close our eyes and picture him, he's in tropical duds — floppy sun hat, Hawaiian shirt, shorts, black socks pulled mid-calf, and a frosty mojito in one hand. Who wouldn't wanna buy a swivel chair from this dude?
Print News Reporter (Not at Fort Worth Weekly)
Readers' choice: Mitch Schnurman, Fort Worth Star-Telegram
Staff choice: David Casstevens, Fort Worth Star-Telegram
Looks like Tim Madigan has some competition as the paper's best writer these days. Casstevens got off to a slow start after leaving The Dallas Morning News and moving to the Star-Telegram several years ago. His early articles seemed tentative, even lackadaisical. Then in 2002 he pissed off some folks by writing a disparaging article about turkeys.(Who knew turkeys had such an extensive support network?) But Casstevens eventually got his feet under him and started turning out some gems. Whether handling a serious topic (mangled soldiers returning from Iraq), a light feature (selling BioWillie at Carl's Corner), or one of his many sports stories, Casstevens is becoming the local daily's most articulate voice.
Columnist
Readers' choice: Bob Ray Sanders, Fort Worth Star-Telegram
Staff choice: Richard Gonzales, Fort Worth Star-Telegram
"If su voto es su voz (your vote is your voice), then Latinos are uncharacteristically quiet." "Latino presence in this country continues to grow, but you couldn't tell it from the near invisible tv news air time." And so go the powerful themes of this fine writer whose persuasive calls for equality for browns in education, jobs, and visibility, have for the past four years regularly graced the pages of the S-T's Sunday Weekly Review section. Gonzales' most valuable contribution, however, may not be as a voice for Texas' rapidly growing Latino communities but rather as an educator of Anglos, as he weaves into his columns the rich history, literature, food, and voices of Latino culture that have shaped Texas.
News Station
Readers' choice: KDFW/Channel 4
Staff choice:KRLD/1080-AM News Radio
Right-wing bloviators like the nationally syndicated Mike Gallagher on KRLD have not fared well during George W. Bush's two administrations, mostly because Dubya has managed to shit on true conservative principles almost as often as on liberal ones. You can hear the strain in the voices of Gallagher et al., trying to defend Junior on the Iraq war, stem cell research, the Terri Schiavo case, and numerous other follies. So folks who've dismissed KRLD as just another reactionary boneyard are always surprised to hear the depth, detail, and utter dedication with which KRLD's "Afternoon News" (weekdays, 3-7 p.m.) presents local news, especially the business beat with the irreverent David Johnson. Area conflicts and crises are treated as seriously as on network national broadcasts.
Elected Official
Readers' choice: Mike Moncrief
Staff choice: Clyde Picht
Since this is a "best of" for the whole year, we'll go back a bit. Clyde Picht didn't run for re-election to the Fort Worth City Council last spring. But during his long council career, Picht was about the only one in city hall who stood up against all the massive tax breaks being handed out like candy to the rich. Picht could see all the problems with tax-increment-financing (e.g., Cabela's) and has always been consistent. Don't expect him to be on the sidelines for long — he's taken the first steps to run for a spot on the board of Tarrant Regional Water District, which will oversee the biggest potential tax-grab of our time: the Trinity River Vision project.
Candidate for Alien Abduction
Readers' choice: Laura Miller
Staff choice: "Smokey Joe" Barton
Big industry would be hard-pressed to find a better friend in Washington than Joe Barton. The Ellis County congressman continued to make headlines this year. Betty Brink's "Ill Wind" story in this paper documented how tons of air pollution in Fort Worth comes from smog-belching cement plans in Ellis that Barton protects from regulation. This cloud of doom afflicts thousands of Tarrant County residents with respiratory diseases. As if that weren't bad enough, Barton's stance on global warming (that it hasn't been proved) led a Republican colleague, Rep. Sherwood Boehlert of New York, to say that Barton's approach of demanding extensive records on scientific groups' research and funding "breaks with precedent and raises the specter of politicians opening investigations against any scientist who reaches a conclusion that makes the political elite uncomfortable." Been hacking up a lung lately? Maybe the aliens can probe Barton's mind to see what he's really thinking.
Politician Most Likely to Sell Grandma to Highest Bidder
Readers' choice: Laura Miller
Staff choice: Mike Moncrief
Fort Worth's mayor, once touted by this paper as a "rich kid with a conscience," seems to have left his scruples at the Capitol when he exchanged the hallowed halls of the state senate for the messy corridors of city hall. Now he's just another "rich kid." Too bad. Moncrief found the cojones in Austin to fight for the right causes: poor kids with no health care, women stalked by sickos, blue-collar homeowners ripped off by contract-for-deed scams, and even mentally retarded murderers on death row. But once he got the job as Cowtown's herd boss, he sold out the powerless for the powerful without so much as a "so long, it's been good to know ya." Now he carries water for multi-billion-dollar corporations in a bucket marked "tax breaks." Rehydrate Poly? Fuggetaboutit. Cabela's and Ross, Jr. have sucked the well dry.
Person Who Should Have Run for Public Office But Didn't
Staff choice: Allan Saxe
UT-Arlington political science professor Allan Saxe has taught at the school since 1965 and has given away tons of money in charitable contributions. But maybe it's time that Saxe take his good works into the political world. He knows Arlington politics better than anyone (even wrote a book about it) and has grown over the years into a guy who blends liberal doctrine with conservative practicality. Arlington needs someone with enough vision to guide the city into new economic development, while keeping the less fortunate on the radar. Saxe is a person who could do that as Arlington mayor.
Subject for Cryogenic Preservation
Staff choice: George W. Bush
This choice may be too easy, but then his approval ratings are already in the deep freeze. If the president were to be put there himself, would anyone be able to tell the difference at this point? How else do you explain his refusal to accept Donald Rumsfeld's two offers of resignation or "You've done a great job, Brownie!"? It all goes to show what we've always known: Once you're the president's guy, you're safe no matter how badly you screw up, whether you're Karl Rove or Rafael Palmeiro. Thank goodness we're only stuck with this sclerotic White House for three more years.
Candidate for Queer Eye/Straight Guy Makeover
Readers' choice: Mike Moncrief
Staff choice: Mark Cuban
Quite a few candidates come to mind in this category. But from where we sit, Dallas Mavericks owner Mark Cuban may be in the worst need of a makeover. The hair thing is like Moe Howard from The Three Stooges — but on acid. He's always wearing bad t-shirts or those crazy football jerseys with basketball names on them. Crummy jeans round it all out. After the Queer Eye guys re-do the hair, maybe they could talk him out of that obnoxious laugh.
Old Guy
Staff choice: Patrick Cranshaw
He's a character actor who has made it in Hollywood yet still keeps a home here in Fort Worth. Patrick Cranshaw, 86, is most famous for his role as Joseph "Blue" Palasky, the ancient pledge from the beer-bong comedy hit Old School, but he's made more than 50 films in his career and had recent roles on tv series like 7th Heaven and ER. He's no doubt tired of all the "you're my boy, Blue" references, but this old guy just keeps going.
Old Gal
Readers' choice: Ann Richards
Staff choice: Etta Hulme
One of the few females in the profession, Fort Worth Star-Telegram senior editorial cartoonist Etta Hulme is as steady and true as she was 51 years ago when her first editorial cartoon appeared in the Texas Observer. Since then, she's used her sharp-pointed, satirical pen to disrobe emperors from Dwight Eisenhower to George W., show the futility of wars from Vietnam to Iraq, and make us look at the faces of famine from Tibet to Darfur. Hulme is simply one of the best of a vanishing breed: a gutsy old gal who made it to the top in a man's world when the odds were against her. She kept her bearings and her sense of humor.
Free Spirit
Readers' choice: Nancy Lamb
Staff choice: Terry Chandler
Terry Chandler is a chef, but he is more than that. The guy who runs Fred's Café, that weird uncle of a bar/restaurant, has turned the club into a place that serves gourmet food and great burgers — and that's only the start. He has brought out bluegrass and jazz bands and western movies nights, complemented with fishbowls of beer. Chandler's cowboy hat covers braided long hair and political conservatism (but he's more libertarian); he loves hunting and chuckwagon cooking and dropping fake mice on his customers. In this era of chain restaurants and condos, Cowtown could end up like any place else. Chandler helps keep that from happening.
Non-Traditional Cowboy
Readers' choice: Kinky Friedman
Staff choice: Kinky Friedman
And not just because he's a self-proclaimed Jewboy. There's a feeling of excitement about politics in Texas that has been missing for a long time, with the distinct feeling that 2006 could be Kinky's year. Amidst bitter infighting between Rick Perry and Comptroller Carole Keeton Strayhorn, and considering the stupefying incompetence of state lawmakers in failing to come up with a plan to fund schools, there's the real possibility that we could see a refreshing face in Texas' driver's seat. And unlike the Governator in California, Friedman has actual ideas about how to lead the state. There are few things more inspiring than a cowboy who takes a stand. A tip of our hat to the Kinkster.
Underrated Pro Athlete
Readers' choice: Michael Young, Texas Rangers
Staff choice: Peerless Price, Dallas Cowboys
Let's get this straight: He sucked when he was with the Falcons. His struggles there, though, can be partly attributed to Michael Vick's erratic arm. He also couldn't cope with the expectations of being the team's No. 1 receiver. He won't have that burden here, and he can still provide a deep threat that no one else can. If the Cowboys' O-line can protect his old Buffalo teammate Drew Bledsoe, look for Peerless Price to again start looking like some of his priceless peers.
Pro Athlete (Almost) Worth Their Salary
Readers' choice: Michael Young
Staff choice: Eddie Johnson, FC Dallas
The North Texas soccer team's biggest offensive weapon may be a star in next year's World Cup, and he plies his trade at Pizza Hut Park in Frisco, though a recent injury means you'll have to wait until next season to see him. The 5' 11" striker has already caught the eye of the U.S. national team, netting an incredible eight goals in eight games this past summer for Team USA and propelling the team to an early qualification for the 2006 tournament in Germany. His salary is in the high six figures, nice scratch by Major League Soccer's standards but peanuts compared to the millions that the big European clubs routinely throw at players like him. Expect one of those teams to do just that if he can show his scoring touch on the world's biggest stage.
Waste of Taxpayer Money
Readers' choice: Laura Miller
Staff choice: The (empty) Rail Market, 1401 Jones St, FW
More than $2.3 million in tax dollars was spent in 2002 to refurbish the old Santa Fe warehouse in a scheme that council members promised would revitalize the southern end of downtown by marrying a farmer's market with an eclectic array of restaurants and yuppie shops. But with nothing nearby to draw either foot or auto traffic, retailers came and went faster than racers circling the NASCAR track. Today the historic building sits empty. The only person to profit seems to have been Taylor Gandy, who leased the old depot to the Downtown Tax Increment Financing District for $200,000 a year, a sum he will receive until 2014 whether the old warehouse ever sees another tenant or not.
Use of Taxpayer Money
Readers' choice: Trinity River Vision project
Staff choice: Fort Worth City Council (sort of)
Jerry Jones and every billion-dollar company around have seen the inside of taxpayer wallets recently. One of the few times the big guys got turned down was when the Texas Motor Speedway wanted $500,000 a year from Fort Worth to do advertising and marketing. But for some reason, Fort Worth City Council and the TMS couldn't agree. So the deal was shelved. Maybe we could call it the best retention of taxpayer money.
Media Overkill
Readers' choice: Kenny Rogers blow-up
Staff choice: Tom Cruise loses his mind
This story narrowly beats out Brad and Angelina, Brad and Jennifer, Ben and Jennifer (redux), Michael Jackson's trial (redux), and everything involving Paris Hilton and Lindsay Lohan. The media coverage generated by Tom jumping up and down on Oprah's couch was compelling in a perverse sort of way but totally out of proportion to what happened, especially with a White House continuing to bungle a war in Iraq and Karl Rove getting a free pass. Fortunately, our nation's press corps finally proved itself useful with coverage of the botched relief efforts in the Gulf Coast. If they'd only devote this type of energy to stories that weren't national calamities, the reading, viewing, and netsurfing public would be better off.
Political Decision
Staff choice: Local government help to Hurricane Katrina victims
Most people think of political decisions as only being those that deal with tax rates or garbage collection. But Fort Worth and Tarrant County made some key political decisions in dealing with the evacuees from Hurricane Katrina. Some cities said they would take a few, but Fort Worth opened up the doors. Mayor Mike Moncrief greeted many of the 4,000 refugees and told them the city would help them get back to New Orleans or get them started with a new life here. This was a combination of good charity and political backing. The city and county stood up when they were needed.
Example of Political Forward Thinking
Staff choice: Bedford's library angel
It seemed like a scene out of The Simpsons, as angry Bedford residents demanded relief in March from oppressive property taxes, to the tune of 0.95 percent. With more than 10 percent of the city's budget slashed practically overnight, Bedfordites found themselves waking up to life without a library or many other city services. If residents missed their Jazzercise classes, at least there was the comfort of knowing that a refund check was in the mail that would, on average, make them $100 richer (refund checks, by the way, that cost the city some $16,500 to mail). An anonymous donor saved the day at the last minute with a $300,000 check that has kept the library on life support, but all this property tax-relief hoopla, sadly, is probably more incentive for Austin to screw up the state budget and underfund schools.
Example of Political Strategy
Staff choice: Sal Espino's city council campaign
Fort Worth hasn't had a Latino council member for more than a decade, but Sal Espino changed that when he won Jim Lane's old Northside seat this spring. Espino played it right. When he ran once before (and lost), he played up the Hispanic notion to all the audiences. Spoke Spanish a lot. It didn't work very well in the Anglo community. Espino was practical this time. He emphasized Lane's endorsement with the white part of the district and used his Hispanic heritage to get the Latino vote out. This strategy may not have thrilled the Hispanic community leaders, but Espino knew what he needed to do to win. Which he did easily.
Thing Tarrant County Needs
Readers' choice: Mass transit
Staff choice: Mass transit
With gas prices shooting through the roof, public transportation in Tarrant County needs a big shot in the arm. Those mid-cities and western Tarrant County suburbs need to get on board and pony up the sales tax dollars to bring public transit in this region at least into the 20th, if not the 21st century. Rail lines that get people through town quickly could be important. But more than anything else, the system needs an overhaul so that it doesn't focus just on the poor. People will get out of their cars if the T can get them to work or wherever efficiently, quickly, and late at night as well as during the daytime. Right now, none of this stuff exists.
Thing to Happen Locally in the Last 12 Months
Readers' choice: Montgomery Plaza
Staff choice: Kinky Friedman's run for governor
Hey, other states have elected the likes of Jesse Ventura and Ah-nuld. The lead singer of The Texas Jewboys would be a cooler celebrity choice than either of those guys. He'd give funnier speeches, and he couldn't do much worse as an administrator. Seriously, the fact that his candidacy hasn't lost any freshness as a joke just shows up how fed up Texas voters are with politics as usual. Maybe that'll make some of the real pols in Austin and here take a hard look at how they do business.
Example of Neglect
Readers' choice: Our streets
Staff choice: Vaughn Boulevard, FW
Once upon a time the street that knit the then-rock-solid middle-class Polytechnic neighborhood together was home to a vibrant array of small businesses, cafés, and parks. But Vaughn Boulevard and the community it once supported have been turning into something akin to a Third World country for a couple of decades now with nary a blink from city hall. Along its 20 winding blocks, no fewer than 20 crumbling, boarded-up buildings sit amid garbage-strewn empty lots with Johnson grass growing high enough to hide bad guys but not the blight. Now added to its decay are the acres of empty buildings that once housed the city's lost children — the recently closed Masonic Home. But hey, only druggies, drunks, and a few thousand raggedy-ass kids and their poor families struggling to make ends meet hang out in the old neighborhood anymore. Who gives a damn?
FOI Agency
Staff choice: Tarrant County
From the women in the county elections office who cheerfully haul out the campaign finance records of the elected and the wannabes — and then say "no charge" for copies if you are a reporter — to the clerks in the musty, windowless rooms where thousands of court documents are stored to the offices of the men and women who run the business of the commissioners court, a citizen can get just about anything he or she wants without filing a request under the Texas Open Records Act. But when that is necessary, the county's PR guy, Marc Flake, or the D.A.'s open records guru, Ashley Fourt, respond speedily. The old courthouse on the square seems to still understand that it and all of its innards belong to the people. What a concept.
View of Downtown
Readers' choice: Trinity Park, off University Drive north of I-30, FW
Staff choice: Corner of 6th and Commerce streets, FW
This might apply only to people who have had at least one bad acid trip, but here goes: Get in your car and drive west on 6th Street through Sundance Square. As you pass through the Commerce Street intersection, look to your left at the building on the southwest corner. The angle of the mirrored building exterior creates an optical illusion — it appears that you're about to be broadsided by a speeding vehicle! Only at the last second do you realize it's just a reflection of your own vehicle. That's wack, dude.
Home for the Homeless
Staff choice: Will Rogers Coliseum Exhibition Hall, 3401 W Lancaster Av, FW
Until Katrina wiped out America's Paris ("The last time I saw New Orleans / Her heart was young and gay"), the Union Gospel Mission or the Salvation Army would have likely gotten the nod for this category. But now, with upwards of 4,000 of our neighbors from the decimated Gulf Coast coming to stay a spell, the largest of the shelters that had to be set up in a hurry to accommodate these bone-weary survivors from hell can be found in the enormous hall behind the Coliseum where the kindness of strangers is now being played out en masse. More than 500 evacuees have been provided with clean beds, clean clothes, hot showers, three hot meals a day — and hundreds of selfless volunteers dishing out TLC as they serve up grits and pancakes, sort clothes, help families find loved ones, offer homes and jobs, play with the children, and generally do whatever they can to help folks find a reason to hope once again.
Background for Family Photo
Readers' choice: Fort Worth Botanic Garden, 3220 Botanic Garden Blvd, FW
Staff choice: Trinity River Bluff, FW
In the not-so-distant future, the Trinity River Bluff on downtown's northern edge will be unrecognizable. The rugged, largely undeveloped bluff is slated for a slew of projects in the coming years, including a Tarrant County College campus, condominiums, and restaurants. Yet, if you go just north of the downtown courthouse, perch your family on the North Main Street Bridge (there are sidewalks and guard rails), and point your camera east, the bluff doesn't look much different than it did when Army soldiers arrived in the mid-1800s and established a fort. Capture that scene while you can.
Freeway To Avoid
Readers' choice: I-35
Staff choice: Airport Freeway, FW
The ultimate white-knuckle ride in Tarrant County is not at Six Flags. Instead, Fort Worth thrill-seekers have been flocking to Airport Freeway (a.k.a. State Highway 121). It may be the deep grooves in the left lane as one approaches downtown, which give the feeling of a roller-coaster ride in which even the driver is but a passenger, or possibly the cracks and potholes that test the structural (and intestinal) fortitude of some 200,000 vehicles and drivers a day. In the rain, steering is immaterial, as cars glide erratically like drunken water-skiers. The thrill may not last long, however: Plans to resurface the road are afoot for 2006, after being put off for this year.
Area to Avoid
Readers' choice: Dallas County
Staff choice: Trinity River Vision project area, FW
Whatever you want to call it, Trinity River Vision or Town Lake, it might be in a little trouble. The city decided years ago to do this huge real estate redevelopment project but to call it a flood-control plan. Now the federal money for this plan very likely will be diverted to New Orleans, as is only right. It's going to be tough to explain to the feds and the public why a $10 million flood-control plan needs $435 million — half of it in federal dollars —to accomplish all its lofty economic development aims. Maybe those protesting the eminent domain buyout plan can relax a bit now — maybe.
Country Drive
Readers' choice: Granbury
Staff choice: Wright Lane
Head west, young reader, on Jacksboro Highway and exit at Confederate Park Road (as if you're going to Fort Worth Nature Center). Instead of turning right into the nature center, go left on Confederate. Drive until it ends at FM 730. Go right. Drive two miles, turn left on Calhoun Bend Road, and then take the first left at Wright Lane, which is a three-mile stretch of fairytale farmland that makes you feel as if you've been transported to a cleaner, simpler, better world. The winding and narrow road — interrupted by several cattle crossings — allows a relaxing view of small ranches with picture-book pastures, gorgeous vistas, towering live oaks, and modest but tidy homes. Cowbirds mosey along beside their bovine brethren, and barns range from red wood to rusted tin, accented by the occasional windmill. Sure, a few trailer houses and chained pit bulls can also be spotted — this is a Texas fairy tale, not some jive about a distant land with Julie Andrews chirping about hills being alive with the sound of music.
Day Trip
Readers' choice: Glen Rose
Staff choice: Bluff Dale Vine-yards, 5222 CR 118, Bluff Dale
An hour's drive southwest of Fort Worth, David and Theresa Hayes' winery is a pleasant way to pass an afternoon or evening. More than a dozen Texas wines – theirs and others'– are available by flights or bottles. The dry sweet red they bottle is a favorite. Plates of bruschetta, cheese, and salami are available to keep the edge off your wine buzz for the drive home. Snack and sip with the vineyard as a backdrop.
Green Space
Readers' choice: Botanic Garden
Staff choice: Fort Worth Nature Center & Refuge, 9601 Fossil Ridge Rd, FW
Thank goodness for the Fort Worth Audubon Society, which started working in 1964 to create a haven that would provide "a reasonable chance of survival" for local wildlife. As development around Lake Worth and Eagle Mountain Lake continues setting land speed records, this 3,000-acre preserve becomes more and more crucial to our area. Developed with help from many organizations, the center, through its trails, waterways, and many programs, gives local folks a chance to appreciate fauna and flora that otherwise might not be found around here anymore. So when are city leaders going to look further down the road than next Tuesday and reach out to save another patch of nature for future generations? Or do they figure that nicely watered lawns, "pocket parks," and median strips will do the trick?
Walking Trail
Readers' choice: Trinity Park
Public Golf Course
Readers' choice: Pecan Valley Golf Course, 6400 Pecan Valley Dr, FW
Urban Digs
Readers' choice: The Tower, 222 W 3rd St, FW
Staff choice: Schaumburg Lofts, 800 block of W Daggett St, FW
This time around, we don't have any cool, affordable lofts or renovated apartments to suggest in or near downtown — though they exist, particularly in Near South. In fact, we can't suggest you do anything about the Schaumburg Lofts because they're condos that were sold before they were finished, about 18 months ago. We can tell you that they are indeed urban-cool — and that they're about to build some more of them. So if you've got, oh, $275,000 to half a mill to spend on a three-story job complete with double garage, angularly beautiful interior spaces, and maybe a roof terrace, make your way down to Daggett Street east of Henderson and mosey around on some teeny-tiny streets until you find these red brick nouveaux chateaux with big windows and killer downtown views, smack dab in the middle of an old but generally quiet industrial area.
We're in favor of housing that's a helluva lot more affordable than this in and near downtown and hope that Near South, as it spiffs up, will still continue to be home to a widely divergent group of folks. But building these lofts, on these streets, in this neighborhood, took a firm belief in urban living in general and Near South in general. And that we can applaud.
Urban Redevelopment/Smart Growth
Readers' choice: Montgomery Plaza
Staff choice: Race Street, FW
Justin McWilliams' redevelopment of Race Street between Sylvania and Belknap is nothing short of phenomenal. He's taken a shabby, beginning-to-get-scary locale and restored several blocks of it to a gorgeous, welcoming asset to the Riverside area. Bright colors highlight the architectural features of some nice old buildings, and tiled planters, shutters, grill work, and other touches make this place a gem. More good things are happening on other ends of this stretch, on Sylvania to the west and at the "Six Points" confluence of Riverside, Belknap, and Race. Maybe the surrounding residential neighborhoods — charming, shady, modest to middle-class, some of them historic, and with one of the most diverse populations of any part of town — are finally going to have the commercial areas they deserve.
Example of Suburban Sprawl
Readers' choice: Keller
Staff choice: Oklahoma
Don't rub your eyes. You read correctly. Ardmore, Okla., made national headlines in July when it announced its catchy new slogan, "Dallas [and presumably Fort Worth] is coming our way." Ardmore, 100 miles north of the Metroplex, wants to position itself as the premier rest stop (so to speak) on the Fort Worth-Dallas to Oklahoma City trip. One Ardmore politician was quoted in USA Today as saying, "Construction is going on all over all these towns along I-35. It's booming. Every time a ranch is for sale, somebody from Texas buys it." Coming up in 2006: Is Kansas the new Arlington?
Example of New Architecture
Readers' choice: Pier 1 Building, 100 Pier 1 Place, FW
Staff choice: AUI Contractors, 4775 N Fwy, FW
This wonderful work of formed concrete with the beige hue is what we like to call the "Mini-Modern" (after Tadao Ando's Cultural District gem). A flat, angular variation on the big box, AUI Contractors' new headquarters hugs the tranquil north Fort Worth landscape. This space for 225 full-time worker bees was designed by the only firm around that seems to have any sense of architecture after 1980, Gideon-Toal.
Example of Public Architecture
Readers'choice: (tie) Montgomery Plaza; and the Modern Art Museum of Fort Worth, 3200 Darnell St, FW
Re-use of Old Architecture
Readers' choice: Montgomery Plaza
Staff choice: McAdams Building, 3124 E Belknap St, FW
This was one of those situations that made you shake your head sadly as you drove by — a one-story brick building, shaped to fit an odd six-points corner lot, with an interesting roofline and lovely old windows, the latter all painted over or slathered with crudely painted signs advertising this or that, as one tenant after another came and went and left it more tired-looking each time. But thankfully, some folks did more than drive by and shake their heads — the Riverside-area neighborhood groups that banded together and fought to save it; Robert Bell, who bought the block; and Jyl DeHaven, Fort Worth's own Green Hornet (in the environmentally conscious building sense), who is managing the building's renovation. Now it's going to become home to a police storefront, attorneys' offices, maybe a restaurant. Riverside, you rock.
Eyesore
Readers' choice: Texas & Pacific Warehouse
Staff choice: Texas & Pacific Warehouse, corner of Lancaster Blvd and Jennings Av, FW
Designed in 1931 by legendary Fort Worth architects Wyatt Hedrick and Herman Koeppe, the long-empty, deteriorating, and trashed-out T & P warehouse — once considered a "great example" of the Zigzag Moderne Art Deco style — has become the biggest eyesore in the city since the tornado-ravaged Bank One Tower was turned into pricey condos. (Not to say the swanky tower is anything to brag about architecturally, but it did lose its status as Fort Worth's tallest bird house.) Still, the old warehouse retains a certain dignity, reminding us of Cowtown's grand architectural era of the '30s and '40s. Rumor has it that the warehouse is also targeted for conversion to condos. One can only hope that whoever renovates it will restore its Art Deco loveliness as well.
Project With Private Funds
Staff choice: B&D Muffler and Custom Shop, 1204-B N Main St, FW
"Nah, I didn't get no public funding," Roy Bruner said with a slight grin as he leaned over the hood of a pickup truck on a recent scorching afternoon. For 25 years, he ran his muffler shop out of an ancient former gas station near Leonard's Farm & Ranch Store on East Belknap Street. He lost his lease after progress and Trinity River bluff development pushed him out. While public funding went to seemingly everyone around him — from RadioShack to Pier 1 to Tarrant County College to Montgomery Ward— Bruner simply packed up his tools, moved his business a half-mile away to the old Flores Automotive shop, and went back to work. Try him the next time the dealer quotes you a price so scorching it ruins the paint job.
Rebirth/Relocation/Reopening
Readers' choice: The Tower, 222 W 3rd St, FW
Staff choice: Montgomery Plaza
Built in 1928 on 46 acres near the Trinity River, the lovely Mission Revival architectural-style building was a one-stop shopping mecca for generations of Cowtowners and a Fort Worth landmark for close to a century. But it had been sitting empty since Ward's — killed by the proliferation of depressingly similar strip malls and butt-ugly Wal-Marts — closed for good in 2000. Now, thanks to some risk-taking developers and a little help in tax abatements and redevelopment grants from the city, it's being reborn as Montgomery Plaza, an "urban village" of small shops, restaurants, and pricey loft apartments. The slice taken out of the building's middle in the process caused heartburn for preservationist purists, but it breathed life, light, and air into the project. And, in what can only be an irony of the sort to make Montgomery and Ward spin in their graves, a SuperTarget will open on the old catalogue-retailer's back lot this fall.
Sign of the Apocalypse
Readers' choice: Hurricane Katrina
Staff choice: Senior-citizen tax freezes
Seems like every Metroplex city has passed or is considering a freeze on property taxes for senior citizens, which makes us wonder if every city has lost its frigging mind. Seniors grew up in a time when one income could feed a whole family. They had pensions. They'll be among the last to enjoy full Social Security benefits. Plus, they already enjoy tons of senior discounts and tax relief. But the greedy graybeards want more. They're forming voter blocs (there are more old Americans now than ever) and shoving the tax burden off onto everyone else. Who takes up the slack? Younger Americans, such as those between 25 and 44 who have been dubbed "Generation Broke" because of high debt, tight job markets, and spiraling bankruptcies. Thanks to the gray warriors of the wallet, even more financial chaos looms. Who knew that, when survival was at stake, those sweet old people would eat their young?
Altruistic Organization
Readers' choice: YWCA, 512 W 4th St, FW
Staff choice: Samaritan House, 929 Hemphill St, FW
No one has better earned the "good Samaritan" label than the folks who have struggled to run this shelter for low-income or no-income HIV/AIDS victims for the past 14 years. Established by a few clergy and members of their flocks for those dying of AIDS who had no one to care for them, Samaritan House has grown from a small house on the North Side to its present multi-story building with 52 rooms, all full. And on Sept. 13, ground was broken for the Villages at Samaritan House, a 66-unit apartment complex that will house HIV/AIDS patients and their families. Thanks to an $8 million award of federal tax credits, Samaritan House will soon be able to meet its long-time goal of "keeping families together," said director of development Christian Piatt.
Activist Group
Readers' choice: 1919 Hemphill
Staff choice: Malcolm X Grassroots Movement
You know the old activism saying: "Think globally, act locally." Well, a lot of Fort Worth's activist groups think globally and act globally. We'd be amazed if some of them even knew where Fort Worth City Hall is located. As a result, the nod this year goes to the one group that is primarily concerned with the goings-on in our backyard. Based out of Roots N Kulture Bookstore on East Rosedale Avenue, the Malcolm X Grassroots Movement is taking a lead role in cleaning up the neighborhood. You can find Movement members every Saturday, picketing certain area convenience stores whose owners continue selling outdated food and "brown bag specials" (a 40-oz. can of malt liquor and crack pipe). The renaissance has been slow, but good things take time.
Outdoor Advertising
Readers' choice: Cutting Edge Haunted House, 1701 E Lancaster Av, FW
Staff choice: Billboards for KJKK/100.3-FM Jack FM
Minimalist and memorable, these boards tout the eclectic (by mainstream radio's standards, anyway) mix of music available on the station. White letters on single-colored backgrounds spell out the names of three bands/musical acts to form complete sentences, which range from the cute ("Pet Shop Boys Cure Stray Cats") to the piquant ("Scorpions Sting Barenaked Ladies") to the downright kinky ("Doobie Brothers Kiss Twisted Sister"). These signs are so eye-catching that they've even made us flip on our car radio a few times.
Unused PR Slogan
Staff choice: Fort Worth City Council: The Same Ol' Same Ol' — But Worse
For a brief moment, it looked like 2005 might usher in changes for the Fort Worth City Council, an elected body that portrays itself as independent representatives of a half-million residents but more often comes across as a set of pawns for the city's downtown powerbrokers. Prior to the election, four city council members had stepped down and another faced a serious challenge. The balance of power on the nine-member council was at stake and could have resulted in a group that didn't believe in giving the biggest tax breaks to the richest people at the expense of the poorest. Alas, most outgoing members were replaced with people of similar philosophies, while automaton Jungus Jordan replaced the independent and outspoken Clyde Picht. Hup, two, 'hree, four.
Hype
Staff choice: Arlington's Cowboys stadium
The city and its voters fell hard for the siren call of jobs and prestige and getting to play home to the NFL's most famous franchise. The league even dangled a possible Super Bowl in front of them, as if the frigid North Texas winters give us a chance of wresting anything from the sites with balmier Januaries — San Diego, Phoenix, the Florida cities, and the domed stadiums up north. Maybe the new stadium will make all of Arlington's fondest economic dreams come true. Right now, though, it's Jerry Jones who's swimming in the voters' largesse, thanks to his savvy PR campaign.
Cow (Sacred)
Staff choice: Trinity River Vision project
Not since Ross Perot, Jr. dispatched aliens to inhabit the bodies of Fort Worth's political leadership has there been such a massive bodysnatching. There are so many office holders, bureaucrats, and developer types traipsing behind Congresswoman Kay Granger to push for this watery sacred cow that you'd think she was a pied piper. Need we say moo?
Bench to Nap On
Reader's choice: Noble Planetarium seating area, Museum of Science & History, 1501 Montgomery St, FW
Staff choice: Trinity Park
Times are hard. You could be one credit card charge away from losing everything, banished from the condo to the concrete. So if you're suddenly homeless, really wasted, or looking to waste work time by faking a business meeting, Trinity Park is the best place to go. Go to the duck pond off University Drive. The feathery quackers will keep you company in your drunken, broke, or lackadaisical state, and if you walk up to the benches on the Trinity River's edge, you can catch a nap with Fort Worth's skyline in the background. Just pretend that you're looking through a penthouse window.
Best-Kept Secret
Readers' choice: Panther City Coffee, 2918 W Berry St, FW
Staff choice: Southeast Fort Worth
Fort Worth is one of the nation's fastest-growing big cities, and development and renewal efforts are spreading from downtown to the north, south, and west. One of these days, developers are going to notice Southeast Fort Worth's affordable land with great access to downtown, public transportation, and Metroplex highways, and a bunch of people starved for nearby businesses to frequent. Then, Katy bar the door.
Place to Pretend You're Somebody Important
Readers' choice: Del Frisco's, 812 Main St, FW
Staff choice: Kimbell Art Museum, 3333 Camp Bowie Blvd, FW
Beginning Dec. 18, the Kimbell is offering an exhibit called Gauguin and Impressionism. If you want to come across as worldly and important, put on your best duds, adopt an intense, brooding persona, and go admire the works of one of the world's greatest artists. To be impressive at this, you'll need some basic knowledge: It's pronounced Go-Gan, not Ga-Gwen; Impressionism was a 19th-century art movement that originated in Paris (France, not Texas); and the name of the movement comes from a painting called "Impression, Sunrise" by Claude Monet (pronounced Mo-Nay, not Mo-Net). On the other hand, maybe you should just gesture knowingly.
Place to Enjoy the Water
Readers' choice: Eagle Mountain Lake
Staff choice: Trinity River east of downtown FW
This part of the river is not gussied up yet, but two low-water dams built by the Tarrant Regional Water District in recent years have created a consistently higher water level in this section of the Trinity, to roughly Beach Street. Water-skiers and rowers have been seen using stretches of the river there. A trail runs along the bank for much of this distance, and at various places there are soccer fields, pecan groves, and parks. It's too ditch-straight and flat-mowed to be a beautiful stretch of river, but it's a nice place for walking or just sitting and relaxing. Do be smart about being out by the river too early, too late, or too alone. We're still talking urban.
Place to Host a Wedding Reception
Readers' choice: (tie) Reata Rooftop, 310 Houston St; and YWCA, both FW
Staff choice: A and M Gardens, 12809 Gantt Rd South, Azle
Couples can get married and have their reception at this lovely and peaceful Azle spot, where prices are reasonable (especially on Fridays and Sundays), and the owners seem almost as excited as you about the nuptials. Tables and a kitchen are available, and plenty of extras are available to rent, such as big serving dishes. A large lawn provides restless kiddos with a place to romp, and there is a shaded porch area and a banquet hall. See www.aandmgardens.com for more info.
Place to Watch the Sunset
Readers' choice: Cutting Edge Haunted House
Staff choice: Neon Moon Saloon, 2509 Rodeo Plaza in the Stockyards, FW
Stand out in the middle of Exchange Avenue and watch the sun dip down behind the Stockyards skyline, say "ooh" and "aah" a couple of times, and then make a beeline to a more earthbound part of the galaxy, the Neon Moon, where you can stare at some really hot bods for hours on end without burning your corneas. The club stays open late for after-hours dancing, and then you can stop at one of the North Side's late-night breakfast joints, grab a few tacos to dilute the beer buzz, and then watch the sunrise on your way home.
Place to Stargaze
Reader's choice: (tie) Botanic Garden; and Lake Benbrook
Staff choice: Fort Worth Museum of Science and History
Fort Worth's city lights make it impossible to view the night-time universe as it's meant to be seen, but Cowtown's astronomy aficionados have a solution. The Fort Worth Astronomical Society partners with the city's Museum of Science and History to throw star-watching parties. You can show up after dark, chill out, and quickly come to realize how insignificant you are by witnessing the awesome night sky. If you actually want to, you know, learn something, the society's members will be happy to pass along some wisdom. Admission is free. Astronomy fans will have the opportunity to see Mars up close on Oct. 29.
Radio Show
Readers' choice: "Russ Martin Show," KLLI/105.3-FM
Staff choice: "The Adventure Club," KDGE/102.1-FM The Edge
It's a modern-day radio mystery: Why haven't Clear Channel bigwigs put an end to this show? For 11-plus years, host Josh Venable has been cramming the Sunday 6-9 p.m. time slot with all the great music that has supposedly been disappearing from the rest of the airwaves. Bands like the Descendents, Mission of Burma, and locals like 41 Gorgeous Blocks all show up regularly on the playlist. The best part? Venable hosts an Adventure Club web site where enthusiasts can download MP3's from bands' acoustic sessions in the studio. Here's hoping that The Empire (that's Clear Channel) doesn't notice anytime soon.
Radio DJ
Readers' choice: Kidd Kraddick, KISS/106.1-FM
Staff choice: Josh Venable, KDGE/102.1-FM The Edge
Remember when DJs played exciting, original music? Venable has been keeping the memory alive at the Edge, relentlessly pimping good local bands as well as up-and-coming groups. Venable is also not afraid to say exactly what he thinks of the music played on his station. He might call himself a music nerd, but as far as we're concerned, he's one of the few remaining cool voices in the radio, and his time slot, though in the middle of the night, is not a bad time at all to be stuck in a traffic jam.
Seductive Radio Voice
Readers' choice: Janice McCall, "Sputnik," KTCU/88.7-FM The Choice
Staff choice:Tom Urquhart, co-host of "The Good Show," KTCU/88.7-FM The Choice
Our staffers and readers have granted this award to KTCU's Janice McCall in previous years, and she's certainly deserving. But, you know, Tom also has some steamy pipes. You go, boy! And who else is going to play Tom Waits, Old 97's, Centro-matic, Chatterton, Calhoun, and The Deathray Davies all on the same program?
Rock Station
Readers' choice: KDGE/102.1-FM The Edge
Staff choice: KJKK/100.3-FM Jack FM
This year brought an avalanche of media scrutiny over the instant success of the eclectic Jack format, which began in Canada in 2002. People love it and hate it for the same oft-repeated reasons. Their common mantra: "It's like listening to somebody's iPOD!" In fact, it's more like satellite radio with commercials — a self-consciously unpredictable mix of Elvis Presley next to Ozzy Ozbourne beside Coldplay hanging out by Tom Petty. Competing radio programmers jealous of the inevitably high ratings in each market whine that stations like Jack are just a fad, which may be true. But critics seem unable to explain why their formats have sucked for so long and why, by sheer dint of its cock-eyed variety, 100.3 sucks less.
Country Station
Readers' choice: TKTK/99.5-FM The Wolf
Staff choice: KFWR/95.9-FM The Ranch
The Ranch would probably take the prize in this category just for its on-air music — a combination of old and new, local and national artists. But what makes this station stand out as the best that country music has to offer is its Wednesday evening Texas Music Series at 8.0 in Sundance Square. The concerts, now in their third year, provide an intimate evening with the state's top-tier country entertainers, including Ray Wylie Hubbard, Billy Joe Shaver, and Chris Knight. This month's lineup alone included Max Stalling, Bruce Robison, Cooder Graw, and Roger Creager. That's a bumper crop. And did we mention they're free?
Place to Skateboard
Readers' choice: River Legacy Park, 703 NW Green Oaks Blvd, Arlington
Staff choice: GPX Skate Park & Entertainment Center, 1000 Lone Star Pkwy, Grand Prairie
Seeing as how the Fort Worth police decided last June to arrest skateboarders downtown who were cruising through Burnett and Heritage parks, it's still best to head east, dudes. GPX Skate Park in Grand Prarie still has the best ramps, rentals, and competitions in the area. Whether you are new to the sport or want to be challenged with some tough verts, GPX has it at a decent cost: $10 per four-to-five-hour session on weekends. Note to Fort Worth political leadership: Quit writing $600 tickets to kids riding around, and maybe think about building a skateboard park to accommodate growing numbers of future voters who embrace this sport. Not much different than basketball courts were when you were kids.
Bargain Sporting Event
Readers' choice: Fort Worth Cats
Staff choice: Dallas Stars
God bless the NHL lockout! After giving us hockey fans a chance to catch up on our reading (or take an interest in lacrosse or cricket or something else), the lockout has given rise to a new economic order, and we'll reap the rewards with reduced ticket prices. You'll be able to see Mike Modano and company chase the puck for as little as $10, about as much as the parking fee for a Cowboys game. You can't beat major-league talent at minor-league prices. Unless, of course, the sport reverts to the defensive quagmire it was before the work stoppage. Then you're better off with cricket.
Coffeehouse
Readers' choice: (tie) Panther City Coffee; and Four Star Coffee Bar, 3324 W 7th St, both FW
Staff choice: Panther City Coffee
Sure, the coffee is great — they roast it right there in the house — but you can get good coffee lots of places. What makes Panther City the place to be is the synergy of the geeks, beats, slackers, and artistes who hang out here. With open-mic poetry readings, live music on the weekends, and a second-floor art gallery, you're as close as you can get to 1960s San Francisco without leaving the TCU area.
Freebie
Readers' choice: Free beer at Hooters
Staff choice: Sealed plastic toothpicks at Paris Coffee Shop, 704 W Magnolia Av, FW
Fort Worth Weekly staffers are a simple lot — good thing, considering the salary levels. In fact, most of us were raised on Amish dairy farms. We get excited about even the tiniest of niceties. Take, for instance, toothpicks. Most restaurants offer straight, wooden toothpicks at the checkout counter. Paris Coffee Shop offers a choice — wood or plastic. And the plastic toothpicks are individually sealed in plastic and have one curved end for those hard to reach crevices. For simple folk like us, this is big stuff.
Place to Find a Paid Escort
Readers' choice: Back pages of Fort Worth Weekly
Staff choice: www.DFWEscapes.com
In the words of one Fort Worth Police Department insider, "everything's going hi-tech now" — including "escorting" (or, as we like to call it around here, "the Weekly 401K"). Case in point: www.DFWEscapes.com, a digital procurer of services. The site offers photos and descriptions of every escort on staff, down to what she will and won't do. (Some gals prefer to escort you by holding your hand; the really randy lasses go for the arm-in-arm technique — naughty!) Hooking up is as easy as a few mouse clicks. Beats the hell outta cruising Hemphill Avenue at 2 a.m.
Place to Meet Someone of Same Sex
Readers' choice: Best Friends Club, 2620 E Lancaster Av, FW
Staff choice: Best Friends Club
A few new gay bars have popped up in Fort Worth this year, but Best Friends Club is still the city's top gay spot. It started out mostly lesbian, but over the years gay men have found a home away from home there as well. That is usually a tough market to serve, but Best Friends has kept it going, with country-western music and a nice patio with a view of downtown. Best Friends is not some radical joint with men in butt-less chaps running around. More than anything else, it's a good Fort Worth club, with gay cowboys and cowgirls running around.
Place to Meet Someone of the Opposite Sex
Readers' choice: 8.0 Restaurant & Bar, 111 E 3rd St, FW
Staff choice: 8.0 Restaurant & Bar
We typically avoid Sundance Square the way we would a gun-toting rattlesnake that knows karate, but there's no denying the wealth of available singles at 8.0 during its busy weekend evenings. We're also convinced that the bar hires only models as greeters, servers, and bottlecap-twister-off-ers.
Place to Break Up
Staff choice: City Streets, 425 Commerce St, FW
While text messaging is the most efficient way to achieve clean breakage these days, there's something to be said for capping off a long and unhealthy relationship by taking your soon-to-be ex to City Streets, especially if you think your partner is not a bad person but just not right for you. Think about it: As the Village People proclaim the virtues of hanging out at the local YMCA, you shout into your mate's ear, "I DON'T THINK THIS IS WORKING OUT!" and then watusi out the door, leaving him or her surrounded by a sea of desperate singles. The best part: You don't have to watch your former lover leave with a total stranger.
Place to Take Someone From Dallas
Readers' choice: The Stockyards, FW
Staff choice: The Fort Worth Herd Cattle Drive
Take Dallas visitors down to the Stockyards at 11:30 a.m. or 4 p.m. each day and see genuine cowboys herding real longhorns down red-bricked Exchange Avenue. Then shove the Dallasites in front of the herd — not because we hate Dallas (we don't), but to give the eastern urbanites a good Fort Worth story to tell. Imagine them holding court with a bunch of bluebloods at The Mansion at Turtle Creek and wowing their dinner mates with stories about narrowly surviving a stampede over in Cowtown. They don't have to mention that the longhorns walk at an average speed of .000001 mph, travel only a half block, and seem as docile as slugs on Prozac. Short of that, direct your guests' steps so that they end up with Longhorn poop on their Italian loafers.
Place to Take First Date
Readers' choice: Reata Restaurant, 310 Houston St, FW
Staff choice: Four Star Coffee Bar and West Seventh Street
We beg our readers' pardon, but in this case — who are they kiddin'? First dates should be low-key, no-big-deal things.
With Reata, you spend half your paycheck on a steak, then maybe find out your partner for the evening is a vegetarian who wants to debate the ethical implications of leather with the waitstaff? Naah.
How about this: You meet the Date at the Four Star Coffee Bar on Saturday afternoon and get some talk started about the galleries and museums in the area. If that seems to be going nowhere, you also note the excellent live music in the vicinity, the film series at the Modern, the frisbee-playing qualities of the lawn between the Kimbell and the Amon Carter, and the cool views of downtown available from various hilltops within a few blocks drive, bike, or walk, not to mention whatever might be going on at Will Rogers that night (assuming our New Orleans friends have found new digs by this time). Whatever the chosen alternative, it will be close at hand, subject to change without much pain, mostly cheap, interesting enough to spark conversation — and you'll both be near the transportation you started with, should things go south.
Place to Shoot Pool
Readers' choice: Rusty's Billiards, 7703 Camp Bowie, FW
Place to Hide While Pretending to Work
Readers' choice: The Smoke Pit, 2401 E Belknap, FW
Staff choice: Billy Bob's Texas, 2520 Rodeo Plaza, FW
The famous honkytonk is open all week, and it only costs $1 to get in during the day. You can kick back with the food and drinks, and the place is big enough that you can easily slip away if you spot someone else from the office. If you do get busted, you can claim you were scouting the place as a possible site for a future corporate meeting, because Billy Bob's does host those. Good all around.
Place to Smoke
Readers' choice: (tie) Panther City Coffee; and balcony of the Flying Saucer, 111 E 4th St, both FW
Place to Play Darts
Readers' choice: Ye Olde Bull N Bush, 2300 Montgomery St, FW
Place to Take Internet Date
Readers' choice: Chat Room Pub, 1263 W Magnolia Av, FW
Staff choice: Italian Inn Ridglea, 6323 Camp Bowie Blvd, FW
Internet dates who describe themselves as identical to Brad Pitt or Jennifer Lopez but instead turn up looking more like Icky Twerp or Roseanne Barr are best dealt with in a dark restaurant that serves strong drinks. Plus, the Inn's singing waiters reduce the demand for conversation if there's an ugly dullard across the table.
Place to Nurse a Hangover
Readers' choice: Ol' South Pancake House, 1501 S University Dr, FW
Staff choice: Benito's, 1450 W Magnolia Av, FW
The recipe for a hangover cure — according to our resident bon vivant, Chow, Baby — is pretty elementary. In the morning, after a long night of abusing alcohol, you need "salt and fat, and some people also need spicy foods." True, but some folks also need service that ain't all up in your grill, plus dim lighting, and more booze. Benito's offers it all. There is one dish that is good not only for your head but for your tastebuds and wallet too: The $8.25 Tamal Oaxaqueño (pieces of tamale and chicken covered in red mole, wrapped, and baked in banana leaves) is such an efficient suds-soaker of a dish that you'll be fully refreshed in time for a liquid lunch.