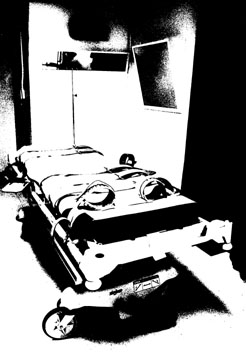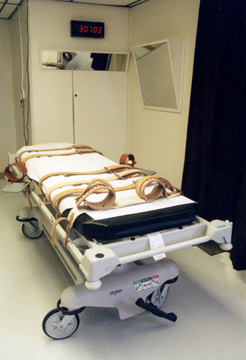 Life for death row inmates ends here — unless an 'innocence project' springs them.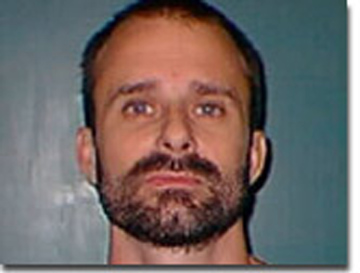 Eric Randall Nance: No 1,000?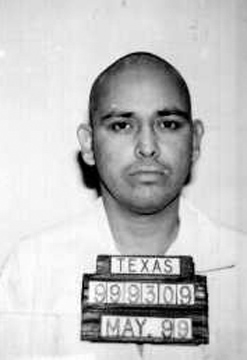 Luis Ramirez: Executed Oct. 20, 2005.
Jaime Elizalde Jr.: Set for execution today.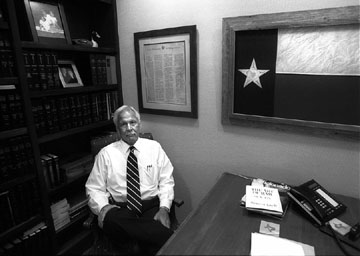 Harris County District Attorney Charles Rosenthal stakes his job on the death penalty.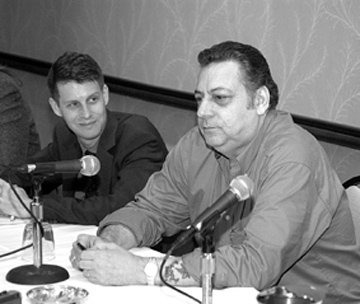 Ernest Willis, right, and James Blank, the lawyer who got him off death row.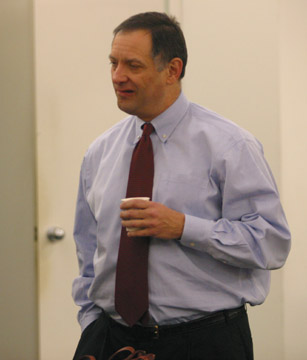 Levy: 'It's a necessity, like an operation.'
A D V E R T I S E M E N T
A D V E R T I S E M E N T
(Not) So Easy to Kill
The nation's executioners march toward 1,000 deaths — and Texas leads the parade.
By DAN MALONE
By the time Charlie Brooks Jr. lay strapped on the gurney waiting for death, most everyone who read or listened to any news was familiar with the rough outline of his life and crime. Not only was Brooks the first person scheduled to be put to death in Texas since the U.S. Supreme Court sent the nation's executioners back to work in 1976, he was also the first African-American prisoner to enter a modern-day execution chamber and, most significantly, the first person in the United States to be executed by lethal injection.
The news media gorged on his case, particularly in North Texas, where Brooks, who grew up in Fort Worth, committed the crime that sent him to death row — the murder of auto mechanic David Gregory. As his execution drew near, journalists set up shop in a Fort Worth judge's office, where word of a last-minute stay might arrive, staked out the homes of the families involved, and sifted through the crowd of demonstrators outside the death house in Huntsville. The execution at 12:16 a.m. on Dec. 7, 1982, made the front pages of newspapers not only in Texas but across the nation and around the world. Brooks had become simultaneously an icon for a new era of "humane'' executions and a symbol for a return to barbarism.
Last month, as the state of Texas conducted its most recent execution, the picture could hardly have been more different. The name of Luis Ramirez was barely known beyond his family and the family of his victim, West Texas firefighter Nemecio Nandin, who was murdered in 1998. Bob Ray Sanders wrote a column about Ramirez in the Fort Worth Star-Telegram the day before Ramirez' execution. Most news media, if they mentioned the case at all, did little more than the Lubbock Avalanche-Journal, which carried a three- paragraph blurb from the Associated Press announcing that yet another convicted killer had been put to death.
Barring the unexpected, in the next few weeks or months the United States will execute the 1,000th condemned prisoner in the modern era of capital punishment. The passage of that grim milestone may draw some news coverage, but by and large, 989 executions later, it's clear that the death penalty has become routine here. Since Gary Gilmore, the first person to be executed in the modern era, told Utah executioners "Let's do it," and fell dead before a firing squad, the nation has executed an average of 35 persons a year, three a month, one every 10 days for each of the last 28 years.
"The more you execute people, the easier it becomes to execute more people,'' said David Dow, a University of Houston law professor who has represented about 50 death row inmates on appeal.
The pace and order of executions around the nation adjust daily as appellate courts issue last-minute stays and judges set fresh execution dates. During the next three months, 19 men from eight states are expected to be put to death. Right now, a convicted killer from Arkansas, Eric Randall Nance, appears most likely to attain the distinction of becoming the 1,000th prisoner to be executed, but last-minute delays ordered by courts or governors could easily put a Texan in his place.
In fact, almost half of the 19 expected to die are on Texas' death row. No state has sent more men and women to the death house than Texas. More than a third of the nation's executions — 352, if a lethal injection of a Houston man scheduled for today goes through — have taken place in Texas. Virginia, the next closest state, has executed 94 persons. California has 648 death row inmates, the only state to outstrip Texas' current roster of 414 — but in three decades has executed just 11.
In fact, California's experience may be more indicative of what's happening around the country than our own state's. Ironically, as executions have become more and more routine, death sentences have also become increasingly difficult for prosecutors to obtain. World opinion has turned further and more decidedly away from the death penalty, a fact which has been noted in some key U.S. court decisions. Several years ago, news stories documenting shoddy legal work in death row cases in many states — particularly in Texas — raised questions in the public mind about the system of providing inmates with attorneys. And the efforts of prisoner advocates, death penalty foes, and college-age researchers have produced a growing list of once-condemned prisoners who have been cleared of the charges that had sent them to death row.
Still, "The machine keeps cranking them out with relatively little notice," said Dennis Longmire, a criminal justice professor at Sam Houston State University in Huntsville, the Piney Woods town that is also home to the Texas death chamber. "A thousand bodies lie in complete darkness in most of our world's and in most Americans' consciousness. Most people don't ever think about. Most people don't want to think about it.''
Although the death penalty is, so to speak, alive and well in this country, it appears to be slowing down. According to the national Death Penalty Information Center, fewer people are being sentenced to death than at any time since Gilmore was executed on Jan. 17, 1977. In 2004, the center estimates, American juries condemned just 125 people — less than half of the 320 in the record year of 1996 — and eight fewer than the 137 people condemned in 1977.
Death sentences are getting harder to obtain, attorneys say, because of better training for defense lawyers, changes in sentencing law, a declining crime rate, and shifting public opinion about crime and punishment itself. Professional development programs for lawyers, death penalty clinics, and changes in defense strategies, particularly during the last decade, have translated into more juries opting for life sentences instead of death.
"We're appointing better lawyers across the country, especially in Texas,'' said Dow, the Houston law professor who runs the Texas Innocence Network, one of a growing number of "innocence projects" around the country that investigate wrongful conviction claims. Court-appointed attorneys in capital cases, Dow said, are more likely than their predecessors to conduct thorough investigations of their own — not only of the crimes but also of their clients' backgrounds. While the backgrounds of accused persons might have little to do with their guilt, they can play enormous roles in the punishment phase of trials, when so-called mitigating evidence tips the scale to life or death.
In the early years, attorneys appointed to represent accused killers were sometimes ill prepared and poorly equipped. News account about sleeping, slipshod, or alcoholic lawyers in a handful of cases left lingering questions about whether the courts were capable of making the right decisions in the cases with the highest stakes.
Public attitudes about crime and punishment in general have changed as the nation's violent crime rate has plunged over the last three decades. In 1976, the year in which the death penalty was reinstated, there were 48 violent crimes for every 1,000 people in the United States. The crime rate peaked five years later, with 52 violent crimes per 1,000 people, and hovered in the 40 to 50 range until the late 1990s, when it began to fall. By 2004, according to the U.S. Bureau of Justice Statistics, the rate had been cut in half — to 21 violent crimes per 1,000 population.
"People were really angry about the crime situation in this country in the 1980s,'' recalled Alan Levy, head of the criminal division of the Tarrant County District Attorney's office. "There was a perception that the crime situation was out of control, that the parole situation was out of control.''
In Texas, once a person is convicted of capital murder, a jury can return one of only two sentences — death, or life in prison. But prison overcrowding and a weak parole system often meant that criminals sentenced to life behind bars were returned to the streets after serving only a fraction of their sentence; the law at that time didn't allow sentences with no possibility of parole. Levy said some people were released after serving as little as seven years: "That was not uncommon.''
Juries reacted to that, Dow agreed. "In the mid- to late 1980s and early 1990s, juries in death penalty trials thought that if they didn't sentence a defendant to death, he might get out in a few years and hurt or kill someone else."
Such public concern led to changes in the law requiring prisoners sentenced to life to remain incarcerated for longer and longer periods of time, until a life sentence came to mean at least 40 years in prison. The Texas Legislature earlier this year changed the law yet again to make a life sentence in a capital case just that — life without the possibility of parole. As the floor on a life sentence has risen, some jurors who might have once voted for death now see life without parole as a viable alternative, Levy said.
The courts also have reduced the pool of potential offenders who legally can be sentenced to die. In 2002, the Supreme Court banned the execution of mentally retarded people, saying "a national consensus has developed against it.''
Almost 20 states already had banned the practice, the court said. In the remaining states, executions of mentally retarded people had become increasingly rare. Attorneys say that ruling might eventually spare the lives of 40 to 50 death row inmates who are believed to be mentally retarded.
Strangely, the ruling has yet to have much impact on the prisoner whose case led to the landmark ruling: Daryl Renard Atkins, born the same year that Gilmore was executed. Now 27, Atkins was convicted in Virginia in 1996 for the murder of a 21-year-old airman, Eric Nesbitt. After the Supreme Court overturned his case, however, lower courts resentenced him to death. Even the courts, it seems, can't decide whether he's retarded. He is now scheduled for execution on Dec. 2, but many expect the courts to again delay carrying out that sentence.
Earlier this year, the Supreme Court also banned the execution of prisoners who had been sentenced to death as juveniles, noting that the United States is "alone in a world that has turned its face against'' such death sentences. That ruling, lawyers believe, voided the death sentences of more than 70 youthful prisoners.
Both rulings turned on what lawyers call the "diminished capacity'' of mentally retarded people and juveniles to make clear distinctions between right and wrong and to understand the consequences of their actions. Those rulings also laid the groundwork for a movement now under way to ban the execution of a much larger group of prisoners — those with perhaps equally diminished abilities due to severe mental illness.
A proposal from an American Bar Association task force to ban the execution of mentally ill people has been embraced by the American Psychological Association, the National Alliance for the Mentally Ill, and the American Psychiatric Association. If the proposal, which is vigorously opposed by many prosecutors, becomes law, it could overturn sentences for several hundred condemned prisoners.
"If you say it's cruel and unusual to execute the mentally retarded because they can't perform on an adult level," and then make a similar rule on similar grounds regarding minors, "it makes sense to extend that to mental illness,'' said Bill Harris, a Fort Worth criminal defense attorney who has represented several mentally ill prisoners who have been executed. "If it [their mental illness] impairs their ability to make those kinds of moral judgments, they should also be, logically, exempt.''
Prosecutors say that people who are so mentally ill that they cannot distinguish right from wrong already have protection under law — they would most likely be found not guilty by reason of insanity. Extending additional protections would make a mockery of the entire system, they believe.
"The vast majority of people on death row suffer from a mental disorder of some kind,'' said Joshua Marquis, an Oregon prosecutor who is also chairman of the National Association of District Attorneys' capital litigation committee. "If you define it that way, nobody would ever be given the death penalty. It creates a standard that would effectively exempt anyone.''
And even some death row lawyers wonder how such a change might be implemented. "With juveniles, you are either 18 or you're not,'' said Gary Hart, an Austin lawyer who represented Kelsey Patterson, a mentally ill prisoner executed in 2004. "With mental retardation, there is at least some agreement about what constitutes mental retardation. With mental illness, you've got such a wide spectrum, everything from depression to bipolar to post-traumatic stress syndrome to paranoid schizophrenia. It's a much more difficult thing to know where and how to draw that line.''
Changes that exempt certain groups of people from capital punishment are what Longmire, the criminal justice professor, calls "legal smart bombs'' — technical fixes that address narrow issues while leaving the execution apparatus itself intact. Others say that exemptions for the young and the mentally impaired actually work to the benefit of death penalty advocates.
"Perversely, those sorts of decisions strengthen the death penalty,'' said Dow. "They shrink the universe of people who can be executed, and at the same time they tend to imply that the rest of the death penalty is OK.''
Even so, opponents of the death penalty seem to making headway with public opinion on some fronts. Levy said prosecutors in his office are encountering prospective jurors who are "absolutely convinced that innocent people are being executed'' and people who worry that they might "wake up in the middle of the night and find out they've sentenced an innocent man to death row.''
Dow isn't surprised to hear it. "The public has become increasingly aware of the fact that the criminal justice system makes mistakes and that there are innocent people on death row, that there may have been innocent people executed,'' he said. "That all of these perceptions are present throughout society means they're also present on death penalty juries.'' And jurors who believe that innocent people have been condemned are less likely to vote to send another person to death row.
Such perceptions are fueled in part by the growing number of cases in which death row inmates have been released from prison and acquitted, pardoned, or had changes against them dropped. Universities around the country have established innocence projects in which college students, working under the supervision of an instructor, reinvestigate death cases — and sometime walk death row prisoners into freedom, adding yet more names to the list of wrongly convicted prisoners. An "innocence list" maintained by the Death Penalty Information Center contains more than a hundred cases, including eight in Texas, in which condemned prisoners have been freed.
The individual cases aren't always clear-cut. Sometimes a prisoner is released after having his or her conviction reversed on appeal, and prosecutors choose not to conduct a new trial because witnesses have died. Other cases are reversed on technical grounds that don't address culpability.
"There's a big difference between a mistake in a case and whether a person's guilty or not,'' said Levy.
Other cases on such lists leave less room for doubt. Ernest Ray Willis, whose case was reported by Fort Worth Weekly last year ("Free at Last," Oct. 27, 2004) is the most recent person added to the "death row survivors" list from Texas. Willis, now 60 and married to the sister of a man who was executed while Willis was on death row, spent 17 years behind bars for an arson that killed two women in their mid-20s, Betsy Belue and Gail Allison, in the tiny West Texas town of Iraan in 1986. After his conviction, however, his appellate team, led by New York attorney James Blank, uncovered evidence that Willis had been involuntary drugged during his trial, that favorable evidence had been withheld from his trial lawyers, and that another death row inmate, David Martin Long, who was executed in 1989 for a triple murder, had confessed to setting the fire that killed the two women.
Like much about the death penalty, even cases like Willis' are subject to multiple interpretations. Abolitionists see them as evidence that the system makes bad decisions. Death penalty proponents see them as evidence that the elaborate appellate court system eventually catches any mistakes made by police or prosecutors.
Partly in response to such interpretations, death penalty foes have continued to research the cases of executed prisoners, hoping to be able to one day prove that an innocent person has been put to death — and that the system therefore can't be trusted to work to protect all those who are wrongly prosecuted.
One of the most persuasive, but still disputed, claims that an executioner killed the wrong man comes from Missouri, where the NAACP found enough evidence to persuade prosecutors to reopen an investigation into the case against Larry Griffin, who was executed in 1995 for the 1980 drive-by shooting of Quintin Moss. The civil rights group last summer revealed that another man who was wounded in the same incident not only saw the shooters but personally knew Griffin and said that Griffin was not involved. The organization also developed evidence that raised questions about whether the state's main eyewitness was even at the scene of the crime when it happened.
Such cases, no matter how compelling, remain hard to sell to the public without ironclad proof. "What you need is a DNA case,'' Dow said. "The public trusts DNA in a way it doesn't trust anything else. When you have that, you have the gold standard. If you don't have DNA, there is always some doubt.''
But finding a case in which DNA can demonstrate that an innocent person has been executed has proved elusive — in part because many of the older capital cases predate the early 1990s when the era of DNA testing began. "The problem with trying to demonstrate the innocence of anyone before 1992 or 1993 is there was never biological evidence collected that could have demonstrated someone was innocent,'' Dow explained.
Harris County District Attorney Charles Rosenthal presides over an office that has sent more people to death row than any other county in Texas. Since executions resumed, 82 of the 280 persons that Harris County has sent to death row have actually been executed. That's more executions and more death sentences than the combined totals from Dallas, Bexar, and Tarrant counties.
"One of the things most people don't appreciate is how many folks actually look at these cases,'' Rosenthal said. By the time a prisoner is executed in Texas, the case has been examined by police, prosecutors, a grand jury, a trial jury and judge, state appellate court judges, federal district judges, federal appellate court judges, the governor's staff, and often the U.S. Supreme Court. "If you take the time to add all those people up, it's a staggering number," he said.
With so many people reviewing every death row case, Rosenthal said, he doesn't believe an innocent person could be executed in Texas — and that he probably would resign if such a miscarriage of justice took place on his watch. "I'd feel horrible, probably worse that that; it would probably bring me to the point of resignation if we convicted someone who was innocent,'' he said.
As a defense attorney in Denton, Alan Levy once represented a man accused of killing a Texas Ranger and persuaded a jury to sentence the man to life in prison instead of death. In his subsequent career as a Tarrant County prosecutor, Levy has tried 10 or so capital murder cases and obtained death sentences in about seven. Most of those sentenced have been executed. Levy doesn't have instant recall of those cases — he isn't the sort of person to notch his gun with such convictions, and he's bothered by the eagerness of some young prosecutors to take on a capital trial.
"When a prosecutor comes up to me and says, 'I want a death penalty case,' it reflects a certain amount of immaturity,'' he said. Levy said he has no "moral qualms" about the death penalty, comparing it to a surgical procedure a person may need but doesn't want. "It's something that has to be done, something that we should do. It's a necessity, like an operation.'' But he sometimes wonders whether all those executions have been worth the expense, the controversy, and the time. "It's a pretty clumsy mechanism," he said. When the penalty isn't paid until "eight or 10 or 15 years later, it's difficult to think of it being very useful.''
If the execution scheduled for today — Wednesday, Nov. 2, 2005 — is carried out, Texas will have executed its 352nd prisoner since the first lethal injection in 1982. Jaime Elizalde Jr., convicted in the 1994 double murder of Juan Saenz Guajardo and Marco Sanchez Vasquez outside a Houston lounge, will become No. 990 on the national list of those put to death. And others from Texas, the Carolinas, Delaware, Ohio. Arkansas, and Virginia will fall soon enough.
"By the time you've done it 200, or 250, or 300 times,'' Dow said, "it's like brushing your teeth in the morning.''
You can reach Dan Malone at dan.malone@fwweekly.com.