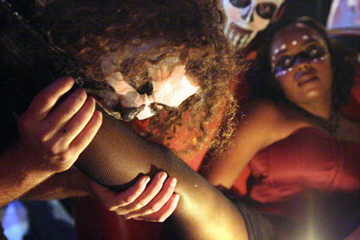 Bite me: Daniel Katsuk and his A-Hummin' Acoustical Acupuncture's spiritual, transcendental folk-rock should provide a nice counterpoint to Sally Majestic's R-rated good-timin'.
A D V E R T I S E M E N T
A D V E R T I S E M E N T
Show
By Anthony Mariani
Everybody pretty much knows what goes down at an A-Hummin' Acoustical Acupuncture show — heavy, tribal percussion mingles with glorious, mellifluous melodies that come from some mythical place where Middle Eastern chants and rock choruses coexist peacefully, and frontman Daniel Katsuk's jangly, percussively played acoustic guitar bounces, twinkles, and echoes. With the departure of some members a few months ago, the band is now originator Katsuk with Tabber Millard on drums and, on vocals and percussion, Precious, a tiny gal with a huge yet ethereal voice.
The opening act for this week's show adds another, odd dimension to the gig. Whereas Triple-A is sometimes ominously serious, Sally Majestic is all about the par-tay, 24/7.
There are two things to recommend this three-year-old trio of keg-rockers: The musicianship is uniformly exceptional, and no other local bar band really values the concept of storytelling through song as unabashedly. OK, we're not talking Wagner or Puccini here — more like the guys from South Park — but it's still good stuff, replete with nicely drawn themes and even recurring characters. A popular fave is Bobo of the ska-inflected groove of the same name. A loser who doesn't know he's one, Bobo hasn't had a job "since 1989" and has a lot of "action on the side." (He also "likes to hit it from behind," though we don't believe that a rather common sexual predilection naturally helps account for Bobo's loserdom.) The telling is also pretty funny in a South Park-ish way. When the lead singer says that the character is "one of those guys," a back-up singer echoes the statement in a hilarious fake female voice; then when the frontman says that Bobo "knows what he likes," the back-up singer echoes that statement in a hilarious faux-Screamin' Jay Hawkins voice, heavy on the baritone and vibrato. The titular character of "Jonny, Jonny" is another loser, but, unlike Bobo, Jonny is aware of how low he's sunk. He hates his stockboy job at the mall ("he had dreams to play professional ball"). His girlfriend, whom he loves "to death" (even though the lead singer "don't know anyone she ain't fucked yet"), doesn't want to see him until he gets his shit together. The ultimate disgrace for Jonny is that when he crawls back to her to plead his case one more time, he sees her "with Bobo, getting hit from behind!" As we said: fun, funny, crude stuff.
Even though Sally Majestic is primarily an experiential band, the threesome of guitarist/vocalist Scott Griffin, bassist/vocalist PJ Fry, and drummer Tim Cowdin began recording a full-length disc at Indian Trail Recording Studio last month.
To make the deal even sweeter, the early opener will be native son, synth-R&B master, and cheerleader extraordinaire Nathan Browningham (né Nathan Brown). He has a new c.d. out, Gotta Get It Outta Here, and he's on a small tour of the Southwest. If you're new to North Texas, you need to make the scene. I guarantee that you've never seen anything like a Nathan Brown show — playing keyboards and drums while singing, he makes the Polyphonic Spree look like a toddler banging on an empty coffee can. Visit www.myspace.com/browningham.
Sat at the Wreck Room, 3208 W 7th St, FW. 817-348-8303.