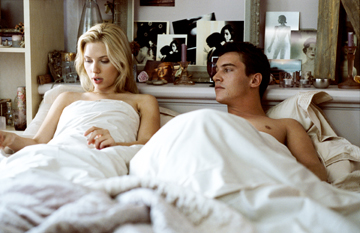 Scarlett Johansson and Jonathan Rhys Meyers take a break from burning up the sheets in 'Match Point.'
Match Point\r\nStarring Jonathan Rhys Meyers and Scarlett Johansson. Written and directed by Woody Allen. Rated R.
A D V E R T I S E M E N T
A D V E R T I S E M E N T
The Rules of the Game
Woody Allen's latest comeback reaches a nerve-wracking Match Point.
By KRISTIAN LIN
The word "chiller" isn't used much anymore to describe movies. A chiller is like a thriller, but instead of action, it relies on psychological motivation and a slow buildup of dread for its effect. The French seem to be the only ones still making these — Dominik Moll's With a Friend Like Harry and Jacques Audiard's Read My Lips are good recent examples. The word deserves to be brought back, especially to refer to Match Point.
Wait, you may be thinking. Isn't this Woody Allen's latest film? It is indeed, though you wouldn't guess it was one of his movies if his name weren't on it. Set in London, Match Point is a dark meditation on human nature and its capacity for evil. For a director who's been spinning his wheels ever since 2000's Small Time Crooks, it's also a gratifying return to form.
The main character is Chris Wilton (Jonathan Rhys Meyers), a moderately successful, recently retired professional tennis player who meets and soon marries a sweet, slightly ditzy, manipulative-without-being-aware-of-it girl named Chloe (a sympathetic turn from Emily Mortimer in the kind of role Mia Farrow used to play). Chloe's extremely wealthy family is rarefied company for Chris, an Irish kid who grew up poor, but rigorous self-education has given him enough social graces to blend in with his welcoming new in-laws. So he's jeopardizing not only his marriage but also the moneyed way of life he's grown used to when he embarks on an affair with Nola (Scarlett Johansson), a struggling actress from America who's engaged to Chloe's brother (Matthew Goode). A plot development like this is never convincing unless you believe the two characters are attracted to each other. That's no problem here; the sex scenes between Rhys Meyers and Johansson are hot and a bit kinky, and the raw eroticism of their encounters will leave you wondering, "This is a Woody Allen film?"
As fictional characters go, Chris is kin to Patricia Highsmith's Tom Ripley. Oddly passive, he goes through life always taking the path of least resistance. Chris succumbs to most of Chloe's gentle requests, whether it's trying caviar blinis or going to work for her dad (Brian Cox). Even when he's moved to act on his own and decides to commit murder, he does so because it's the easiest way out of trouble. The 10-minute climactic sequence has Chris put his disturbingly callous plan into action. As he waits in an apartment building clutching a shotgun, a solicitous neighbor (Colin Salmon, a powerful actor in a tiny role) knocks on the door, and Chris spends some agonizing moments wondering if he's going to have to kill this guy, too. The tension in this scene is authentically hair-raising, and it'll leave you wondering, "Seriously, this is a Woody Allen film?"
This movie may feel like a radical new direction for Allen, but it really isn't. It's essentially a leaner and more energetic remake of his 1989 movie Crimes and Misdemeanors, without the earlier film's theological baggage and heavy-handed metaphors. Match Point feels different mostly because of the British setting, which works wonders for the filmmaker. The class themes in the script resonate much more in class-ridden England, even if Allen still proves tone-deaf when it comes to characters who aren't rich — Nola's Chelsea flat is far beyond her means.
Even better, the setting allows Allen access to British actors, and his cast's high technical polish gives the movie a sleekness that's entirely different from the scruffiness of his New York films. The angular Rhys Meyers makes a great contrast with the curvaceous Johansson, and he has that same quality that James Spader had back in his day: striking good looks plus a certain spiritual blankness that suits him for shifty, morally ambiguous roles. Still, in this mostly British cast, it's the American lead who stands out. We've seen characters like Nola in Allen films, an outsider who behaves like a psycho after being mistreated by a man (Anjelica Huston in Crimes and Misdemeanors, Lysette Anthony in Husbands and Wives). Johansson takes this rather sexist creation and makes it live and breathe, capturing the moody discontent behind Nola's flirtatious exterior and turning the right degree of coarse when Chris tries to shrug her off. For those who think the sexy charmer act that Johansson perfected in Lost in Translation is all there is to her, this role proves there are a few more items in her repertoire.
As with other Allen efforts, this film is at its weakest when it tries to be intellectual. Chris' discourses on the role that luck plays in life aren't nearly as forceful as they should be, and the final conversation between him and Nola doesn't work. As a statement about the godlessness of the universe, this movie fails. As a compelling yarn about a single act of evil and everything that leads up to it, however, it has a nice feel of inexorable doom, right down to the soundtrack full of scratchy vintage Enrico Caruso recordings. Invigorating and ice-cold to the touch, Match Point signs yet another new lease on Woody Allen's career.