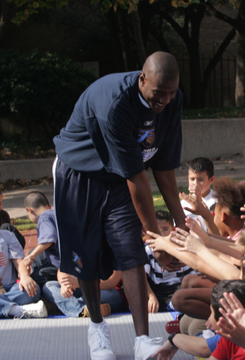 Vonteego Cummings at an outreach event for Fort Worth Flyers.
A D V E R T I S E M E N T
A D V E R T I S E M E N T
Cowtown Ballers
Local hoops fans get an early Christmas present this week, as Fort Worth has its first chance to see its very own pro basketball team in action. The Fort Worth Flyers are one of eight teams in the NBDL, the developmental league for the NBA and future home for guys on the margins seeking that call-up to the big league as well as for teen-agers who have the skills but not the academic qualifications for college ball. (Maybe the D-league will be successful enough to kill off NCAA basketball as a big-time sport and help end the sham that is student athletics. Hey, we can always hope.)
Having opened the season on the road, the Flyers play three games at home this week. The offense will be run by point guard Vonteego Cummings, formerly of the Golden State Warriors and Philadelphia 76ers. Manning the middle will be Luke Schenscher, the seven-foot Australian center who won over the crowds at Georgia Tech with his curly red hair, physical presence in the lane, and a name that will make you sound drunk or speech-impaired if you say it long enough. Over the next season, they'll be battling against teams that are spread from Albuquerque to Fort Myers, Fla. With players who have a legitimate shot at playing their way into an NBA uniform, the Flyers and other teams in the NBDL will give Fort Worth the closest to major-league sports talent that we've seen.
The Fort Worth Flyers tip off at 7pm Wed, 8pm Sat, and 3pm Sun at Fort Worth Convention Center, 1111 Houston St, FW. Tickets are $10-75. Call 817-698-8333.