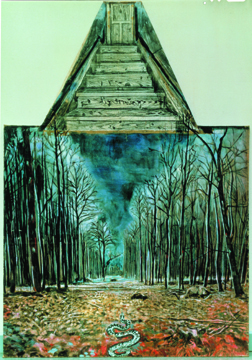 Anselm Kiefer's 'Resurrexit' is part of the Modern's retrospective.
Anselm Kiefer: Heaven and Earth runs Sep 25-Jan 8 at Modern Art Museum of Fort Worth, 3200 Darnell St, FW. Admission is $4-8. Call 817-738-9215.
A D V E R T I S E M E N T
A D V E R T I S E M E N T
Wings of Desire
Anselm Kiefer was born in Germany in 1945, so it's fitting that he should become one of the greatest voices of his nation's culture in the wake of World War II. Two of his pieces are among the most striking in the Modern Art Museum of Fort Worth's permanent collection: the sculpture Buch mit Flügeln (Book With Wings) and the painting Die Aschenblume (Ash Flower). Now more than 60 of his other works — oil paintings, watercolors, sculpture, and books — will be on view in the museum for his retrospective, Anselm Kiefer: Heaven and Earth.
Kiefer's art tends toward the monumental, and he's best known for his ambivalence towards this same tendency in German culture and his willingness to examine how it led to the rise of Nazism. This show, on the other hand, focuses on his metaphysical side. The pieces here refer to Nordic, Greek, Egyptian, early Christian, and mystical Jewish mythology, and no fewer than 10 works have the word himmel ("heaven") in the title. (The subject is addressed by a less prominently displayed Kiefer painting in the Modern's collection, the 1973 piece Quaternität (Quaternity).) Heaven and Earth is less about the artist's religious beliefs than his exploration of the human need for religion and our desire to believe in something beyond this world. Does this make Kiefer a present-day spiritual heir to Goethe, Schopenhauer, and Kant? The Modern's show lets you decide.