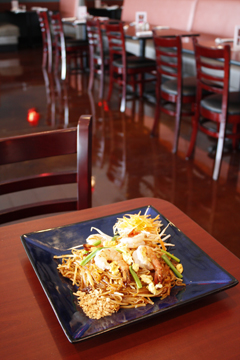 Thai food makes up only part of Blue Mint's Asian all-around menu. Keith Sternberg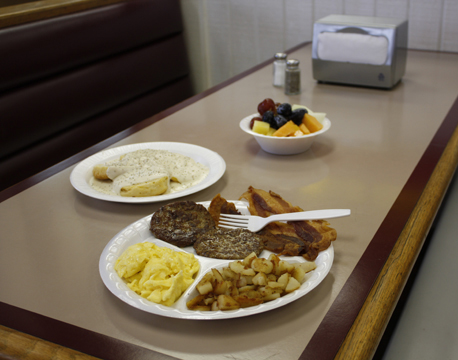 Charlie Broun's breakfasts are good, cheap, and plentiful. Even Snoopy couldn't ask for more. Keith Sternberg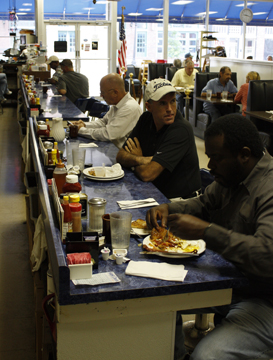 The pies are legendary at Paris Coffee Shop. Keith Sternberg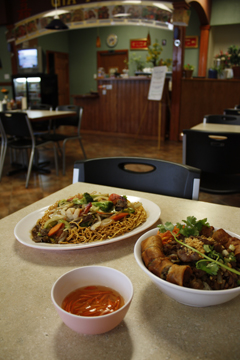 Gia Phu's Vietnamese delicacies are well worth a trek to East Berry Street. Keith Sternberg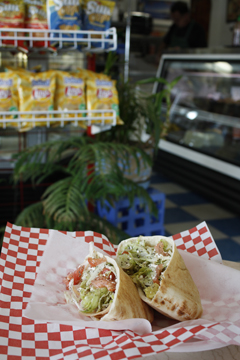 George's Greek turkey sandwich is a veritable United Nations of flavors. Keith Sternberg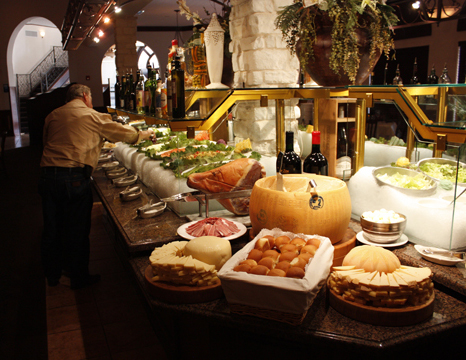 Boi Na Braza takes "buffet" to a whole new level. Keith Sternberg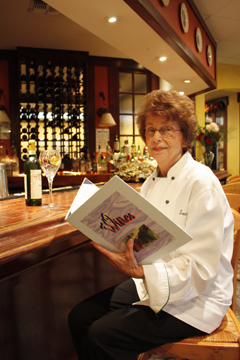 Louise Lamensdorf has put together a wine list to die for — or at least to drink from frequently. Keith Sternberg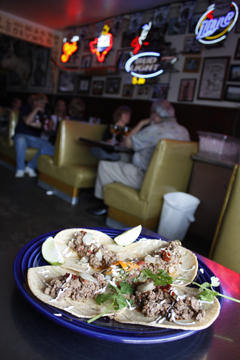 Go to Fred's Texas Cafe for brunch — or the rapidly changing view from those creaky gold booths. Keith Sternberg
Bobby Albanese keeps opening restaurants, and we keep lovin' 'em. Keith Sternberg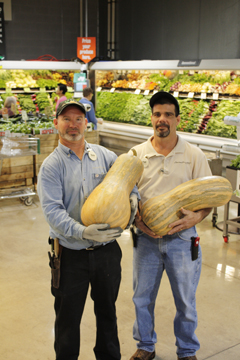 David Nolen and Paul Power show off some gi-normous veggies at Central Market. Keith Sternberg
A D V E R T I S E M E N T
A D V E R T I S E M E N T
Best Of Good Grub
All-Star Barbecue
Ribs: No sauce needed — the glorious rub keeps these meaty ribs crispy outside, moist and tender inside. Pit Barbecue, 702 N Henderson St, FW.
Brisket: A miraculous balance of charcoal-tinged fat, crusty flavor crystals, and juicy, rosy meat. Mom's BBQ, 1509 Evans Av, FW.
Sandwich: Thank goodness for Wilson's two-for-one chopped-beef sandwich special, because once you've had one of these, all you can think is, "I gotta have another one of these." Wilson's Barbecue, 5633 Lovell St, FW.
Sausage: Beef, pork, and breakfast varieties, all delicious, all made fresh at Sausage Shoppe, 1302 E Seminary Dr, FW.
Turkey: Cajun-spiced and hickory-smoked at Bartley's, 413 E Northwest Hwy, Grapevine.
Sides: Tender but firm pinto beans in a thick peppery sauce at Pit Barbecue; and "potato salad" that's more like a smashed-up loaded baked potato at Deer Creek BBQ Co., Ridgmar Farmer's Market, 900 Hwy 183 N, FW.
Dessert: Super-nutmeggy peach cobbler, a perfect end to a homey meal at Smokey's BBQ, 5300 E Lancaster Av, FW.

All-Star Mexican
Drink: The agua frescas aren't housemade here at Bedford's best (and possibly only) authentic Mexican taqueria, but they sure taste like it. El Paisa, 2801 Harwood Av, Bedford.
Chips & salsa: We like our salsa like we like our men: chunky, a little sweet, and redolent with cilantro and garlic. Esparza's, 124 E Worth St, Grapevine.
Guacamole: Chunky, lime-y, lightly salty — perfect. Antonio's, 8316 Bedford-Euless Rd, NRH.
Enchiladas: Get them "Mijo's Style": flour tortillas stuffed with rich, tender barbacoa and floated in thick queso and tingly epazote sauce. Mijo's, 2304 W Park Row, Arl.
Tamales: These spicy pork tamales are so good, they fly off the shelf. Consider ordering now for Christmas. Taqueria San Antonio, 7905 Camp Bowie Blvd W, FW.
Entrée: Sizzlingly authentic Monterrey-style cabrito al pastor (baby goat) at Nuevo Leon, 1544 Ellis Av, FW.
Dessert: Can't decide between rich chocolate cake and creamy flan? Why not both, topped with cajeta (sweetened caramelized milk) and pecans for good measure. "Chocoflan" at La Playa Maya, several area locations.

All-Star International
Drink: Part of the fun of durian is trying to describe its flavor (sweet almond custard?) and aroma (barnyard?). Hold your nose and dive into a smoothie at Pho Hung, 4125 Belknap St, FW.
Bread: Toasted rustic bread is the crispy foundation for fresh ricotta salata and ripe grape tomatoes. Bruchette at Ferré, 215 E 4th St, FW.
Appetizer: Think only the French know how to cook snails? Try them sauteed with mushrooms and fresh tomatoes in a garlic-wine sauce — now, that's Italian. Lumache funghi at On Broadway Ristorante, 6306 Hulen Bend Blvd, FW.
Soup: Seafood, fresh vegetables, and noodles in a very spicy broth. Very, very spicy. Don't say we didn't warn you. Champong noodle soup at Taste of Korea, 2615 W Pioneer Pkwy, Grand Prairie.
Salad: From cilantro flecks to glass noodles, this chicken and shrimp salad is fresh, light, and wholly satisfying. Yum woon sen at Thai Tippawan, 461 Harwood Rd, Hurst.
Entrée: Cream cheese binds sautéed spinach and a bushel of bacon bits to a huge grilled chicken breast, then it's all topped with made-to-order mushroom alfredo sauce. No worries; there aren't any calories in heaven. Heavenly Chicken at Chadra Mezza & Grill, 1622 Park Place Av, FW.
Dessert: Guava puree and a slick of cream cheese baked inside flaky pastries. Puerto Rican-style empanadas at Mi Tierra, 603 W Abram St, Arl.

All-Star Home Cooking
Appetizers: Whatnots: Excellent mushrooms stuffed with three cheeses and sautéed in garlic butter at the restaurant in the gas station, Chef Point Café, 5901 Watauga Rd, Watauga. … Also, armadillo eggs — balls of sausage stuffed with jalapeños and cheddar cheese, then wrapped in a home-made biscuit may sound crazy, but man, it's crazy good at Manny G's, 444 Keller Pkwy, Keller.
Entrées: Crab cakes nestled in a bed of farfalle and topped with a decadent roasted red pepper sauce at Chef Point Café, 5901 Watauga Rd., Watauga. Or rich, fattening, delicious chops at Papa's Fast Foods, 923 E Rosedale Av, FW, for the money one of the best entrées in town.
Sides: Mashed taters: with peppery cream gravy at Hatch's Corner, 6950 Forest Hill Dr, Forest Hill; smokey collard greens at TBones, 2324 S Collins St, Arlington; arguably the best mac-and-cheese ever at Chef Point Café, 5901 Watauga Rd, Watauga; red beans and sausage at Mary's Cajun Corner 5530 E Belknap St, Haltom City. Sweet potatoes at Jan's Sweet Expressions, 1129 E Allen Av, FW.
Desserts: Bread pudding, moist and drizzled in rum, at Pierre's Mardi Gras Café, 2816 S Cooper St, Arl; or the apple pie at Paris Coffee Shop, 700 W Magnolia, FW.

Breakfast
Readers' choice: Ol' South Pancake House, 1507 S University Dr, FW
Critic's choice: Charlie Broun's Café & Catering, 105 S Bowen Rd, Arl
Drop in on Charlie Broun for an old-fashioned breakfast that's filling and cheap. This mom-and-pop operation serves up bulging, tasty breakfast burritos, eggs done to perfection any way you want them, with various meat choices, home fries that didn't come out of the freezer, gravy and homemade biscuits, or whole wheat toast — all served hot off the grill. "Charlie's pancakes" are really good, swimming in syrup and butter. This little café is open 7 to 7 and serves breakfast all day (though if it's lunch or dinner you want, Charlie offers good options in those departments, too).

Coffee
Critic's choice: Eurotazza,
6323 Camp Bowie Blvd, FW
So much for the idea that Starbucks would kill off all the independent coffeehouses. The large, spiffy, ultra-mellow place within hailing distance of the Ridglea Theater (with a Starbucks in between them, wouldn't ya know) offers a selection of internationally grown cappuccinos, espressos, and teas that are every bit as good as the big chain's, only at more reasonable prices, with better atmosphere and better food.

Coffeehouse
Readers' choice: Eurotazza,
6323 Camp Bowie Blvd, FW
Critic's choice: America's Best Coffee
3751 Matlock Rd, Arl; 1211 E Debbie Ln, Ste 101, Mansfield
The small, privately owned coffeehouse offers inexpensive coffee ($1.89 for a large iced coffee, $2.90 for a mocha) at both locations, not to mention comfy couches, tables, actual work stations, free wi-fi, and a ridiculous number of electrical outlets for your laptop. Besides the coffee and tea, there are sandwiches and snacks from Crumbs Sandwich shop. And ABC approaches corporate responsibility seriously, using 100 percent recyclable coffee cups and only fair-trade coffees. During the day, you'll find a diverse bunch of suits, students, and slackers gettin' their java on. In the evenings, ABC offers "game nights," entertainment on the big-screen televisions, and live music.

Donuts
Readers' choice: Paul's Gyros and Donuts, 1324 Hemphill St, FW

Brunch
Readers' choice: Fred's Cafe Sunday Brunch, 915 Currie St, FW
Critic's choice: Lambert's, 2731 White Settlement Rd, FW
You won't find iceberg lettuce or canned peaches in gelatin at Lambert's Sunday brunch buffet. Instead of a wall-o'-indiscriminate-food, this carefully selected line-up offers only the best of upscale ranch cuisine: main courses of salt-crusted smoked prime rib, migas with fresh salsa, and maple-glazed pork loin with mango chutney; sides of griddled breakfast potatoes and green chili cheddar grits; and bright notes of seasonal fruits and berries. Omelets and eggs Benedict are cooked to order, while the house smoker churns out salmon and crispy bacon. There's plenty to choose from, but not too much — you can try a bit of everything and still have room for Lambert's signature coconut cream pie. The friendly servers who keep your coffee cup and mimosa glass filled and the saddle-and-animal-head décor anchor the theme: At Lambert's, you are king of the ranch.

Greasy Spoon
Readers' choice: Fred's Texas Café, 915 Currie St, FW
Critic's choice: Paris Coffee Shop, 700 W Magnolia Av, FW
The owners of the Paris Coffee Shop might not like the place being referred to as a greasy spoon, but in our book that's a good thing. Greasy spoons offer a mix of homemade and canned and frozen food, just like your mom made it. They serve you up large portions with quick service. They have things like red-eye gravy on the menu, and waffles, chicken fried steak, sausages and blue-plate specials for lunch (and on chicken-and-dumpling days, the line stretches out the door). They've got good coffee and wonderful pies. Ain't you beginning to drool just a little?

Soul Food
Readers' choice: Drew's Place, 5701 Curzon Av, FW
Critic's choice: TBones Mississippi Style BBQ Place, 2324 South Collins St, Arl
Tbones Mississippi Style BBQ was born in the back of owner Terry Coleman's catering truck. Coleman and his family still cater from the tiny restaurant in south Arlington, which arguably serves up the best soul food west of the Mississippi. The salty, spicy, fried pork chops with mashed potatoes and creamy brown gravy give new meaning to the phrase "finger-lickin' good." These, along with the homemade mac and cheese and steamed cabbage sides, were pronounced by my soulful friend from Mississippi as "almost as good as my Mama's." The surprisingly fluffy, creamy, nutmeg-laden sweet potato pie was sinfully luscious, even without whipped cream. Featuring generous portions, served up with love by a family that's made Arlington their home, TBones is truly food for the soul.
Deli
Readers' and critic's choice: Carshon's Deli, 3133 Cleburne Rd, FW
Often described as "The Closest Thing Fort Worth Has to a Real Jewish Deli," Carshon's may not be strictly kosher — they'll make you a roast beef and cheddar, if you want, and on a Saturday yet — but you'd have to schlep a long, long way to find better pastrami or corned beef. Those and other meats are available fresh-sliced by the pound, along with cheeses, chopped liver, lox, and fluffy egg salad. Grab a loaf of soft rye made by Highland Park Bakery to pile it all onto. Kosher smosher, Carshon's is still a great deli.

Indian
Readers' choice: Maharaja, 6308 Hulen Bend Blvd, FW
Critic's choice: Ahmed, 1827 SW Green Oaks Blvd, Ste 149, Arl
If you think "curry" means only "hot and spicy," check out this Indo-Paki diner. Ahmed's half-dozen exquisitely blended curries range from a fiery vindaloo to a coconut-creamy korma, with choice of chicken, goat, lamb, beef, or potatoes. There's much more to the Indian subcontinent, and to this menu, than curry — don't miss the grilled lamb chops or the charbroiled beef kebabs — but every dish is beautifully seasoned, with a centerpiece of fragrant basmati rice and fresh-baked naan. Friendly service, low prices, and a refreshing mango lassi make Ahmed a must destination for adventurous diners.

Home-Cooking
Critic's choice: Pitt Stop Café, 7089 E Mansfield Hwy, Kennedale
Good grub is what Kennedale would rather be known for than the porn shops and auto junk yards that still dot the western edge of this small burg. Glad to say it's making progress in that direction, with a number of eateries now open along the widened and repaved old Highway 287 that is the town's main thoroughfare. But for solid, consistently tasty home-style cooking, nothing beats the Pitt Stop — and the lines of pickup trucks in the parking lot each day attest to its popularity with the home folks. Grilled pork chops, chicken-fried steak slathered with cream gravy, fried catfish, meatloaf, and generous down-home veggies mean this little eatery satisfies with memories of grandma's groaning board. Add a side of the chef's hand-dipped onion rings for a special treat.

Cajun
Readers' choice: Razzoo's, 318 Main St, FW
Critic's choice: Copeland's, 1226 Federal Way, Southlake
The New Orleans-based chain opened a location on the first floor of Southlake's modest Hilton Hotel, and if the word "chain" turns your foodie nose skyward, you're missing out on heaps of royal, decadent, Louisiana-inspired cooking. Eggplant pirogue featured two silken slabs of breaded and fried eggplant stuffed with crab claws and baby shrimp. Blackened Pork La Boucherie boasted four juicy pieces of pork tenderloin subtly zestified by the "blackened" cooking method that non-Cajun eateries have flubbed for decades. Wood-grilled chicken came with yams whipped into a fluffy, dessert-like mound and topped with chicken breast slices, velvety caramelized onions, and roasted pecans.

French
Readers' choice: Saint Emilion, 3617 W 7th St, FW

Chinese
Readers' choice: Szechuan, 5712 Locke Av, FW
Critic's choice: Skillman Wok,
4310 Western Center Blvd, FW
Though primarily a delivery operation, Skillman Wok serves up Grade-A — and health-conscious — grub. Calorie information on every item is written on the menu, and only the freshest ingredients and healthiest cooking methods are used, according to both the eatery's literature and the intensely flavored, light yet hearty fare itself.

Tex-Mex over $10
Readers' choice: Cantina Laredo,
500 Throckmorton St, FW
Critic's choice: El Gabacho, 408 W Abram St, Arl
The best way to dine at El Gabacho, the new Tex-Mex grill from longtime Tarrant County restaurateur David Govea, may be to start at the end. No reason an entrée can't serve as an (extremely large) appetizer, and nothing awakens the taste buds like El Gabacho's carne asada, a flavor bomb of melt-in-the-mouth, salt-rubbed beef, with tender yet toothy grilled onions and bell peppers. After that, we'd be ready for nachos, topped with either tender sour cream-chicken, fajita meat, or, why not, ice cream sprinkled with cinnamon sugar. For dessert, creamy, rich queso with warm tortilla chips would mellow us nicely. It's hard to leave this cozy, bistro-y place and its attentive but never pushy servers — so what the heck, let's just go around the menu again. This time, we'll start with the seafood enchiladas ...

Tex-Mex under $10
Readers' choice: Mexican Inn Café, 5716 Camp Bowie Blvd, FW
Critic's choice: El Asadero, 1535 N Main St, FW
El Asadero still gets the nod. Killer guac, great enchiladas, the best chicken mole in town, friendly staffers who know what your "usual" is after you've been there a handful of times, and iced tea glasses the size of Rhode Island. Your critic has spread the Asadero religion to a whole new circle of fans, who refer to it, thanks to its, um, bright paint job, as "the orange place."

Middle Eastern
Readers' choice: Chadra Mezza, 1622 Park Place Av,FW
Critic's choice: Beirut Rock Café, 1201 S Cooper St, Arl
Divy, delicious, and utterly authentic are the right adjectives for this Lebanese outpost located at the southern edge of the UTA campus. Every standard here is stellar: tabbouli (the grainy salad full of cracked wheat, scallions, and olive oil); a particularly fragrant hummous dip; the dark brown, deep-fried, fava-bean-chickpea-cilantro discs known as falafels; and the shish tawook (yummy, charbroil-seared chunks of chicken breast skewered between tomato and onion slices) as well as shish kafta, a kind of meatloaf made from succulent lamb ground with parsley and green onions.

Thai
Critic's choice: Thai Tina's, 703 N Henderson St, FW
Watauga's loss was downtown Fort Worth's gain when Tina Vorachack and partner Jay Jennings relocated to this rather desolate area early this year, renovating a vacant building into a charming, eclectic space. They brought their biggest hits along: crab rangoons with actual crabmeat in them, chicken satay with a spicy peanut sauce, dainty fried calamari, flaky chicken wonton purses — and that's just in the appetizer section. Between those and the must-have dessert of sweet-sticky rice with mango and ice cream are pages of Thai dishes, some classic, some featuring Tina's creative twists, all amazingly delicious. Every dish is at once cool, refreshing, and vibrant — just like Tina herself.

Italian
Readers' Choice: Nonna Tata,
1400 W Magnolia Av, FW
Critic's Choice: Jerry's Italian Bistro, 7012 Grapevine Hwy, Richland Hills
Owner Jerry Tairi changed the name of his establishment from Café di Roma and renovated the interior, but the food is still rib-sticking spectacular. A hearty dish called Staciatela a la Romana was a kind of spinach egg-drop soup. Chicken Rossini featured two thinly sliced, baked white-meat chicken breasts topped with a thick red tomato slice and a gooey shield of nutty mozzarella, all on a bed of steaming spaghetti. Tortellini Michael Angelo combined the pasta with slippery shards of mushroom, tomato chunks, and sizable pieces of artichoke hearts in a succulent pink sauce.
Pan-Asian
Readers' choice: Genghis Grill, 1101 Melbourne Rd, Hurst
Critic's choice: Blue Mint Thai and Asian Restaurant, Ste 115, 1211 E Debbie Ln, Mansfield
"Asian with a twist" is how Blue Mint describes its cuisine. A veritable smorgasboard of Asian cuisines is represented on the extensive menu. Of course there's Thai (pad Thai and pad Se Ew). But Blue Mint also does Chinese — wonton and Chinese noodle soups, along with Five-Spice beef stew and lo mein. And Japanese — including yakisoba and miso soup. South Asian food, in the form of curry, is also represented. There's even a Burmese soup on the menu — who knew? The one Asian favorite that Blue Mint doesn't include: sushi. But if you want a taste of most of the different flavors of the world's largest continent, Blue Mint's "twist" is what you're looking for.

Vietnamese
Readers' choice: Tu Hai, 3909 E Belknap St, FW
Critic's choice: Gia Phu, 913 E Berry St, FW
This humble little restaurant isn't located in one of Tarrant County's traditional Vietnamese enclaves, but its delicious pho is well worth seeking out. Even better is the house-specialty Gia Phu pancakes, coconut milk-flavored crepes stuffed with pork, shrimp, and bean sprouts. If you're bored with omelets for Sunday brunch, this is the perfect alternative. Throw in the fact that no item on the menu is over $6.95, and you've got a winner.

Vegetarian Dish
Readers' choice: Anything at Spiral Diner 1314 W. Magnolia Av, FW
Critic's choice: Maharaja, 6308 Hulen Bend Blvd, FW
Maharaja nearly perfects North Indian cuisine from its location in a nondeDELETE strip mall. Vegetarian selections make up about half the menu. The aloo gobi, which attacks with spices from bite to swallow, is the tastiest dish on a menu that has lots of them. The potatoes and cauliflower are slow cooked before a medley of spices, most notably the tangy turmeric, is added. Combined with the fresh tandoor taste of Maharaja's naan, who needs meat anyway?
Barbecue
Readers' choice: Railhead BBQ Smokehouse, 2900 Montgomery St, FW
Critic's choice: Mama E's, 818 E Rosedale St, FW
Fools for 'cue who demand their sauce either very sweet or very spicy will find in Mama E's secret recipe a wonderfully unwimpy compromise: This stuff hits the tongue sweet, then lights a small but potent flame. The sliced beef here is top-shelf — tender enough to cut with a plastic spoon. The beef and pork hot links literally burst out with flavor in each juicy bite. Don't miss the extravagantly meaty turkey leg, its thin chewy skin concealing thick tasty gobbler flesh.

Hamburger
Readers' choice: M&O Station Grill, 200 Carroll St, Ste 110, FW
Critic's choice: Day Break Café,
2720 White Settlement Rd, FW
Wow. You're losing money by not eating breakfast or lunch at this side-o'-the-road shack every day. Burger fans, if you haven't been there, you don't know what you're missing. The double-burger with cheese is as big as your head, cheese-tastic, and just greasy enough to make the hearty, buttery bun a little damp, sending streams of glossy goodness down your wrists and off your chin. The best part: The damn thing is only $2.80. Seriously. Why in the hell aren't you there right now?

Steak
Readers' and critic's choice: Del Frisco's, 812 Main St, FW
We'll give a friendly Fort Worth "howdy" to downtown Cowtown's steakhouse newcomers, Ruth's Chris, Don Shula's in the Sheraton, and Bob's Steak & Chop House, which is scheduled to open early next year in the new Omni Fort Worth Hotel. We'll admire their fresh décor and modern-steakhouse sizzle. But for more than just a very good steak — for the best steak in town, one that's simply perfect in every way, from the gloriously seared outside to the juicy inside — we'll stick with the old kid on the block, thank you.

Chicken-Fried Steak
Readers' choice: Reata, 312 Houston St, FW
Critic's choice: Texas Grill, 6550 Camp Bowie Blvd, Ste 140, FW
Formidable, crisp but juicy, and with just enough peppery bite to keep you reaching for your iced tea, Texas Grill's version of the Lone Star State staple arrives on your plate not as a slab flattened to epic proportions, but rather a neat though lengthy-enough heap, layered with creamy, slightly zesty gravy and typically accompanied by hearty, light yet filling sides.

Tamales
Readers' choice: Hot Damn! Tamales, 713 Magnolia Av, FW
Critic's choice: Mi Pueblo Carniceria, 909 N Main St, Cleburne
One of the oldest dishes in the Americas, tamales still suck most places. Sometimes they're old, sometimes flavorless, oftentimes too greasy. But not at Mi Pueblo on the outskirts of Cleburne. It might seem crazy to send people 28 miles down the freeway (take the Hwy 174 exit off I-35, drive through Burleson and Joshua till you see Mi Pueblo on your right) for tamales, but hey, these are the best around. They're made from scratch and are constantly being steamed as they sell out quickly. The fresh corn masa is mixed with just the right amount of lard and a touch of salt to keep it rich but not greasy. The filling of shredded pork is cooked with achiote and onion, and it's delish. Buy a couple dozen and bring 'em to the bar to watch a football game. And if Cleburne is too far, try them at Mi Pueblo over on East Seminary Drive, FW.

Queso
Readers' choice: Fuzzy's Taco Shop, 2917 W Berry St, FW
Critic's choice: La Playa Maya, four locations, FW
La Playa Maya disregards any Tex-Mex expectations with their authentic, savory queso flameado. The kitchen staff mixes mild Oaxacan cheese with peppery chorizo. Tableside, the server lights the blend with a healthy dose of strong rum, singeing the cheese. The heat transforms the blend from bland to French countryside rich. Served in fresh flour tortillas, the Mexican delight is pure pleasure for experimental tastebuds.

Green Salsa
Readers' choice: Mijo's Cantina, 2304 W Park Row Dr, FW
Critic's choice: Los Alamos Café
1446 N Main St, FW
This Northside hole-in-the-wall diner has survived for more than 50 years because of regular customers. Reasons for such loyalty include good food, low prices, and friendly staff. But the biggest draw is the salsa verde — so addictive that some customers accuse the cooks of lacing it with crack cocaine to ensure repeat visits. Made up almost entirely of boiled and blended jalapeños and seasonings — and without any dreaded tomatillo to muck things up — the salsa is heaven on a chip, enchilada, or taco.

Red Salsa
Readers' choice: Joe T. Garcia's,
2201 N Commerce St, FW
Critic's choice: Uncle Julio's,
5301 Camp Bowie, FW
Uncle Julio's roasts tomatoes, peppers, and onions over mesquite wood before blending them into some of the tastiest salsa in the Fort. The smokiness is key to the flavor. With just the right amount of spice, they'll please even your guests from up north — they won't keel over and sweat profusely like some do when they encounter Tex-Mex food. Squeeze a lime in it for an added bonus.

Buffet
Readers' choice: Chadra Mezza,
1622 Park Place Av, FW
Critic's choice: Boi Na Braza
4025 William D Tate Av, Grapevine
Some people might quibble with the idea of putting a churrascaria in the buffet class, but we're sticking with it. True, you only venture to the actual buffet table for non-meat items, but what's on order is a delight. The buffet is filled with fine cheeses, excellent breads, wonderful salads, and vegetables from asparagus to hearts of palm, as well as a small but wonderful selection of desserts. The meats, of course, are what makes a churrascaria: The wait staff, dressed as gauchos, arrive regularly at your table with lip-smacking skewered meats that have been roasted over an open fire. The selection includes picanha, a special cut of rump roast that is a Brazilian standard, as well as lamb chops, pork ribs, chicken breast with bacon, and filet mignon. And they keep coming back until you say you've had enough.

Sushi
Readers' choice: Piranha Killer Sushi
335 W 3rd St, FW
Critic's choice: Sushi Yoko, 6333 Camp Bowie Blvd, Ste. 280, FW
Sushi joints around here lean toward a sameness in decor (slick and modern), music (techno-lite), and menu ("inventive"). Frankly, we were getting a bit bored — until we stumbled on Sushi Yoko. No slick, no techno, and best of all no TVs — just low-key elegance and gracious, kimono-clad servers. Admittedly, the menu has some inventive touches (with rolls like DFW Tower and Honeymoon in Phuket), but Sushi Yoko is aimed at serious sushi eaters, not trend-seekers. This classy place makes old-school seem fresh and new.

Pizza
Readers' choice: Mellow Mushroom
3455 Bluebonnet Circle, FW
Critic's choice: Brix Pizza and Wine Bar, 2747 S Hulen, FW
Owner-chef Daniel Puleo deals in just one crust style — Sicilian thin — and two sizes — 10" and 13". Yet he manages to revive your pizza-weary buds with the miracle pies he conjures in his brick-fired oven. The 4 Formaggi includes mozzarella plus sharp Parmagiano and Gorgonzola made into velvet harmony with warm, musky dollops of goat cheese. Equally stellar is the prosciutto e rucola, with fatty, paper-thin slices of pungent ham, shaved strips of prickly, melted parmigiano, and whole, stem-on leaves of bitter arugula.

Seafood
Readers' choice: Ocean Rock,
3468 Bluebonnet Circle, FW
Critic's choice: Big Fish Seafood Grill & Bar, 414 Main St, Grapevine
Obviously, being as far from the coast as we are, fresh seafood selections are limited. By some magic, however, Big Fish manages to corral the tastiest — and largest — raw oysters in the 817. Rarely does a month that ends in "r" go by (you know, when oysters are in season) that you can't find some Weekly staffers bellied up in the homey joint in the heart of Grapevine to dine on said slimy delectables. Even newbies forgo the crackers, stir up the horseradish and the cocktail sauce, and dive right in.
Fried Chicken
Readers' choice: Babe's Chicken Dinner House 120 S Main St, Burleson
Critic's choice: Lisa's Fried Chicken
500 University Dr, FW
Lisa's is a treat if you're a fried chicken fan — they offer great-tasting fried chicken with all the traditional fixin's your heart desires. But Lisa's goes a little further, offering items that you don't normally see at a fried-chicken place — incredible spicy chicken wings sans sauce, as well as burritos, egg rolls, and plenty of other oddities.

Sandwich
Readers' choice: Great Outdoors, 3204 Camp Bowie Blvd, FW
Critic's choice: George's Specialty Foods, 4424 White Settlement Rd, FW
George's prominently advertises its Greek turkey sandwich, and for good reason — this baby makes an excellent repast in every season, especially the hot ones. Succulent slices of deli-quality smoked turkey are packed into thin pita pocket halves alongside iceberg lettuce shreds, tomato slices, chunks of wonderfully pungent feta cheese and a tangy sauce of olive oil and wine vinegar. Napkins are a required companion to this beautifully messy 'wich.

Wings
Readers' choice: Hooter's
7669 Grapevine Hwy, NRH
Critic's choice: No Frills Grill and Sports Bar, 4914 Little Rd, Arl
The special Buffalo hot wing sauce is one of the few items on No Frills' menu made in-house. Purists will enjoy the single flavor – hot, but not too hot. If you favor more exotic combinations of flavors, you'll have to go elsewhere, but first try these. No Frills combines the pleasantly tangy, thick, spicy/vinegary wing sauce with plump crispy morsels in an appetizer fit to be a meal. The wings come with ranch dressing — you won't need it. You'll definitely need the paper towel roll that No Frills provides instead of napkins. There are enough wings in a basket to share with a table of four, but if you're a wing freak, you might find yourself snarling at your dining buddies to get their own. At $3.95 per order, that's not a hard sell.

Bread
Readers' choice: Central Market,
4651 West Fwy, FW
Critic's choice: Fuego,
6333 Camp Bowie Blvd, Ste 240, FW
Fuego, in the space formerly occupied by Tim Love's "experimental" Duce, starts you off with fantastic, addictive foccaccia bread. The delicately flavored crispy crust is brushed with tomato, herbs, and the extra-virgin olive oil Chef Efrain Benitez is fond of. The soft, chewy-crunchy treat could be a meal in itself, especially with the freshly made, spicy olive oil and garlic dipping sauce.

Dessert
Readers' choice: Central Market
4651 West Fwy, FW
Critic's choice: The Vault,
525 Taylor St, FW
Want variety? At The Vault, you may never see the same dessert on the menu twice, but you're not likely to be disappointed. Try the huge cube of bread pudding in a zabaglione sauce. A wicked tiramisu is layered in a sherry glass. There's a fudgy chocolate bread pudding (heavy on the fudge) served warm with a scoop of vanilla ice cream. Or a dainty Parker County peach tart, enveloped in sweet crust, flavored with nutmeg and a cinnamon streusel top. Want something lighter? Try the home-made fruit sorbet. You can enjoy your treat upstairs in the airy restaurant, or with an aperitif downstairs in the more intimate V Lounge. Weekend evenings, a jazz guitarist subtly occupies a corner of the lounge, and the beautiful music goes great with dessert.

Ice Cream
Readers' choice: Curly's Frozen Custard
4017 Camp Bowie Blvd, FW
Critic's choice: Milwaukee Joe's Gourmet Ice Cream, 1417 Main St, Southlake; 201 Harwood Rd, Ste 220, Bedford
Ice cream boutiques haven't met with much success in The Fort (rest in peace, Ben and Jerry). However, one of the best used-to-be-here places still has locations close by. Milwaukee Joe's makes their own, and the 16 or so daily flavors are better than anything in your grocer's freezer. Joe's uses local ingredients like Dr. Pepper and Parker County peaches for their summer treats. They also come up with all kinds of funky-delish flavor combos, including Baklava (vanilla ice cream with honey, pecans, walnuts, and cinnamon), Oreo Speedwagon (made with Kahlua ice cream instead of plain vanilla), or Cop Stop (coffee ice cream with chunks of Krispy Kreme donut). And boozy flavors too, like Wild Turkey Pecan Pie, Chocolate Jack Daniel's, and Strawberries Romanoff. Check the web site to see when your favorite flavor is on the list on a particular day.

Wine List
Readers' choice: Zambrano's Wine Bar, 710 Houston St, FW
Critic's choice: Bistro Louise
2900 S Hulen St, FW
Chef/owner Louise Lamensdorf has built a national reputation for her prowess in the kitchen, but the most under-rated aspect of her restaurant, now in its 11th year of business, is the wine list. Inspired by frequent trips to Europe and a taste for the obscure, Lamensdorf has put together one of the most boutique-ish lists in the city, featuring wines ranging in price, pedigree, and region. Wines by the glass range anywhere from $8 to $12, and there's a good choice of wines by the half-bottle.

Meat/Seafood Market
Readers' choice: Central Market, 4651 West Fwy FW

Place to Buy:

Ethnic Food
Readers' choice: Central Market, 4651 West Fwy, FW
Critic's choice: Hong Kong Market
2615 W Pioneer Pkwy, Grand Prairie
Dried sea moss? Check. Roasted eel? Check. Taro root ice bars? Check. You can find anything Asian at this huge grocery just past the Tarrant County line, but what makes this store great are its everyday prices on food items that are exotica at Albertson's. Like shiitake mushrooms for the price of white buttons, leeks for the price of scallions, a bottle of unfiltered sake for the price of a taste at a sushi bar. Some meat cuts may be unfamiliar, but the prices can't be beat. And the fish is so fresh that many of the selections are actually still swimming. It's a trip to another country, and you can bring the best parts home.

Fresh Fruit and Veggies
Readers' and critic's choice: Central Market, 4651 W Fwy, FW
We love the farmer's markets scattered around town, but when we get a hankering for fresh morels or carnival cauliflower, there's only one place to go. Central Market's array of fruits and veggies — from four types of eggplant to nearly two dozen salad greens; flats of fresh wheatgrass; oodles of different types of tomatoes, potatoes, apples, hand-picked berries, and organic bananas, just to name a smattering — just can't be beat. Always fresh, always top of the line, and the only issue we've got is that they're also always expensive. But we can live with that for the quality and variety on offer.

Kids' Dining Venue
Readers' choice: Purple Cow,
4601 West Fwy, FW
Critic's choice: Subway, multiple locations
Careful when you go to that burger joint the offers the toys — you might be getting more than you bargained for. The nonprofit Center for Science in the Public Interest released a scary report last month, analyzing the nutrition content of restaurant meals aimed at children. Most fast food joints' kiddie meals exceed a child's recommended calorie intake for a single meal, sometimes by as much as 50 percent. An extra 200 calories a day might not seem like much, but with many of us eating fast food several times a week, those calories add up. Even Fort Worth's Purple Cow (which wasn't included in the study) offers few choices that don't cause caloric overload. The exception to the chicken-nuggets-and-fries kid's meal: Subway restaurants. This is the only chain that consistently offers a variety of choices for tasty, lower-fat, lower-cal kid's meals that don't potentially contribute to the American obesity epidemic.
Al Fresco Dining
Readers' choice: Joe T. Garcia's,
2201 N Commerce St, FW
Critic's choice: Reata,
310 Houston St, FW
Few things say "romance" more than Reata's Sundance Square rooftop patio. While there are other lovely street-level al fresco options in Fort Worth, Reata's rooftop, four stories up, offers a unique, unobstructed view of the city, without the foot traffic of other outside dining options. There are actually four areas on the rooftop, including a glass-enclosed climate-controlled dome and a beautiful trellis-covered patio. All offer Reata's full menu and full service. The rooftop opens at 4 p.m. for drinks and at 5 p.m. for dinner service. Reservations are encouraged because, especially this time of year, people want to eat outside and upstairs.

Place to Dine Alone
Readers' choice: Old Neighborhood Grill, 1633 Park Place, FW
Critic's choice: Montgomery Street Café, 2000 Montgomery St, FW
The worst thing about dining alone is sitting at that big table by yourself. At Montgomery Street Café, they have about a dozen stools at the counter. There, being alone looks natural. Spread out the newspaper, eat decent food, get away cheaply, and the waitresses always call you "hon." Don't need some wingman to make it any better.
Atmosphere
Critic's choice: Sapristi! Bistro and Wine Bar, 2418 Forest Park Blvd, FW
This classy joint has very much the feel of a cool neighborhood hangout. The owners recently expanded into an adjacent space, which relieves the crowded feeling that sometimes ensued in the past. Great food that doesn't take itself too seriously, attentive service, a fantastic wine list, and a world-class hostess — the folks here are comfortable in what they do and make you comfortable as well.

Romantic Atmosphere
Readers' choice: Sardines,
509 University Dr, FW
Critic's choice: Japanese Garden, Botanical Gardens, 3220 Botanic Garden Blvd, FW
There are hundreds of restaurants around the Fort that can claim romantic atmo, but none of them holds a candle to a brown bag meal, enjoyed while sipping a nice bottle of wine (keep that in a brown bag as well, since picnics are not encouraged by park employees) while strolling through the splendid Japanese Garden. Feed your breadcrumbs to the koi (imperial carp) fish at the enchanted lake; sit on a bench, watch the sunset. This is no-fooling romance that will warm even the coldest heart. And there's no sweating over the possibility of a waiter looming up at an inopportune moment to mess up your karma.

View
Readers' choice: Reata Rooftop,
312 Houston St, FW
Critic's choice: Fred's Texas Café
915 Currie St, FW
Sit in one of those old gold booths at Fred's and look out the window. Over the next year or two, the view from this spot will be changing daily. The high-density redevelopment of the Cultural District is going full-bore, and Fred's is at the epicenter. In time you'll see offices and apartments, a bowling alley, and a movie theater shooting up. Maybe a modern-day streetcar will go past Fred's front door in the next few years. The view may not be beautiful — and some will perceive all the growth as ugly — but it will be fascinating nonetheless.

Host
Readers' choice: Cef Zambrano, Zambrano's Wine Bar, 710 Houston St, FW
Critic's choice: Bobby Albanese,
Piola Restaurant, 3700 Mattison Av, FW
For almost two decades now, Fort Worth's Italian food maestro Bobby Albanese has had a reputation for introducing himself to diners mid-meal and asking what they think of his food. It continues with his latest hit, Piola, where Albanese's blend of graciousness and bottom-line business curiosity takes any sense of confrontation or intrusion out of his on-the-spot review requests. And yes, in our experience, Bobby can take honest criticism.

Wait Staffer
Readers' choice: Jessie at Buffalo Wild Wings 2017 Main St, Keller
Critic's choice: Fabian Martinez, Ferré Ristorante, 215 E 4th St, FW
The bad news first: Charismatic, knowledgable, casual, yet professional Fabian Martinez has just this month left Ferré to manage Steel, the Asian-fusion restaurant in Dallas. Congratulations and all, but we think he'll be back — after managing, waiting, and cooking at Blade's Chophouse, Angeluna, Mi Cocina, Café Modern, and Ferré, he's got Fort Worth restaurants in his blood. Surely he won't be happy in the D. And before Fabian left Ferré, he helped train the staff. Though personality can't be taught, the intricacies of perfect service can. So let this award be a three-parter: a belated appreciation for Fabian, a wish for his speedy return to the Fort, and an encouragement to all Ferré wait staff to maintain his legacy.

Chef
Readers' choice: Juan Rodriguez, Reata Restaurant, 312 Houston St, FW
Critic's choice: Jon Bonnell, Bonnell's Restaurant, 4259 Bryant Irvin Rd, FW
This is the third time in six years we've named Jon Bonnell as our Best Chef. Why again, why now? Well, he's great on paper. His bio includes cooking at the James Beard House and a nod from Zagat's and a restaurant menu that combines upscale Texas and regional cuisines using local ingredients that are as organic, wild, and fresh as possible. But he's even better in person. Anyone who's taken a class from him at the Culinary School of Fort Worth or Central Market — or who caught his brief appearance on the Today Show a few weeks ago — is at least halfway in love with him. With his Texan charm, sincerity, and down-home friendliness on top of all that talent, we're betting Jon Bonnell will be Fort Worth's next breakout as a national star chef. We know he'll do us proud.

New Restaurant
Readers' choice: Yucatan Taco Stand
909 W Magnolia Av, Ste 10, FW
Critic's choice: Lambert's
2731 White Settlement Rd, FW
Strange to think that it opened just six months ago, because Lambert's feels like a Cowtown old-timer. With its rural-chic décor of well-worn saddles, stuffed animal heads, and handsome cedar-and-copper bar, the restaurant is a comfortable mix of casual and upscale, rustic and refined. Lou Lambert (whose extensive resumé includes a stint at Reata) and executive chef Justin Haverkorn (late of Lanny's, Lonesome Dove, and Duce) have created a brilliant upscale-downhome menu, centered around an in-house live oak grill and smoker that do wonderful things to beef, lamb, and seafood. With touches like Oaxacan chocolate, fennel salsa, jalapeño-mint jelly, and blackberry demi-glace, the meats and fish sing. Steakhouse-style sides rise to the occasion, whether it's the classic hollandaise on the grilled asparagus or the chile kick in the mac-n-cheese. From inventive appetizers (don't miss the achiote-seared chickpeas) to homestyle desserts (coconut cream pie!), Lambert's is taking Texas ranch cuisine to the next level.

Restaurant
Readers' choice: Bonnell's Restaurant
4259 Bryant Irvin Rd, FW
Critic's choice: Piola,
3700 Mattison Av, FW
Honestly, we're not stalking Bobby Albanese — it's just that he keeps opening and closing eateries and, for all his unpredictable wheeling and dealing, he has rarely let us down. Piola, his latest, is tucked inside a rusticly elegant little house near the UNT Health Science Center, and it scores points for attentively prepared, humbly presented, mouthwatering entrées like the shrimp and asparagus risotto (divine comfort food) and a Pavlovian stuffed chicken marsala. Appetizers include grilled asparagus wrapped in prosciutto and ladled with silken goat cheese; sides include creamy, rosemary-flaked polenta. This is contemporary Italian fare to savor, not just bust your belt with.

Critic's choice only:

Place to Buy Car Food
Charley's Old Fashioned Hamburgers, 4616 Granbury Rd, FW
What is car food anyway? Something you can eat with one hand while driving with the other if you're too busy to stop for a sit-down meal? Something you can grab in a hurry, to be eaten when you find a shady spot to park and turn the radio to your favorite radio station? Something that will satisfy the kids on the first leg of a long trip? Welcome to Charley's, a small, old-fashioned-greasy hamburger drive-in joint that fills the bill for any of the above. The regular-size burger with cheese is wrapped tight and fits easily into one hand — if it's too small for your truck-driver appetite, get two. The variety is endless: Chili burgers (oozes, be careful), German burgers with sauerkraut, avocado burger for the vegan, Project X (a Tabasco-laced hottie), and Gosh O' Mighty, a cornbread bun filled with melted cheese. Charley's also offers hot dogs, fried chicken, sandwiches, and sides including hand-made french fries and onion rings to die for. Shakes, iced tea, fresh-squeezed lemonade or limeade to wash it all down — and everything is five-star satisfyin'.

Spicy Dish
Sushi Axiom, 5625 Donnelly St, Ste 101, FW
In addition to packing an agreeably spicy punch, the stellar What's Up roll is one of the least expensive on the Sushi Axiom menu. It features spicy tuna, spicy salmon, and crab wrapped in a rice-nori roll and covered with a heavy blanket of wasabi-spiked tobiko caviar. There's avocado in there to mitigate the flames. The plate comes with more of the creamy wasabi and a bit of chili sauce drizzle. The after-burn of the spicy fish combined with the wasabi is pleasantly, sinus-clearingly strong, but not overpowering.

Cheap Wine
King's Liquor, 2810 W Berry St, FW
Head on over to King's Liquor, where a little digging will get you some great wines for prices that will definitely surprise you — look for the aisle with marked-down offerings and a back room with many more selections in the same price range. Quality is hit or miss — they are priced this way for a reason — but our experience has been that the "hits" outnumber the misses and make these bottles, overall, a good investment of your scant dollars.

German Food
Bavarian Bakery & Café, 3000 SE Loop 820, FW
This elegant little white-tablecloth diner and bakery is found in a distinctly inelegant setting: a drab business park in Forest Hill. There's not even a sign on the highway to point to it, yet the Bavarian-themed eatery with its frilly lace curtains, walls of cuckoo clocks, and dirndl-clad waitresses is one of the most popular eating spots in the area. Folks from all over come for its Friday and Saturday night four-course scratch-made dinners. These feasts, billed as "authentic German home cooking," feature traditional entrees from sauerbraten and dumplings to wiener schnitzel with warm potato salad, and a large variety of German sausages. There's more elegant fare as well, including a pan-fried chicken breast coated with pecans and covered in honey liqueur sauce, and jagerschnitzel, a breaded, grilled pork chop swimming in a Rhine wine mushroom sauce. Sides and starters include potato pancakes, spaetzle, and red cabbage salad, all of which can be washed down with a wonderful variety of German beers or wines. Here, for the about the price of a double-meat Whataburger, you can get a grilled reuben, bratwurst on a bun, a healthy baked "Bavarian burger" on a whole grain bun, or choose from a variety of sandwiches from egg salad to roast beef. Then there's the bakery case, with delights from chocolate éclairs to Black Forest cake to peach pie. And no one there looks askance at a big, satisfied, after-dinner burp.

Greek
George's Specialty Foods,
4424 White Settlement Rd, FW
There's a lot to love about George's, one of several homey ma-and-pa eateries in the area around White Settlement Road not far from the northern tip of downtown. Palatably salty is the name of George's game. The menu is loaded with concoctions of cured lunchmeats, lamb, beef, assorted cheeses, calamata and Sicilian olives, and buttered filo dough. Standouts include the zesty vegetarian gyro and the spanakopita, a harmonious marriage of filo, spinach, and feta cheese that's about the size and shape of a novella but runs only $4.50.

Fries
Riscky's Barbecue, 300 Main St, FW
This award isn't for the regular fries that come with the sandwiches at this Fort Worth institution. The winners here are the Original Texas Fries, an enticing mix of crispy potatoes fried with jalapeño slices and onion strings. The sweetness of the onions and peppers plays well off the saltiness of the potatoes, and the side of ranch dressing cools down the heat. It's all served in a portion large enough to make a meal in itself.

Salad
Café Modern, Modern Art Museum of Fort Worth, 3200 Darnell St, FW
Though part of the beauty of the "Summer House Salad" is in its presentation — Lincoln Log stacks of cucumber and watermelon, with side dollops of goat cheese fresh from Flower Mound's Latte Da Dairy — it's tastier after deconstruction. Chop everything together and drizzle with the housemade basil-mint vinaigrette to enjoy crisp, sweet, tangy, and creamy together in every bite. Get it while summer lasts.

Non-Traditional Burger
Dutch's Hamburgers,
3009 S University Dr, FW
With due respect to the sole vegan diner in town, sometimes the trick to making an awesome non-meat burger is creating something that a carnivore would actually want to eat. Dutch's Burgers offers two non-burger options — a hearty marinated portobello mushroom "patty" and an actual veggie burger, which you can customize like any hamburger. This means that your veggie can come covered in grilled onions, chipotle mayo, avocado, or (defeating the veggie patty purpose) blue cheese and bacon. The crowning glory at Dutch's: soft bakery buns, slightly sweet and Texas-toasted just right.

Menudo
Lazos Mexican Restaurant, 204 W Exchange Av, FW
A big bowl of menudo is the perfect cure for a hangover, but it's also pretty damn good while your buzz is still going strong. This late-night eatery atop the West Exchange Avenue hill in the Stockyards caters to late-night party animals pouring out of the bars at closing time. Many of them get head starts on the painful morning-after by gulping down some of the best menudo you'll find outside your abuelita's own kitchen.

Mariscos
Costa Azul, 1521 N Main St, FW
Everyone knows about the Playa Mayas and Acapulco Beaches, but this place on the North Side does Mexican seafood as well as any of them. The fried shrimp entrées are good, but there are no words to describe the fruity, fishy, flavorful goodness of their ceviche. You'll eat like a king (of a kingdom by the sea, that is) without spending too much money.

Tapas
Lili's Bistro, 1310 W Magnolia Av, FW
With apologies to the purists who don't consider "small plates" to be tapas, the nod goes to Lili's. It's a place where those who want variety rather than quantity can put together a couple of small portion offerings for dinner with fabulous results — as opposed to so many restaurants where you can get soup or a salad or an appetizer — but putting any two of those together zooms you right past the price point for a full entrée. And besides, who else offers bulghur and berries? We rest our plate.

Non-Alcoholic Beverage
Lassi, at Bombay Grill Indian Food, 4625 Donnelly Av, FW
We all know about Bombay's spectacular lunch buffet, probably the most awesome of any in town. But no matter when you visit, make sure you leave room for the off-Hulen Street standby's sweetened version of the traditional Indian dessert drink, a creamy and eminently quaffable yogurt-based treat.

Place to Buy Cheap Groceries
Town Talk Foods, 121 N Beach St, FW
With fuel prices running high, grocery prices have followed suit, as the cost to get the food to market gets figured in. Town Talk Foods has long specialized in cheaper grub, but the differences between this little grocer and the big chains are bigger now than ever. Don't bring a list, just graze the aisles, as the store stocks discontinued items or ones with minor warehouse or freight damage. Sometimes it's bags of pasta at four for a buck or large blocks of cheese at one-third the cost of the chains. But this is not just cheap Kraft Mac & Cheese. Town Talk's gourmet aisles have discounted olive oils, salsas from around the world, and inexpensive dried spices. Avoid the frozen meats, as they often look as if they are past the expiration date (they had a botulism poisoning case in 2001 involving frozen chili). But on the whole, there are great deals at Town Talk Foods. You just don't know what they will be until you get there.

Taqueria
"Mexican Tacos,"
763 W Lamar Blvd, Arl
Stuck in a corner of a Texaco station, "Mexican Tacos" (per the handwritten fliers; there doesn't appear to be an official name) offers all the benefits of convenience-mart dining: hearty road food, quick service, and plenty of drink choices. Pony up a few dollars for a gordita, burrito, or taco plate, and a sweet, shy cook will grill your tortillas and stuff them with tasty slow-cooked meats: super-juicy carnitas, lush barbacoa, nicely spiced carne asada. Most folks get theirs to go, but we think the wobbly table tucked in next to the hygiene products adds a certain je ne sais quoi to the dining experience.

Carbo-Loading
Planet Smoothie,
2600 W 7th St, Ste 181, FW
Planet Smoothie is a dizzying array of neon and bright pastels located in Montgomery Plaza's burgeoning retail complex. The two dozen smoothies at the Planet are characterized by "lifestyle need," and each comes with an enhancing powdered product "boost." The Chocolate Elvis is billed as an energy smoothie, while Mr. Mongo is meant to be a protein smoothie. However, in the 22-oz. size, both pack a carbo-load equivalent to five Krispy Kreme original donuts! Chocolate Elvis has more than 108 grams of carbs, and Mr. Mongo has 117. In fairness, both pack more fiber and other nutrients than that donut quintet. You'll enjoy some sweet dreams with your smoothie — ironic, considering you probably just slurped that puppy for some pre-workout energy.

Soda Shop
Old Town Malt Shop,
112 W Ellison St, Burleson
True soda shops just don't exist anymore, except in a few places like Burleson's Old Town section, once the heart of this now-booming burg. The famous malt shop of the 1950s that served burgers and shakes to Burleson's boomer generation was restored and reopened several years ago and now serves the same fare to their kids and grandkids. With its 1950s retro theme and posters of a young, handsome Elvis, somehow the malts taste better and the burgers seem juicer. There's an old-fashioned soda fountain serving up shakes and sundaes, and the kitchen in back turns out traditional diner fare and every kind of fry, including pickles. The cooks will make you breakfast anytime of day or evening, just like they used to do for the train crews when the trains still stopped here. Get off the beaten path and take a stroll back in time — they'll even give you two straws so you and your sweetie can share a shake.
Bagels
Boopa's Bagel Deli,
6513 N Beach St, FW
Not quite New York, but the closest we've seen this side of the Mississippi. Outstanding selection of fresh bagels (from plain to chocolate chip to asiago cheese and jalapeño cheddar), with cinnamon raisin and sesame being our favorites. There's also a wonderful assortment of cream cheese spreads — check out the smoked salmon and sun-dried tomato. If word gets out, this place is gonna be packed with East Coasters who are dying to find a place in the Fort where they can get a good bagel.

Lunch Bargain
El Puerto, 2700 NE 28th St, FW
Between $5 and $6 will buy you any of the dozen lunch specials served here Monday through Friday, and all come with a free basket of thick and crispy tortilla chips and some tasty red salsa. The rice is sprinkled with green peas and carrot bits, the refried beans are fresh, and the enchilada, tacos, and burritos are more than serviceable. Eastside residents glommed onto this eatery after it opened in 2001. Plenty of staffers means quick service, so even downtown workers can zip out to the restaurant during their lunch breaks and get back to work with time to spare.
Bakery
Cupcake Cottage,
5015 El Campo Av, FW
Just off Camp Bowie Boulevard, Cupcake Cottage works its elves Tuesday through Saturday to provide the freshest cupcakes in an otherworldly variety of flavors. The whimsy of the fresh-baked experience is that you might not find the flavor of your dreams. However, you can actually pre-order your sugar rush exactly as you want it. Unlike the bakers in your grocery store, Cupcake Cottage elves make their cakes fresh daily, with no preservatives or high-fructose corn syrup ickiness. There are usually five daily flavors, but they can accommodate some requests on a pre-order. Most are iced with buttercream. Chocolate fudge, chocolate buttercream, and cream cheese icing are also available for a small extra charge. Try the "Fiore de Sicilia" — a hint of citrus in vanilla batter.

Best in a Field of One
Eden Bistro, 480 W Southlake Blvd, Southlake
The owner is Malaysian, the chef is Taiwanese, and the manager is a Hong Kong native. So the wonderfully unique concoctions at Eden Bistro aren't "pan-Asian" — they're truly one-of-a-kind "modern Asian" adventures that incorporate sauces, spices, and cooking techniques from China, Japan, Taiwan, Vietnam, and Malaysia. Roasted-duck soft tacos, ahi tuna ceviche, tilapia with mango curry sauce, and the eggplant with sharp garlic sauce are all unique and, uh, heavenly.