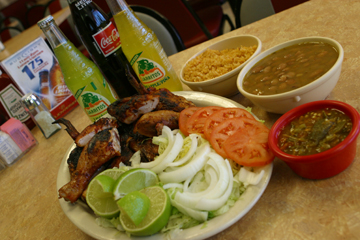 Great, authentic, inexpensive Mexican food abounds at El Pollo Palenque.
El Pollo Palenque\r\nTortuguesa torta/Texas-Style $6.50\r\nGuisado de puerco $6.00\r\nEnchiladas plate $5.50
A D V E R T I S E M E N T
A D V E R T I S E M E N T
Just Like Casa
El Pollo Palenque may cater to the new Mexican immigrant, but foodies of all nationalities should stop by.
By DAN MCGRAW
El Pollo Palenque
4117 Hemphill St, FW. 817-921-1489. Sun-Thu 9am-12pm, Fri-Sat 9am-4am. All major credit cards are accepted.
here are lots of Mexican neighborhoods all over Fort Worth, but two areas in particular are overflowing with Latinos: the North Side, home of the old guard, of folks whose parents and whose parents' parents have invested countless hours and millions of dollars in both the neighborhood and the city; and the South Side, where relatively new immigrants and their families are congregating.
The two 'hoods couldn't be more different. The North Side is Main Street, the over-budgeted Mercado residential-retail-commercial real estate development, and Joe T. Garcia's, where well-heeled gringos go almost native. The South Side is Hemphill Street, bus companies that specialize in trips south of the border, check-cashing joints that specialize in sending dough by wire in the same direction, and taquerias that serve up decent, affordable food for the working-class gente nearby.
While Joe T.'s may be the food capital of the North Side, the year-old El Pollo Palenque is a nice candidate for the same title on the South Side. Churning out inexpensive, authentic Mexican food in an unpretentious atmosphere, El Pollo Palenque clearly has the new immigrant in mind.
On the outside of the building are those balloon awnings that make any storefront retail establishment look as if it had been ripped out of Spanish Harlem. The inside is comfortably plain — beige Formica tables, maroon chairs, dark wood-paneled walls, and dim fluorescent lighting. Within arm's length are coolers full of jarritos and agua frescas. A painting of Jesus observes diners from lofty heights directly above the entrance.
After eating the food and hanging out and observing the customers, one thing becomes clear: El Pollo Palenque is hopelessly devoted to its clientele — blue-collar Mexican immigrants who want food that reminds them of home and doesn't dent their wallets.
A good example is the guisado de puerco, a pork stew that arrives not in a large bowl but, like in Mexico, on a plate with rice and beans. Mix the stew with the rice and beans, stuff the mixture into a tortilla, add a little salsa or other condiment, and there's your breakfast on the go.
As with the stew, El Pollo Palenque is all about big flavors. The beef fajitas plate was phenomenal — no expensive New York strip off the propane grill, but marinated skirt steak that was succulent and chewy with a surprisingly delightful lime after-bite. The accoutrements were also noteworthy: The pico de gallo and the guacamole were fresh and loaded with zing, and the thick, soft flour tortillas were about the size of a music c.d. — perfect for stuffing with steak, fresh guac, and the grilled onions and green peppers that came with the entrée.
Palenque isn't chintzy on portions, either. The tender shredded chicken in the chicken enchiladas spilled over the sides, and plenty of hamburgers served in Fort Worth aren't as meaty as El Pollo Palenque's beef enchiladas.
When it comes to heft, the torta is Mexico's answer to America's dagwood sandwich. Loaded with shredded chicken and topped with a spicy mayonnaise-type sauce, jalapeños, tomatoes, lettuce, and avocados, the Tortuguesa torta weighed in at about 2 lbs. Even though it was served on a large hamburger bun instead of the traditional bolillo roll, the specialty sandwich otherwise stuck to its culinary roots; it was a hearty tango of sweet and sour, thick and thin, chewy and crisp. Back and forth, the jalapeños' heat battled the soothing avocados, and the cool tomatoes fought with the spunky sauce.
One more point: The salsas here are some of the best in town. With a harmonious balance of onion, tomatoes, cilantro, assorted peppers, and lime juice, the red was heavenly. The green, a solid blend of jalapeños and tomatillos, was at the same time thin enough to work well as a seasoning on fajitas or stew and thick enough to healthily coat a chip.
Like some other authentic taquerias in town, El Pollo Palenque stays open until 4 a.m. on weekends. Just another way that the restaurant shows its love for its core clientele — in this case, to give Mexican-born service industry workers here (there's a lot of 'em) time to grab a leisurely bite after the other restaurants close and before they hit the hay. The best part: You're invited, too.