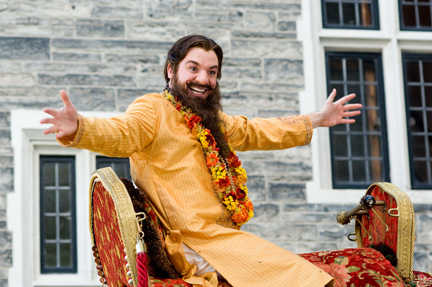 Mike Myers embraces what's probably another doo-doo or pee-pee joke, in The Love Guru.
Love Guru
Starring Mike Myers, Jessica Alba and Justin Timberlake. Written by Mike Myers and Graham Gordy. Directed by Marco Schnabel. Rated PG-13.

A D V E R T I S E M E N T
A D V E R T I S E M E N T
Love Bites
Of all people, Mike Myers has lost his mojo.
By STEVE STEWARD
About halfway through The Love Guru, you might ask yourself a question: Is that the aunt from Family Matters?
If you stay to the end, which is doubtful, you're liable to wonder other things, such as why Oprah has a voice double, if Stephen Colbert really is that desperate for money, and, perhaps most distressingly, was Mike Myers ever really funny in the first place? If there's a point to The Love Guru, it's that Myers likes pee-pee and doo-doo jokes, and he likes them best when they're delivered in funny ethnic accents.
The Love Guru chronicles the self-actualization of the Guru Pitka, a poor-man's Deepak Chopra, realized in the course of helping a National Hockey League superstar named Darren Roanoke (The 40 Year Old Virgin's Romany Malco) reclaim his game and lead the Toronto Maple Leafs to a Stanley Cup victory. Roanoke, known as the "Tiger Woods of hockey," has lost his mojo over his girlfriend Prudence (Meagan Good), who has left him for another man -- Pitka is hired to fix the couple's relationship by Leafs' owner Jane Bullard (Jessica Alba in her most wooden performance yet, if that's even possible).
Unfortunately, Prudence has run off with the generously endowed Jacques "Le Coq" Grande, star goalie for the Leafs' archrivals, the Los Angeles Kings (probably the biggest joke in the entire movie, that the Kings would be anything less than bottom-dwellers for the rest of eternity). Played by Justin Timberlake, "Le Coq" is a mustachioed, Speedo-wearing, Celine Dion-loving Quebecois whose puck-blocking ability is rivaled only by his cock-blocking skills. If nicknaming a character with a giant penis "Le Coq" strikes you as totally lazy, then put your feet up and get comfy — the jokes here are so indolent they couldn't be bothered to roll on the ground if they were in flames. And down in flames is usually where they go. Ben Kingsley (Et tu, Ben?!) makes a cameo as a guru named Tugginmypuddha (ugh), there's a village named Harinmykeester (double-ugh), and the Guru himself sounds as if he's just Austin Powers in disguise.
Sadly, the story is as stupid as the puns. Remember when Austin Powers flipped and cartwheeled his way through James Bond-ish plots to crack PG-13 boob jokes and deliver wink-wink Diabolik allusions? Remember how he got a pass because the jokes came off as wry and clever? Maybe they were actually funny, or maybe (call me crazy) most people simply relate better to You Only Live Twice and Moonraker than The Seven Spiritual Laws to Success.
Maybe Guru would have been more tolerable had the characters been likable or had the flick not referenced hoary, dated paparazzi scandals involving Hollywood starlets' crotch regions. Myers also seems to think it's not totally gauche to rip off your own work. A reprise of the "Bohemian Rhapsody" scene from Wayne's World will make you never want to watch the original again — it's been tainted, and you'll feel like you've been had for laughing at it in the first place.
Coupled with hastily added and resolved subplots — the city of Toronto hates Bullard because the Leafs never win, Roanoke can't play when his mom's around, love-expert Pitka can't have sex until he loves himself — the movie offers little in the way of even passing laughs and gags (though the parodies of Bollywood musicals are inspired). Verne "Mini-Me" Troyer also is a bust, even when he's getting thrown across an ice rink, getting punched in the face, punching someone in the nuts, or giving someone the finger. Been there, seen that.
Myers' bread and butter has always been absurdism laced with non-sequiturs and the surprising, oddball logic used to make them work. Maybe not anymore. Colbert as a drug-addled sports commentator? Just mean-spirited. The Family Matters lady (Telma Hopkins) as Roanoke's sassy, choir-directing mom? Just cheap and easy. Not even Timberlake's hyper-passionate Frenchman can save the game. And Myers, all giggles and sophomoric jokes that high-school sophomores wouldn't laugh at, is totally useless. The Guru Pitka wants you to remember that you must love yourself before you can love anybody else. Myers wants you to remember that he used to be really funny. He no doubt would have made his case stronger by just giving ticketbuyers free copies of his old movies.