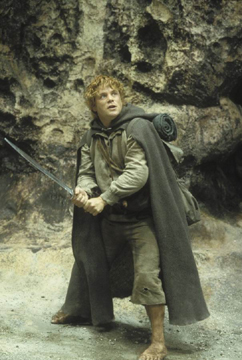 Sean Astin (a.k.a. Sam from 'LOTR') visits Wizard World Texas, this weekend.
A D V E R T I S E M E N T
A D V E R T I S E M E N T
Geekfest
Comic book conventions used to be nothing but bins and bins of mags for the buying, selling, or trading. Today, get-togethers in celebration of this distinctly pop, distinctly American medium offer toys and other collectibles, animé stuff, card tournaments, celebrities, and models-for-hire dressed as your favorite vavoomy characters.
In addition to ComicCon, the huge annual convention, there are a couple of smaller gatherings, including the ones sponsored by a popular trade publication. Wizard magazine's Lone Star variation, Wizard World Texas, stops at the Arlington Convention Center for three days this week. On the list of entertainment industry stars scheduled to appear are Sean Astin (Lord of the Rings), Ron Perlman (Hellboy), Summer Glau (Serenity), Lou Ferrigno (The Incredible Hulk), and Margot Kidder (Superman). Fans will also get a chance to talk with a few comic book industry luminaries: Dan Didio (DC Comics vice-president of editorial), Peter David (writer, Friendly Neighborhood Spider-Man), Bryan Hitch (artist, Ultimate series), Tom Hodges (artist, Lucasfilm/Star Wars), Rob Liefeld (artist, Teen Titans), Michael Turner (artist, Soulfire), and Ethan Van Sciver (artist, Green Lantern).
Anyone with even a passing interest in superheroes and/or Sci-Fi should drop by. Who knows — you may even see a comic book or two.
Fri-Sun at 1200 Ballpark Way, Arlington. Tickets are $20-40 and are available at local comic book stores or online at www.wizarduniverse.com.