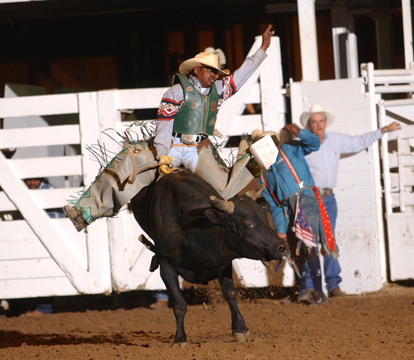 Cowboys of Color
A D V E R T I S E M E N T
A D V E R T I S E M E N T
Hall of Fame Weekend
It's a little weird that none of the marquee events at the Cowboys of Color Museum Weekend is actually being held at the museum itself. Then again, most of them are taking place at the nearby Will Rogers Memorial Center, another institution devoted to the cowboy lifestyle, so maybe it's not so weird. The three-day event starts off downtown, however, with the sixth annual Hall of Fame induction ceremony at the Fort Worth Club on Thursday. Honorees include historian Art T. Burton, rodeo cowboys Paul Cleveland and Willie Thomas, and Dr. Taylor Hayne, a rancher and specialist on eminent domain legislation. (Might want to ask him about Chesapeake and Barnett Shale.) Posthumous inductees include Amarillo philanthropist Matthew "Bones" Hooks, Chinese-American rancher Tommie Haw, and Holt Collier, who accompanied President Theodore Roosevelt on a hunting trip and captured the bear that the president refused to shoot, thus giving rise to the teddy bear.
Saturday's activities include a parade, things for the kids to do, and a rodeo, naturally. Friday's event is a big benefit concert for the museum with musical performances by Latin Express and Montell Jordan ("This Is How We Do It"), plus a comedy set by AJ Jamal a.k.a. The King of Clean.

The Cowboys of Color Museum Weekend runs Thu-Sat at the Fort Worth Club, 306 W 7th St, FW and Will Rogers Memorial Center, 3401 W Lancaster Av, FW. Tickets for the induction ceremony are $100, the rodeo is $12-20, and the concert is $28-48. All other activities are free. Call 817-335-9000.