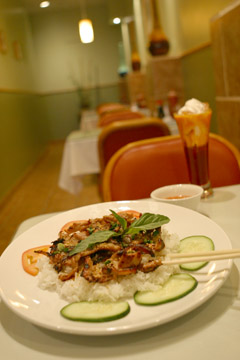 A couple of Miss Saigon's rice dishes, like this grilled pork, are sharp and tasty.
Miss Saigon Café\r\nPork rolls $3.25\r\nPho ga $5.50\r\nBaked salmon with rice $6.25
A D V E R T I S E M E N T
A D V E R T I S E M E N T
Almost Pho-mous
The newly opened \r\nMiss Saigon Café is one dish away from greatness.
By JIMMY FOWLER
Miss Saigon Café
932 Melbourne Av, Hurst. 817-595-0137. Mon-Fri 10am-9pm, Sat 11am-9pm. Closed Sun. All major credit cards accepted.
The recently opened Hurst Vietnamese eatery called Miss Saigon Café is, curiously, named after a mega-Broadway musical of some years ago in which a life-sized helicopter lands onstage. This is not to be confused with that mega-musical of even more years ago in which a chandelier crashes to the boards at every performance. On a recent lunch visit to Miss Saigon's, only one thing on the menu landed with a definitive thud, but the thrills from the entrées ordered kept on comin'.
Miss Saigon's is poised to enjoy brisk lunch-hour business, with its busy strip-mall location just off Loop 820 and Pipeline Road. The place's interior is sleek, soothing, and cream-colored, and a mid-sized menu that encompasses most of the Vietnam's greatest culinary hits will likely be familiar even to non-Viet grazers in America.
One of the best appetizers on the menu has to be the pork rolls — basically, spring rolls with a whole lotta pig goin' on. They arrive as a pair of those sticky rice paper-wrapped logs stuffed to firmness with vermicelli, cilantro, bits of spring onion, and chewy strips of pork. What distinguished these fat boys was the pork, which was bold and briny with a smoky aftertaste, and the crunchy bits of deep-fried, brown, doughy crust added surprise and welcome texture. The ramekin of fish sauce had a lovely golden color, with pieces of lemongrass and pepper seeds; it was slightly sweet with a fast hot-pepper follow-up.
Two of the rice dishes proved to as sharp and appetizing as the rolls. Both the Korean barbecue beef with rice and the baked salmon with rice sported, as is typical of many Vietnamese restaurants, modest-sized pieces of flesh atop mounds of semi-sticky white grains. Patrons who regard as romantic the sight of a mondo-masculine significant other cutting her meat for her should bring the honeybears along — a fair amount of gentle carving needs to be undertaken to get the rice and the meats properly mixed. The two modest curtains of pounded-thin, peanut-dusted beef rib steak contained narrow pieces of marrow-filled bone (easily avoided), and the flesh was agreeably substantial in its unsubtle, beefy flavor. A small side of hot-pepper spiked soy sauce that accompanied gave the rice a delicious jolt. The plump salmon was boneless, bigger than a grown man's palm, and lay with its thick-skinned side against the rice mound. The fork tines needed only to brush the surface for flakes to emerge. The salmon was cooked to the point right before the juice escaped and so retained that slightly oily, even moistness that's superior.
The pho ga — or noodle soup with chicken pieces and chopped chives — was by far the disappointment of the meal. Anyone who's come to adore this so-called peasant soup with its multiple layers of flavor — onion, basil, ginger, cilantro, hot peppers — will find themselves craving it in a way they never thought soup could inspire. And the presentation here was "so far, so good" from the server. It came in one of those gi-normous steaming bowls roughly the size of a Victorian wash basin in a Merchant-Ivory movie, with a side plate of bean sprouts, basil leaves, and a small, juicy lemon wedge. Miss Saigon's pho clearly didn't contain the astronomical levels of sodium that most versions do, which is good for the hypertensive crowd but reduced the delicacy to a big bowl of lame hot broth with a poultry-ish aftertaste. The salt was sorely missed, the other flavors were also tepid, and the semi-tough, tendon-y pieces of dark-meat chicken didn't fight for attention. The coils of long vermicelli at the bottom of the boil seemed to dissolve a little too quickly, clouding up the soup's delicate transparency.
Depending on what the Vietnamese options are in Hurst, Miss Saigon Café is either a necessary first outpost essential to aiding those who preach the gospel of this wondrous cuisine or a spotty but serviceable resource easily accessible from North East Mall and the highway. If you've never tried heavenly pho, it's probably best to skip Miss Saigon's version and head to a part of town that has a sizable Vietnamese enclave. Miss Saigon Café may need to do a little adjusting before it can either win or keep converts.