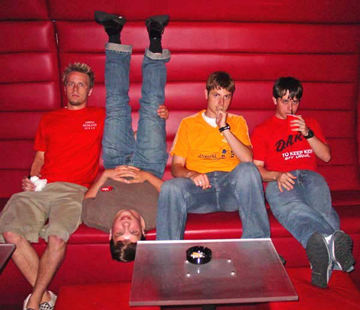 Can't hold 'em down: The dudes in the cut*off have matured into a marquee indie-rock outfit.
A D V E R T I S E M E N T
A D V E R T I S E M E N T
cut*off
By Anthony Mariani
Indie rockers the cut*off began life a couple of years ago in the North Texas music scene rather inauspiciously. They were rambunctious in promoting their shows but not so much onstage, which is never a good combination. Apparently, ain't nothing that scenesters enjoy more than watching hype deflate. Who would have thought that two years later, in 2006, the cut*off would not only be plugging away but getting better. In February, the band is planning to release its third recording and follow-up to Polarity, the cut*off's two-year-old full-length debut. Based on the new stuff, the four bandmates obviously knew something that a lot of us didn't — they're pretty damn good.
Produced by local legend Salim Nourallah at his Pleasantry Lane Studios in Big D, the still officially unnamed e.p. is like a trip through the geography of rock. With its loosey-goosey arrangement and lazy guitar strumming that sounds like it's coming from an old Rickenbacker, "Adults We Know" conjures up the dank, dark East Village basement clubs where '60s-era psychedelics like the Velvet Underground performed in sunglasses. With its locomotive rhythm, squalling guitars, and bullet mic action, "Hold Me Down" is a trip to the Austin honkytonks where tattooed Gen-X rednecks began incorporating grunge into their a-pickin' and a-spittin'. And the band's cover of the Pixies' "Monkey Gone to Heaven" is '90s-era radio rock at its best. Though the influences are apparent, the cut*off remains honest to its own voice in just about every note. The e.p. will come out on Summer Break Records, home of Nourallah and several of Dallas' most beloved indie-rockers, including Sorta, I Love Math, the Strange Boys, and Chris Holt.
For more information, visit www.myspace.com/thecutoff or www.thecutoff.com.
Sat with Berry, Kunek, and Tommy Hernandez at Hailey's, 122 Mulberry St, Denton. 940-323-1160.