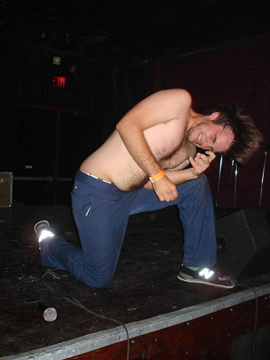 Air guitar, reflective running shoes: Alex Atchley.
Alex Atchley
Fri w/Yatagarasu, Hex Crusher, and Ferveur Noire at 1919 Hemphill St, FW. $6. 817-TK.

A D V E R T I S E M E N T
A D V E R T I S E M E N T
Post Punk
Local one-man-band and insane performer Alex Atchley goes "pro." Kind of.
By ANTHONY MARIANI
On his web site, aae.hotdogstorm.com, the Alex Atchley Experience's eponymous frontman and lone member writes that his first CD, Pawesome, was "recorded in 45 minutes for the price of $35 and a chicken sandwich on the day before the first AAE show. … Many of these songs are considered 'bullshit' by the artist."
Of another, Financially Constrained Adventures (featuring such classics as "Buttface" and "The String Section Says, 'Shut Your Mouth' "), he writes, "Alex was short on cash. He made an EP. It was only sold at a house party in December 2005. He made $80 that night."
Atchley's total output also includes "a rash of 'Best Of' compilations that had random tracks that included stuff off of the first three CDs … Most had obscene or otherwise berating messages to the buyers."
Atchley, who also plays in a band band, The Hack and Slashers, is 22, but he's been making music for 50 years. Loud, abrasive, dissonant music. But with strong undercurrents of exemplary krautrock and Beck-ish balladry.
Being self-deprecating or performing sloppily is usually just a pose, a mask behind which ordinarily lurks the terrified, childlike, scrunched-up face of mediocrity. But Atchley is no hack. (The name The Hack and Slashers refers to a genre of computer video games in which combatants – typically warriors of the Middle Earth or medieval variety — "hack" and "slash" one another with swords, axes, and whatnot. Nothing to do with artistic hackery.) Not only does Atchley's in-your-face music make up just a portion of his oeuvre but also it often seems sloppy on purpose. Even the tracks off his forthcoming album, Post Punk Depression — tracks that he actually, y'know, has been fine-tuning – have a free-spiritedness about them that can be described as anything but "forced." Take "Escape Pod": Can you think of any other artist with the nerve? gumption? innocence? to crib the chordal progression from the '50s prom hit "Earth Angel" for a song about a spaceship's imminent destruction? Or an artist who would meld the Smashing Pumpkins with They Might Be Giants? (See: the album's title track.)
Atchley has been working on Post Punk for about two months. Two months! The evolution is obvious, especially in tracks like "Black Hand," a Joy Division-meets-Judas-Priest jaunt that finds Atchley adopting a genuinely harrowing monotone delivery, and "Gallerix," whose complex beats come from a Nintendo Gameboy. Is Atchley getting "professional"? "I wouldn't say that," he said. Post Punk, he added, "will sound professional, but it's still DIY."
Don't be mistaken. Atchley is as serious as a DIY artist can be. He follows the rhythms of his artistry, recording or performing when the mood suits him. The mood he's in now demands playing out a lot. He's been having a hard time getting shows, though. "I don't think I'm too aggressive," said the artist who has bloodied himself onstage and exposed his hairy chest and belly to paying concertgoers. "The music's not that out there. It's certainly not unlistenable."
Atchley also is whipping the other guys in The Hack and Slashers to get "tighter." He wants to take them into the studio. "We're usually pretty sloppy," he said.
Atchley works a day job doing data entry for an aviation company and is studying for his degree in audio engineering at Tarrant County College. He plans to tour soon. He's been out of the region only twice: with a defunct outfit called Black Wizardz last summer and by himself recently to the Pacific Northwest. "I really enjoyed it," he said.
As a local outré folk singer-songwriter once said about his own music, "It might 'suck,' but at least it's real," Atchley's handiwork is equally "real," though the degree of suck-itude, as with most "real" artists' music, depends on the individual listener's tastes. Patient ears will be duly rewarded.