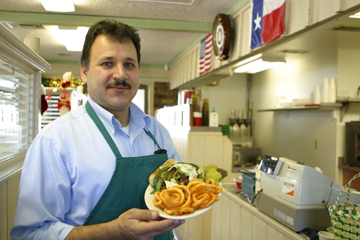 To your belly, with love: Moe's honcho Mazen Haddad is in charge of his café's excellent 'home-cooked' fare.
Moe's Café\r\nBurger With the Works $6.55\r\nPhilly steak sandwich $4.99\r\nChicken-fried steak $6.99\r\nBarbecue sausage plate $5.75
A D V E R T I S E M E N T
A D V E R T I S E M E N T
Mansion-Cooking
Moe's Café manages to be both extravagant and down-to-earth at the same time.
By PETER GORMAN
Moe's Café
4705 River Oaks Blvd, FW. 817-378-9262. Mon-Sat 6am-10pm, Sun 6am-3pm. All major credit cards accepted.
A couple of weeks ago in this space, the idea of "home-cooking" was brought up — what are those words supposed to imply to the customer? Moe's Café, which opened about a year ago in an old Pizza Hut building, bills its food as home-cooked, so it seemed fair to ask owner Mazen Haddad what he meant when he put those words next to his restaurant's name. "Home-cooking is a meal that you would prepare for guests in your own home," said Haddad, whose 27 years in the restaurant business include running Summer's Café and Driver's Diner, both in Fort Worth. "It's a proud concept — food that's made from the heart, from the joy of it."
From a recent sampling of several dishes at Moe's, that's mostly how things are done: not fancy, just made as if you'd invited friends over to break bread — and sent them home happy.
The space itself has a similar vibe — a single room with lots of windows, a cozy green banquette running along one side, comfy green booths, and, in the center, several tables. On the day of a recent visit, a steady stream of customers flowed in and out. Nearly all of the patrons were addressed by name — always a good sign. And a lot of them knew other customers. Friendly place.
The hardest part about a visit to Moe's may be deciding what to order: The menu has about 100 choices, from omelets and waffles (served all day) to fried catfish to fresh-baked pies.
The Burger With the Works is exceptional — a 1/3-lb. patty of fresh (not frozen) ground chuck grilled as ordered, covered in lettuce, pickles, bacon, cheese, mushrooms, smooth guacamole, and grilled onions, buried deep inside a sesame seed bun. Oddly enough, the toppings didn't really obscure the sweet and peppery flavor of the beef. The dish arrived with home-style seasoned curly fries. A half-inch thick and several inches long, they had a crisp, richly flavored exterior and a hearty, non-greasy potato taste.
Equally outstanding was the Philly steak sandwich, perhaps as close as we Cowtowners will get to the City of Brotherly Love's signature artery-clogger, without hopping a plane. The thinly sliced steak, marinated in oil and vinegar, was grilled with onions and green bell peppers; in the process, all of the ingredients had been skillfully shredded by the edge of the cook's spatula. The whole shebang got another shot of oil and vinegar, some salt and pepper, and then was covered in Monterrey jack cheese and stuffed into a toasted sourdough hoagie bun that wasn't big enough to hold everything. The two-hander was a mess — just as street fare ought to be — and it was a nice tug-of-war between sweet and sour flavors and chewy and melt-in-the-mouth textures.
Though not nearly as tasty as the first two dishes, the chicken-fried steak was another hit. The medium-sized portion of well-seasoned, tender beef had been dipped into a light, crispy batter that didn't drown out the meat's flavor, then slathered with a peppery white country gravy that had a good deal of kick. The dish was rounded out with sweet cole slaw and surprisingly decadent veggie fingers — breaded and fried slices of carrots, zucchini, and broccoli.
If there was a disappointment, it was the barbecue sausage plate. (Why restaurants here don't incorporate some hot Italian sausage into this dish is still a mystery.) Even though Moe's uses standard smoked sausage, the meat delivered flavor only when slathered in the café's homemade barbecue sauce, a reddish-orange-brown liquid whose oily appearance hid a lot of zesty bite. The accompanying sides of boiled sugar peas and mashed potatoes were a study in contrasts — the peas sang with a few dashes of the barbecue sauce, but the potatoes were dry and devoid of flavor even when covered in the CFS's peppery gravy.
Moe's Café is indeed emblematic of home-cooking in the best sense of the concept — their food is made with care, sure, but you'd better have a four-star chef hidden in your kitchen if you want to replicate the café's finer moments.