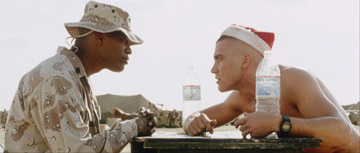 Jamie Foxx is serious about getting Jake Gyllenhaal hydrated in 'Jarhead.'
Jarhead\r\nStarring Jake Gyllenhaal, Jamie Foxx, Peter Sarsgaard, Brianne Davis, Lucas Black, and Chris Cooper. Directed by Sam Mendes.,Written by William Broyles, Jr., based on Anthony Swofford's memoir. Rated R.
A D V E R T I S E M E N T
A D V E R T I S E M E N T
American, Brutally
In Sam Mendes' adaptation of a best-selling war memoir, there is no right or wrong — only duty.
By BRIAN ABRAMS
In 2003, Lance Corporal Anthony Swofford's memoir of serving six months in operations Desert Storm and Desert Shield became an immediate best-seller. A painfully objective take on his tour of duty, Jarhead was quickly optioned into a full-length feature film. The premise still remains: War is not just hell. It is hell in slow motion, an eternity of a thousand small deaths — psychological, emotional, sexual, and, if you're lucky, physical.
In director Sam Mendes' adaptation, Swofford (Jake Gyllenhaal) spends his combat days policing sand while fighter pilots wipe out Iraqi insurgents from high above. "Swoff" itches to fire a single round, but nothing happens. He masturbates chronically while fantasizing about his questionably monogamous girlfriend, Kristina (Brianne Davis). His "combat" is limited to a game of pigskin. Slowly, Swoff is dying from the routine instituted by Staff Sergeant Siek (Jamie Foxx) — "hydrating, training, hydrating, and dehydrating."
Swoff feels like one of the walking dead, even though he's supposed to be an intellectual. In one of the opening boot camp sequences, Siek finds the freshly buzz-cut Sacramento native in the john and reading a copy of Albert Camus' The Stranger. "Came-us?" Siek says, mispronouncing the French existentialist's name. "That's some heavy dope right there."
At this point, the viewer expects to see Swoff become the cerebral pacifist, the voice of reason among thousands of underachievers, the one who gradually reveals that war is the love child of corporate malfeasance and political corruption expertly covered up by right-wing propaganda. Not Swoff.
When Siek removes The Stranger from Swoff and chucks it into a nearby trash can, along with the book goes the lance corporal's less feral instincts. He becomes a sharpshooter and eventually graduates to Surveillance and Target Acquisition (STA), where he teams up with the other dead-eye, Troy (Peter Sarsgaard). In voice-over narration, Swoff says, "I was hooked."
Jarhead is Mendes' third full-length film, following Road to Perdition and 2000's Best Picture winner, American Beauty. Like the book, Jarhead doesn't take a political stance but expects the absurdity of the fact-based information to sway the viewer in a certain direction. The film's lack of opinion is a reflection of the soldiers' weary heads. These guys don't care whether the war is "right" or "wrong." Their only obligation is to follow orders.
The few controversial topics that sneak into the movie are dealt with swiftly and painlessly. One moment, we see a character complaining about how he and his fellow soldiers aren't fighting for the common good but to protect America's oil concerns. A few minutes later, we see Troy stepping on Kuwaiti soil and telling his comrades (and the audience): "Fuck politics. We're here. All the rest is bullshit."
Since Jarhead is more of a melodrama than a genuine war movie, there's a heavy emphasis on the acting, and Gyllenhaal and Sarsgaard don't disappoint. Mendes' go-to supporting guy, Chris Cooper, also turns in a brief, well wrought performance as Lt. Col. Kazinski.
The only problem is that you get the feeling that most of the "heavy" scenes have been carefully placed rather than allowed to happen as byproducts of plot developments. We applaud Mendes for not making a statement, but we expected more than American Beauty in the desert.