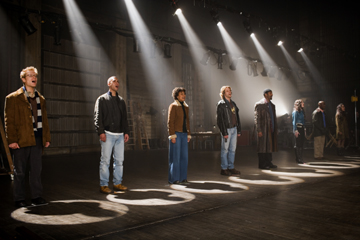 The cast of 'Rent' returns to its stage roots for the beginning of the movie version.
Rent\r\nStarring Rosario Dawson and Adam Pascal. Directed by Chris Columbus. Written by Steve Chbosky, based on Jonathan Larson's musical. Rated PG-13.
A D V E R T I S E M E N T
A D V E R T I S E M E N T
Bohemian Rhapsody
Nine years past due, Rent pays off with a flawed but enjoyable movie version.
By KRISTIAN LIN
Where was a Saturday Night Live sketch in the late '90s in which Joan Allen played a big-haired Texas housewife squiring her tourist friends through Greenwich Village while telling the locals, "We're here to see the lesbians." She could have rented a video and saved herself the trip, but she was probably inspired by Rent, the Broadway musical that caught a wave of bohemian chic when it debuted in 1996. The show essentially presented a theme-park version of the young, funky, multicultural downtown Manhattan neighborhood for the consumption of older, wealthier, whiter theatergoers who lived in midtown. It certainly made a bigger impression on that crowd than it did on the actual residents of Greenwich Village at the time (including me), who would have chosen any one of a dozen movies or tv programs as better capturing what their (or should I say "our") lives were like.
Any objections about the play's "authenticity," however, were drowned out by the more compelling story of its composer/librettist Jonathan Larson, who died suddenly of a brain aneurysm at age 35 the night before the show's scheduled Off Broadway premiere. Rent reaped the benefits of its creator's early demise: a long theatrical run, an inflated reputation, multiple Tony Awards, the Pulitzer Prize for Best Drama, and boundlessly optimistic speculation about what Larson might have achieved had he lived longer.
Ten years and one movie version later, the show's place in history is clearer. It blazes no new musical trails — though the score uses rock instrumentation, it resembles early Andrew Lloyd Webber more than rock albums put out today. Even compared to other Broadway shows, it has too many filler songs and too many patches of hazy lyrics to be top-notch. Rent isn't a great musical, but it's clearly the work of someone who could have written one, a newcomer dripping with talent that time and experience would have polished.
Based loosely on Puccini's La Bohème and set in an AIDS-ravaged New York in the early 1990s, the film stars 75 percent of the original Broadway cast, now well into their 30s but still playing the 20-something characters. Wannabe rock star Roger (Adam Pascal) falls in love with his downstairs neighbor Mimi (Rosario Dawson, subbing for Daphne Rubin-Vega), a stripper with a drug problem. Roger's roommate, aspiring filmmaker Mark (Anthony Rapp) watches his performance-artist girlfriend Maureen (Idina Menzel) ditch him for a lawyer, Joanne (Tracie Thoms, stepping in for Fredi Walker). Their grad-student friend Collins (Jesse L. Martin) hitches himself to a drag queen named Angel (Wilson Jermaine Heredia). Rounding out the cast is Benny (Taye Diggs), a former fellow struggler who sold out, got rich, and now holds their leases in his hands.
The director here is Chris Columbus, whose background in hopelessly mawkish family films (Home Alone, Mrs. Doubtfire, the first two Harry Potter movies) would seem to be out of place here. Actually, his approach fits this material. A more conscientious filmmaker might have tried to inject some genuine grit into the proceedings, but Columbus' tendency toward prettiness jives with a movie musical's need for visual stylization. He even manages a semi-clever staging of the comic duet "Tango: Maureen" and a sensitive one of "Will I?," the fugue sung by an AIDS support group. He can't keep the story from falling apart around the halfway point, though, nor can he give any credibility to the show's "fight the establishment" posturing. Columbus seems to buy wholeheartedly into the idea that Rent captures some fundamental truth about contemporary American youth. Anyone who believes that needs to get out more.
Yet only someone with a troll's aesthetic sensibilities would deny the strength of the stately, delicately crafted, gospel-tinged ballad "Seasons of Love," sung by the cast members on a bare stage over the opening credits. Larson's music isn't rock, but it's still good music on many occasions, and the performers do well by it. Pascal's properly raggedy voice goes well with his castmates' in general and Dawson's in particular, and he knocks out "One Song Glory," arguably the movie's best song. It's a shame that he's such a negligible presence on screen. With far more experience in front of the camera and a role that lets her cut loose, Dawson obliterates him and displays enough musical chops to blend in with the Broadway veterans around her. Heredia becomes a pulsating live wire during the percussive, salsa-inflected number "Today 4 U" — you see why he won the Tony Award. Coming off best is Martin (in his first substantial movie role, believe it or not), who sings in a silky, powerhouse baritone voice that seems capable of anything, and he busts out some intimidating dance moves on a subway car during the slinky blues lament "Santa Fe." For all of Rent's dramatic shortcomings and empty pretensions, the strongest impressions it leaves are of these songs and the actors' performances of them. That's how you measure a movie musical.