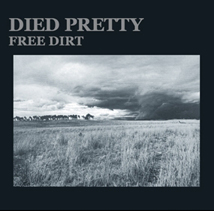 A D V E R T I S E M E N T
A D V E R T I S E M E N T
Died Pretty
Free Dirt
(Aztec Records)
By Ken Shimamoto
Australian record labels have long been ahead of the curve in terms of providing bonus materials to soften the sting of exorbitant CD prices. Heaps of '90s Aussie CDs had whole bonus discs, a practice U.S. and European labels have only lately started to emulate. That said, Aussie reissue label Aztec Records still goes above and beyond with their lavish releases of catalog items by the likes of Billy Thorpe and the Aztecs (a nonentity Stateside, with 1978's Children of the Sun as his sole release), guitar god Lobby Loyde (from proto-punks the Coloured Balls and the bizarre concept album Beyond Morgia), and stoner icons Buffalo. Top-shelf remasters, savvy bonus track selection, and thick, info-packed booklets make every Aztec release at least a contender.
Latest to get the treatment is Died Pretty, a band that should have been bigger than U2 and REM solely on the strength of 1991's Doughboy Hollow, a gorgeously melodic slab of depresso-pop-rock. This Aztec reissue of their nearly-as-strong 1986 debut compiles all their early stuff – both sides of three singles (including two-sided monster "Mirror Blues"), a four-song EP, four demos, and six live tracks — along with Free Dirt itself.
Died Pretty arrived fully formed, a band with underground roots and Big Rock ambitions. Flamboyant frontman Ron Peno combined Dylan and Reed's vitriol and spleen with better vocal chops than either, while guitarist Brett Myers possessed the idiot savant brilliance of Ron Asheton and David Gilmour but was a better songwriter than either. The cinematic scope of songs like "Life To Go (Landsakes)," "Blue Sky Day," and "Stoneage Cinderella" matches anything recorded by anyone in the '80s indie rock cosmos, and this is the best way imaginable to hear them. Cop via aztecmusic.net.