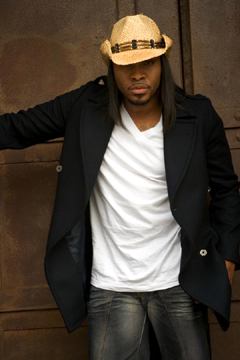 He may look all 'neo-soul,' but breaking-out Fort Worth singer-songwriter-multi-instrumentalist Young defies handy description.
Keite Young\r\nFri at Gezellibar, 2010-C Greenville Av, Dallas. Free. \r\n214-826-1700.
A D V E R T I S E M E N T
A D V E R T I S E M E N T
Everyday People
The sometimes soulful, sometimes funky, sometimes folky rhythms of life Rise and Fall throughout Keite Young's stellar new album.
By JIMMY FOWLER
Singer-songwriter-multi-instrumentalist Keite Young doesn't waste a lot of time thinking about labels. But bring up the term "neo-soul" — a marketing catchphrase dating back to the '90s that has included artists such as Jill Scott, Erykah Badu, and Fort Worth's Nuwamba — and he can't help but chuckle wryly.
"Being called 'neo-soul' doesn't bother me a lot, but it is very broad," the 30-year-old said. "In the music industry, if you're black and you don't rap, have gold fronts, or wear your cap backwards, you're thrown into this big 'neo-soul' bin.
"When Joss Stone releases a hot piece of music, they don't call her 'neo-soul,'" he continued. "I personally look forward to the day when a black guitarist is just called a guitarist. But I also know the industry needs to find easy ways to sell artists. So it is what it is."
In conversation, the Fort Worth native is the epitome of collected, thoughtful, and utterly without agitation or hesitation. But give a listen to his debut album, The Rise and Fall of Keite Young, slated for release in early June by the Santa Monica-based Hidden Beach Recordings, and you wonder how the dude can string together a single thought with so many rich and diverse sounds — both melodically and harmonically —echoing around in his cranium. Young figures Rise and Fall will probably earn the "neo-soul" moniker because his rhythmically complex soundscapes are anything but simple: a mixture of the haunting yearning of bluesman Robert Johnson and the sequin-y Euro-pop bombast of Queen and Peter Gabriel with an unmistakable foundation of erotic spirituality, care of Prince and, especially, the Rev. Al Green. (Indeed, if there can be any criticism of this otherwise soaring, infectious collection of 14 songs, it's that Young sometimes sounds like he's doing a Green impersonation.)
He shares something else with the Preacher of Love besides vocal inflections: Young became an ordained Baptist minister at the age of 15. He's a Como kid. The Westside sanctuary of his youth was Strangers Rest Baptist Church, where he met and later collaborated with gospel impresario Kirk Franklin. Young's mother Carrie sang with The Family, one of Franklin's earlier musical incarnations, and his grandfather was the local legend blues singer "Big Daddy" Young, a co-owner of Como's Bluebird nightclub, who shared the stage with Johnny Taylor and Bobby "Blue" Bland.
And so the perceived barrier between God's music and the devil's runs straight through Young's soul. Except he passionately believes that that kind of dualistic thinking presents a false choice.
"My family was very religious, but my mother loved Prince, Marvin Gaye, Sly and the Family Stone, Parliament Funkadelic," he said. "She never kept any of that from us. Some [other parishioners] at Strangers Rest might not have been so comfortable with it, but to my family it was all an expression of God, the physical and the spiritual."
Young began writing songs at the age of eight, but didn't start singing until his late teens. He was an introvert, an observer, "someone fascinated by other human beings." He taught himself guitar, keyboards, and drums because most of his friends eventually lost interest in musicmaking.
His first big break came at the age of 21, through his mother's connections with Kirk Franklin: He sang lead on "Let My People Go," Franklin and The Family's contribution to the soundtrack for Disney's animated Prince of Egypt. "They needed a young tenor voice, and [Franklin] was comfortable with me," is how he somewhat blithely explains that major gig.
The natural assumption would be that the Rev. Keite (pronounced like "beat") would turn to gospel full-time. But the grittier, bawdier stuff he'd enjoyed since he was a kid didn't lose its grip so easily. He felt constricted by the expectation that he would use his music solely to testify. And his own spiritual journey has been somewhat unorthodox, at least by traditional Baptist standards.
"For me, gospel music has a low ceiling," he said. "My views of God have changed over time. People tend to anthropomorphize God, to give God an ego. To me, God is an energy, a totality. I believe we have all been given free will, but I don't believe in sin in the traditional sense. We hurt ourselves and others with the choices we make."
Ironically, the first single off The Rise and Fall of Keite Young is called "Pray" — and it's not a gospel tune. Two weeks ago it had reached No. 30 on Billboard's adult contemporary radio chart. If justice is a component of that cosmic energy that guides Young's life, the song will be piping out of iPods from Fort Worth to New York, L.A., Europe, and beyond.
Despite the autobiographical ring to the title, Young claims the album is less about his life than about how he perceives the larger world. "The key words aren't 'Keite Young,' but 'rise and fall,'" he said. "The album is about the rhythm of life, about how nobody ever stays up and nobody ever stays down. The only constant is change, right?"