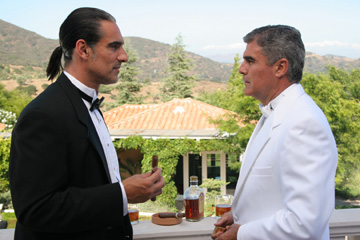 Miguel Varoni confronts Saúl Lisazo at his L.A. estate in Ladrón que roba a ladrón.
A D V E R T I S E M E N T
A D V E R T I S E M E N T
U.S. Steal

Con artists risk Moctesuma's revenge in this light-fingered pan-Latin caper flick.
By KRISTIAN LIN
Too often when Hollywood tries to make movies for the Latino audience, the result is embarrassingly tone-deaf — look no further than the currently playing Illegal Tender for proof. It's no wonder then that Latin filmmakers are beating Hollywood at their own game, not only turning out highbrow Spanish-language masterpieces such as Pan's Labyrinth but also superb middlebrow diversions such as Ladrón que roba a ladrón (which translates to A Thief Who Robs a Thief, in quotation of a Latin American proverb). The latter, which opens here this week, is an unpretentious and smoother-than-smooth heist film that pretty much outdoes the last two Ocean's movies and on a fraction of the budget. Looks like another case of American work being displaced by immigrant labor.
The thief being robbed is Moctesuma Valdez (Saúl Lisazo), a millionaire who owes his fortune to TV infomercials that peddle his brands of hair-growth formula and arthritis-curing bracelets. Valdez' products are as phony as his name — he's an Argentinian who has adopted an alias contrived to appeal to Mexicans. Like many Argentinians, Valdez has grown to distrust banks, so he keeps all his money in a vault inside his L.A. mansion. All that cash, plus Valdez' willingness to rip off poor people, makes him an attractive target for Alejandro and Emilio (Fernando Colunga and Miguel Varoni), Colombian con artists who also have hidden personal reasons for going after him.
Note the story details in the last paragraph that are specific to different corners of Latin America. The DELETE by José Ángel "Jojo" Henrickson is filled with them, and they help immensely when setting the scene. Henrickson also loads up with puns and in-jokes for Spanish speakers to savor — the penis-enlargement cream that Valdez sells is called Larga-T, which translates to both "Get out" or "Long T."
You don't need to know this stuff, though, to enjoy the way the heist plays out. While Emilio plans the strike in meticulous detail, Alejandro recruits a motley crew that's made up not of career criminals but immigrants without criminal records who happen to possess the necessary skills for the job. (How he picks them out is a revelation saved for the end of the movie.) While the characters spend most of their time posing as waitstaff, janitors, maintenance workers, and other similarly overlooked people, director Joe Menendez establishes an unhurried pace that leaves room for many gags and jokes. For all that, there are no filler scenes and few wasted moments, and the sequence about the Valdez product called Agua de Dios nicely conveys the damage that the bad guy does without impinging on the movie's light tone. Like his characters, Menendez operates elegantly and unobtrusively.
The two leads are muted a bit by their roles as straight men — Varoni in particular seems much more comfortable playing the slick leader than he is comically bristling at his crew members' individual quirks. The actors in the colorful supporting roles are primed to upstage them, and several do. Ivonne Montero pops off the screen as an auto mechanic who seems out to prove that she's manlier than all the guys (and rather predictably looks smashing when cleaned up and wearing a black cocktail dress). Screenwriter Henrickson pulls double duty portraying the crew's slobby, mumbling computer guy and manages to win a few surprising laughs for himself. Lisazo exudes both upper-class hauteur and street-toughness in a menacing, quiet scene midway through when Valdez sniffs out Alejandro as a fellow thief and warns him off trying to rob him.
Best of all is Oscar Torre as a thin-skinned Cuban actor named Miguelito who serves as the group's master of disguise. Fussy about his process and vulnerable to stage fright, Miguelito is both a funny counterpoint to the rest of the crew's assured professionalism and an unpredictable element in the heist plot. The movie's most memorable moments revolve around him, whether he's impersonating Fidel Castro in an avant-garde theater piece or a labor agitator organizing a strike by Valdez' employees. The latter bit is similar to a subplot from Ocean's Thirteen, but it carries a bit more weight in this movie, and it gives us a chance to see Miguelito lock into a character at a contentious meeting and deliver a speech that's rousing enough to make a country-club corporate lawyer walk a picket line and shout "Viva la huelga!"
These actors are mostly veterans of telenovelas in their native countries, while Menendez has a resumé filled with TV episodes for the kid-friendly end of the American cable spectrum. On paper, you wouldn't expect this group to make one of the better movies of the summer. However, much like the characters on the screen, these players pool their talents and easily pull off a job that should be over their heads.