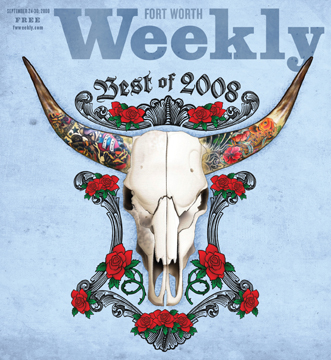 A D V E R T I S E M E N T
A D V E R T I S E M E N T
Holding the Reins on Change
By Gayle Reaves
This little annual essay, an intro to our most lighthearted (and physically heaviest) issue of the year, is usually about how the Fort has evolved in the past 12 months.
The most obvious change — the one that an occasional visitor would note first — is probably the development boom. Construction cranes are back in vogue, especially in the areas around downtown. Developers all over North Texas are looking at Fort Worth like a big juicy steak. That's great, though a little unsettling, since the steak seldom has much of a say in how it gets cooked and eaten.
But the biggest change we've seen this time around, without doubt, has been the huge upswing in concern about and opposition to the development of the Barnett Shale — providing the source of much of that boom money, but also literally creating industrial sites in and near neighborhoods all over town. If this were the 1940s, I'd feel like Edward R. Murrow reporting from London. The blitz here, though, isn't enemy bombers attacking from above but the fight for control of who's going to tunnel from below, and where, and under what conditions.
Our readers seem to agree with us. In the categories that just a couple of years ago used to provide easy wins for George W. Bush (Sign of the Apocalypse, for instance), the people's choices this time were Chesapeake, Chesapeake, Chesapeake. But that's the good news — that people are waking up to the changes around town and letting their leaders know what they think about it, not only on gas drilling but also on things like Tarrant County College, park and tree preservation, neighborhood integrity, and the Trinity River Vision.
In the meantime, other good things are happening. Some old neighborhoods are blooming again. The beginnings of a workable mass public transportation system seem headed for approval, and the city has even found money to begin an initiative against homelessness. And because of unrelenting public pressure, "green" — as in all things sustainable, renewable, organic, and recyclable — is becoming a favorite color in more and more sectors of Cowtown life. Other kinds of growth we can cheer for also continue. Fort Worth keeps on growing in sophistication and diversity and in the strength of its public discourse. And fun, of course, in musical options, the dining-out scene, local film talent, the strength of its art and theater community — and even, perhaps, in knowledge and respect for all parts of Cowtown history, rather than just the part having to do with cattle drives and cowfolk.
We've tried to corral here some of the best of all those things: the performances and performers, heroes and villains, the dishes (edible and otherwise) and dynamos, a sample of all the things that over the past year made us glad to be listening, watching, eating, drinking, shopping, living, and living it up in the 817. Because while the fight for the Leadership of the Free World continues, while those brilliant CEOs and bureaucrats in Washington and New York try to dig us out of the economic hole their greed has put us in, we'll be here pickin' and grinnin' and keepin' it real. As Mr. Murrow would have said, this … is Fort Worth.