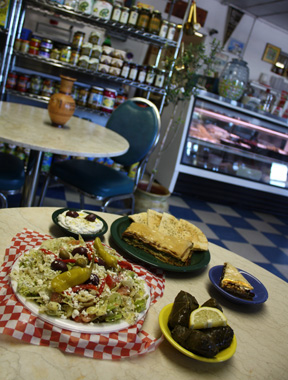 A Greek salad (front left), accompanied by (clockwise) tzatziki sauce, spanakopita, baklava, and dolmas, doesnít get any prettier than at Georgeís Specialty Foods.
Georgeís Specialty Foods
Greek turkey sandwich $5.79
Three-cheese veggie sandwich $5.79
Spanakopita $4.50

A D V E R T I S E M E N T
A D V E R T I S E M E N T
Classic Beauty
Georgeís Specialty Foods is small but powerful in the Greek cuisine department ó and also has some swank cachet.
By JIMMY FOWLER
Georgeís Specialty Foods
4424 White Settlement Rd, FW. 817-737-0414. 10am-4pm Tue-Sat. Closed Sun-Mon. Cash and checks only.

The joint isnít much to look at, sitting like an outpost along a barren stretch of White Settlement Road, with only a city bus stop across the street for companionship. But on a recent hot Saturday afternoon, Georgeís Specialty Foods was crowded with the kind of demographic everyone pursues: pretty twentysomething women and athletic-looking men in caps, shorts, and sandals.
Youth can be impetuous, but with Georgeís, those guys and gals have made a real find. This combination gift shop/convenience store/Mediterranean food stand is so un-hip that it canít help but be hip. Postcards of the Greek islands and little fake-ornate vases mix with imported bottled sodas, beers, and frozen Greek foods. Hellenistic busts of noble, curly-haired heads compete with a cardboard gyro the size of a small dog that dangles from the ceiling. There are only a half-dozen or so small tables, but donít be fooled. The place conquers in the exclusive sport of Mediterranean takeout.
Georgeís prominently advertises its Greek turkey sandwich, and for good reason. This baby makes an excellent hot-weather meal. Thick, succulent slices of deli-quality smoked turkey came packed into thin pita pocket halves alongside iceberg lettuce shreds, tomato slices, chunks of wonderfully pungent feta cheese, and a tangy sauce of olive oil and wine vinegar. Many napkins were required for this beautifully messy delight.
The veg-with-three-cheeses sandwich is almost as sloppy and, paradoxically, even lighter and more summer-suitable. Itís the same fetching combo of lettuce, tomato, and olive oil-wine vinegar in soft thin pitas, but the star players here are slices of feta, zesty pepper jack, and mellow swiss cheese.
The gyro sandwich arrived in a near-perfect burrito shape. The pita bread was a single slice ó thick, warm, and grilled ó wrapped around hearty strips of ground-together beef and lamb. There was a generous slathering of fridge-cool tzatziki sauce ó yogurt and chopped cucumbers, with maybe a hint of dill in there ó as well as a thin layer of extra-virgin olive oil, tomato, and very fragrant purple onion slices.
Two Greek mainstays ó dolma and the spinach pastry spanakopita ó were also superior. Initially, itís a bit of a shock to see that each dolma is $1.50, because youíre picturing the usual little rolls of slippery grape leaves with vinegar-moist rice in the middle. But Georgeís version was bigger and roughly square-shaped, with a lovely mixture of basmati rice and tender bits of ground beef inside. Even a single order comes with a lemon wedge, so squeeze and dive in.
The spanakopita came in the expected perfect square shape, but it was still heavenly. The buttery phyllo dough sheets were so delicate and flaky, they could be separated one by one with a fork. Inside were leaves of warm chopped spinach, bits of feta, a pleasantly bitter hint of parsley, and a strong citrus bite. It was typical of the fresh, light flavors that made a stop at Georgeís Specialty Foods the culinary equivalent of a leisurely swim in a friendís pool.