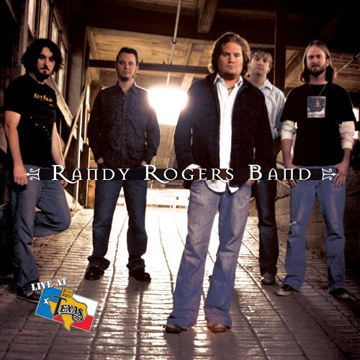 A D V E R T I S E M E N T
A D V E R T I S E M E N T
Randy Rogers Band
Live at Billy Bob's Texas\r\n(Smith Music Group)
By Tom Geddie
Hoarse-voiced country rocker Randy Rogers says right up front that he dreamed his whole life about performing at Billy Bob's Texas. Still a young man, he's done that now, and he's most likely got a whole lot more life to live, songs to write, and songs to sing. His career has come a long way over the past five years, appealing mostly to the cocksure, 18-to-25-or-so, male-bonded, beer-swigging demographic and to the young women who like that demographic.
The Randy Rogers Band, as it shows on Live at Billy Bob's Texas, is filled with the kind of macho-pride love-and-lost songs common to the sub-genre and a certain sameness both in the music — mostly drums, bass, lead and acoustic guitars, and busy fiddle — and in Rogers' vocals. That the sameness is a cut above much of the competition is a credit to Rogers, to the band, and to the production/engineering crew at Billy Bob's, which, after recording 25 live performances, has the technical aspects of this series down cold. Previous offerings in the series include live albums by then-newcomers such as Pat Green, Jack Ingram, Cross Canadian Ragweed, and Jason Boland & the Stragglers, as well as veterans Willie Nelson, Merle Haggard (twice), Asleep at the Wheel, David Allan Coe, and more.
Highlights on Rogers' disc include "Lost and Found" (which digs a little deeper into the music than many of the other songs), "Ten Miles Deep," and the melancholy "Somebody Take Me Home."
Rogers has a knack for writing solid songs that all work on their own, but they tend to blend together on stage. One of the c.d.'s 16 tracks, "Tonight's not the Night," spent five months on Billboard's country chart.
Rogers and his band also have a busy touring schedule, with somewhere in the vicinity of 250 shows a year and, as of this summer, a national contract with Mercury Records. It will be interesting to watch him continue to grow. —