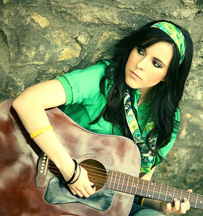 Singer-songwriter Allie Noelle is at work on a full-length album, her first.
The Allie Noelle Band
Sat 9pm at Sugar Shack, 1909 Greenville Av, Dallas. 214-826-4500.
A D V E R T I S E M E N T
A D V E R T I S E M E N T
Toeing the Line
Ballerina-turned-rocker Allie Noelle
sticks to the basics.

By JIMMY FOWLER
By the time she was in third grade, Fort Worth native Allie Noelle had a schedule as booked-up as most contemporary kids: Ballet classes and voice and piano lessons were part of her weekly duties in addition to elementary school work. But inside Noelle was a strutting, belting, rock 'n' roll soul that couldn't always be contained.
"When I was in third grade, my teacher caught me humming [in class]," she said. "He said, 'Is that "Bohemian Rhapsody"?' I said, 'Yeah.' He said, 'Where did you learn that?' "
Exposure to Queen's grand art-rock orchestrations came courtesy of Dad, who also instilled in the child a love for Led Zeppelin and Grand Funk Railroad. Mom had been a folk-country singer who'd played in various Fort Worth clubs and wasn't initially pleased with the idea that her daughter might pursue a musical profession. Now, at 18, Allie Noelle has both parents on board for a fledgling career writing and performing what she calls "blues-inspired alternative rock."
It's tough to find perfect adjectives for what she's trying to do. Last year Noelle released an eponymous EP that featured four original tunes showcasing her clear, emotive, boldly rhythmic vocals. Her fast, guitar-and-keyboard-drenched sound follows the Benatar/Morissette playbook of tasty, surging hooks. If songs like "Insanity" and "Feel the Rain" bypass homage and barrel straight into imitation, well, many young musicians discover themselves by emulating idols. On the same disc, though, Noelle proves that she's capable of surprises. Her slow-percolating version of a song called "Jack of Spades" warrants fair comparison to blues prodigy Shemekia Copeland.
Her entire childhood was performance-oriented, with music taking center stage in her heart. Although she would later take theater and film acting classes, the primary avocation for half of her life (thus far) was classical ballet. For nine years she trained and danced minor roles with Texas Ballet Theater in productions at Bass Performance Hall. That trajectory ended abruptly with an injury she sustained in middle school. The experience was disappointing but not quite devastating.
"I tore a ligament in my foot," she said. "I took a break, but then I tried to be tough and do it [dance] again before I was ready. They told me I would really hurt myself. So I quit and started doing musical theater, which was when I found out for sure I wanted to be a singer."
In high school she took private commercial voice lessons and performed major roles in Peter Pan and Oklahoma! Her "Eureka!" moment arrived when she was 15, on a trip with her music class to Memphis. They visited the legendary Beale Street, where Noelle saw ancient blues players sitting on the curb performing for change and heard raucous rehearsal improv blasting from the open doors of clubs. In her mind a connection was established between the blues-influenced Freddie Mercury and Robert Plant of her childhood and the more authentic American art form she had been introduced to in Tennessee. If she couldn't hope to harness any real blues wisdom as a teen, she could at least pick up tips about brashness and emotional honesty.
Shortly afterward she acquired an acoustic guitar and began writing songs, "typical break-up songs that you'd expect from a teenager," she said. "I tried to write political songs, because I love watching people argue about controversial issues. But then I thought, 'This is way too complicated.' I remembered I was 15."
Noelle will receive her full high school degree this May, thanks to part-time class attendance and a part-time online curriculum that completes her requirements. Besides releasing the EP and starting a full-length album, she plays with the Allie Noelle Band (including drummer Melvin Clay II and bassist Nigel Rivers) at local clubs, outdoor festivals, and college events in Denton and College Station. Last year she filmed a music video for her song "Insanity" with a Dallas studio, Lucky Duck Media. Noelle's sometime acting teacher, Amy Vanderoef, co-host of WFAA-TV Channel 8's Good Morning Texas, served as director. Vanderoef is married to Grant Stinchfield, a reporter for KXAS-TV Channel 5, who lent his name as producer for the "Insanity" video.
All of the work and the connections have paid off, with scattered local and national radio exposure –– her song "Jack of Spades" has received regular airplay in Texas, Florida, and New Jersey markets. In April she's set to perform a couple of live acoustic tunes on the Progressive Roots Alive show broadcast in streaming audio on the internet from two FM stations, in Jacksonville and St. Augustine, Fla.