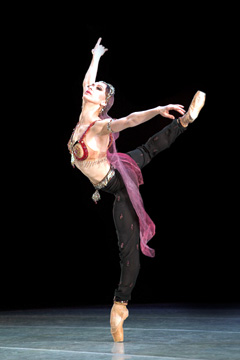 It's springtime for MCB, Sat, at Bass Hall.
A D V E R T I S E M E N T
A D V E R T I S E M E N T
From Bolshoi to Broadway
By Leonard Eureka
Metropolitan Classical Ballet greets the spring with a double bill of old and new ballets. From the vintage repertory will be co-artistic director Alexander Vetrov's staging of La Bayadčre, a company premiere of his two-act version of the five-act Russian extravaganza. Vetrov danced the leading role of the warrior Solor at the Bolshoi Ballet in Moscow, and also appeared in a video of the ballet produced there. Andre Prikhodko will dance solo here. The role of Nikiya, the temple dancer, will be performed by the company's leading ballerina, Olga Pavlova. Included in this condensation will be the celebrated Kingdom of the Shades scene, a tour de force for female corps that requires seamless adagio work.
Celebrating the new — or almost-new — will be a revival of co-artistic director Paul Mejia's Notes On My Life, based on songs by famed Broadway composer Richard Adler, first seen here in 2002. Adler attended the first performance and is expected to be here again for the latest incarnation of the ballet. A 2006 Broadway revival of Adler's The Pajama Game won a Tony Award for Best Musical Revival. He is also remembered for the 1955 Broadway hit Damn Yankees.
Ron Spigelman, former associate conductor of the Fort Worth Symphony, will lead the MCB Orchestra.
Metropolitan Classical Ballet takes the stage at 8pm Sat at 555 Commerce St, FW. Tickets $10-30. Call 817-212-4280.