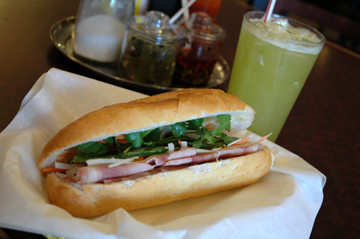 Ba-Le specializes in French-influenced Vietnamese sandwiches, in addition to traditional Viet-fare.
Ba-Le Vietnamese Restaurant\r\nBanh mi pate cha lua $2.50\r\nCha gio $5.25\r\nDac biet bo vien $5.45\r\nBanh mi bo xao $2.95
A D V E R T I S E M E N T
A D V E R T I S E M E N T
Dang Good
For 23 years, the South Arlington restaurant Ba-Lehas been a Vietnamese cuisine star.
By Brian Abrams
Danny Dang has worked in the family's business since he was 11 years old. He's 30 now, and the hours he spends at his mother and father's café haven't shortened — these days, they're even longer.
In the 1970s, Danny's parents, Qui and Nguyet, abandoned a successful bakery business in South Vietnam to flee the Communist regime. They sought refuge in Malaysia for a stint before immigrating to America, specifically Arlington, where they opened the restaurant that, 23 years later, still keeps the three of them and their helpers on their toes.
For about 12 hours a day, the Dangs serve soups and hot sandwiches. Danny is eager to help newcomers and regulars alike pick from the multi-page menu. Judging from a recent visit, he probably won't lead you wrong. Along with the great service, the delicious authentic fare at criminally affordable prices explains Ba-Le's longevity and what makes it a destination.
The French, who colonized and ruled Vietnam for half a century, have greatly influenced Vietnamese cuisine. (Hence the illustration of the Eiffel Tower on Ba-Le's storefront and menu.) Ba-Le's specialty is the light, exotic banh mi sub sandwich, a combination of meat and fresh veggies on a fluffy, flaky baguette. Try the banh mi pate cha lua, juicy pork on bread coated on the inside with liver paste. Though dense and hearty, it won't leave you feeling heavy. If you want something more substantial, the banh mi bo xao is filled with sizzling and succulent fried beef strips.
Another specialty of Ba-Le's is the cha gio, an egg roll but not like the mini-burritos found at most mainstream Asian eateries: hot and flavorless on the outside, mushy inside. Ba-Le's are lean, a little oily, and flavorful inside, outside, and all around. With lettuce wrapped around their crispy shells, the rolls contain bits of cucumber, daikon (Asian white radish), and your choice of veggie or pork. The accompanying fish sauce gives them just the right salty kick.
With the exception of one entrée, bun oc gio heo (pork hocks and snail with tomato), the dare-you-to-eat-it factor is pretty low. Newbies may want to stick to that old Vietnamese food standby, pho, at which Ba-Le is expert, of course. The most popular version of pho, Danny said, is dac biet bo vien: flank steak, brisket, tendon, tripe, pork meatballs, noodles, and veggies in a huge bowl of steaming, fragrant broth.
Ba-Le also offers a lot of sweet Vietnamese drinks, including the rather watery sugarcane juice. However, it wasn't one of Danny's recommendations.