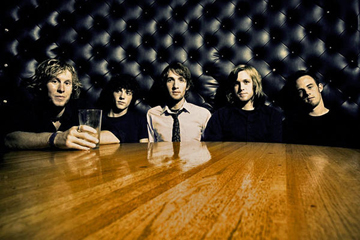 Along with the average age of the band members, Green River Ordinance's music is also maturing.
A D V E R T I S E M E N T
A D V E R T I S E M E N T
Letting Go, Going Forward
Their oh-how-cute! days long gone, the men of Green River Ordinance celebrate young adulthood by releasing a full-length of sparkling radio-popistry.
By JIMMY FOWLER
When people use the phrase "the optimism of youth," they're usually not talking about the perennial nihilists, weepy navel-gazers, and prefab cynics who occupy the singer-songwriter slots in young bands. Most of these musicians haven't been in the business long enough to really know what getting screwed over by the world means, so what gives with all the premature bile?
It's also a mystery to the young gentlemen of Fort Worth's melodic, jangly guitar-pop quintet Green River Ordinance. Only two members of the group are old enough to buy beer legally, and you won't find a glum face onstage when the GRO boys headline a show. Maybe that's why they regularly attract a few hundred people per gig, testimony to the idea that happiness is infectious and — brace yourselves, brooding rockers and stone-hearted critics — rarely fatal.
"We're basically happy people," said bassist Geoff Ice, with the "well-duh" tone of a pet cat trying to explain what's so great about lap naps. His big brother Jamey Ice is one of two GRO guitarists; the other is Josh Wilkerson. Lead singer and acoustic guitarist Josh Jenkins and drummer Denton Hunker round out the band. "We'd be kidding ourselves and the audience if we tried to act like we were depressed. A lot of time when we play Dallas, there are bands [on the same bill] who're ultra-serious and sort of stuck on themselves. And we're just these big dorks. I think we make them nervous."
Frontman Jenkins said, "We do take our music seriously. We have our 'less-happy' songs. I mean, I'm old enough to realize that the world lets you down sometimes. But hope comes from that kind of pain and loss, and that's what we like to write about."
Their utterly confident, buoyantly catchy new full-length, The Beauty of Letting Go, manages to be sunny without causing melanoma. That's mostly because Green River Ordinance, whose members write songs roundtable-style, indeed maintains the balance that Jenkins suggests between breaking down and breaking through — songs like "Breath of Life" and "Speak Through Me" assume a gently encouraging vantage point that suggest these Fort Worth natives are more familiar with melancholy than they like to let on in interviews. Jenkins' earnest, sweet-dude vocal delivery always brings things back around to the sense that an unexpected — but most welcome — change could be just around the corner in even the most bummed-out life.
Just three short years ago, the musicians were that charming high school band with preternaturally well-developed musical chops who "posted up fliers and sent out crappy demo cassettes non-stop" and managed to convince the Ridglea Theater to rent them the main stage for free after a promise they would pull at least a hundred people at $10 a head. They drew in more than twice that number. The band members are perfectly aware that their name comes from municipal laws that prohibit door-to-door salesmen from harassing people, but they wound up choosing "Green River Ordinance" for the best rock 'n' roll reason there is: "We saw it on a sign in someone's garage," Geoff said, "and we thought it sounded cool."
As the members have graduated and moved into college careers at TCU, UTA, and Tarrant County College, they've lost some of that "Ridgemont High"-ish novelty to enter a more crowded field of aspiring artists. Whatever they lost with the passing of their "I-just-want-to-pinch-their-little-cheeks" phase is more than compensated for by a following that has grown to include not just seventh-graders but men and women in their 30s and 40s. One 50-year-old man who'd attended a couple of recent shows, according to the band, purchased $300 worth of c.d.'s and merchandise to hand out as gifts and, hopefully, spread the GRO gospel a little further.
Just a couple of songs into The Beauty of Letting Go and the likely reason for the band's older fans hits you: Although the band members shun any suggestion of a retro-motivation, their professed love for '90s radio mainstays like Third Eye Blind, matchbox 20, and The Goo Goo Dolls will whisk creeping-toward-middle-age nostalgists back to an ancient time when Seinfeld quotes choked the landscape like weeds and folks were dreaming about how rich the internet would make them.
But the GRO guys' biggest influence — and, they're proud to say, in many ways also their mentors — are Fort Worth heroes Flickerstick. "Before we even formed back in high school, most of us were going to see those guys," Jenkins said. "We finally hung around afterwards and introduced ourselves. Later on, they put GRO on some bills with them."
Jenkins and Geoff are particularly excited when they speak about their band's possibilities in 2006. Besides the new album, which they claim is selling as fast as the discs can be pressed (available at shows and on their two web sites), they've signed to a national management company that got them featured performance gigs on satellite tv programs broadcast on Dish Network and HD Net. At press time, they were still waiting to hear if they'd been accepted as part of this year's SXSW line-up. A couple of national labels have expressed initial interest, but Jenkins said that the management's strategy is to "hide for a little while from the labels and get as big as we can in the next six months" to have something to show the corporate types.
Geoff said the band has discussed the issue of what happens if they don't graduate to the national stage, and they all pretty much agree that "we'd all love to make music our full-time careers, but we think we're pretty level-headed. I've seen guys who, I think, will literally die if they don't 'make it big.' We're determined not to make our identities only about that."