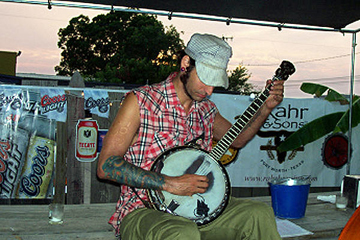 Co-frontman of the Electric Mountain Rotten Apple Gang, Adam Kobetich serves up some mountain string music.
A D V E R T I S E M E N T
A D V E R T I S E M E N T
The Show 11/2/05
By Anthony Mariani
During a conversation about local music at a nearby watering hole not too long ago, one well-established muso referred to ax-man Darrin Kobetich as "Rippy McRippington," implying that Kobetich likes to shred a lot. While certainly understandable, the sentiment only makes partial sense. Criticizing Kobetich for loading his brand of instrumental musicmaking with feats of virtuosity is kind of like taking a classical musician to task for worrying too much about technique — showing off is the whole idea!
Well, it's most of the idea. A lot of players can derive ready-made solos from the Pentatonic scale or tear through arpeggios in a flash, but not many showmen can flex their musical muscles while keeping audiences engaged, which is why Kobetich and his banjo-playing younger brother Adam's bluegrass outfit, the Electric Mountain Rotten Apple Gang, are such a treat. Along with Confusatron bassist Matt Skates and Damon Carol Band six-stringer Mark Deffebach, EMRAG offers enough fleet fretwork to please guitar nerds and enough good ol' fashioned catchiness to please the non-believers.
Tomorrow (Thu) with the 2-High String Band at the Wreck Room, 3208 W 7th St, FW. 817-348-8303.