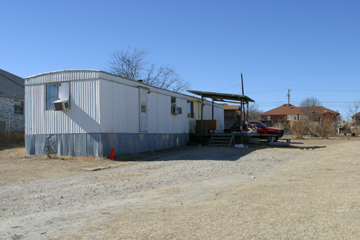 This Eagle Mountain Lake-area trailer ended up with at least 50 bullet holes in it after the gun battle that killed Officer Hank Nava.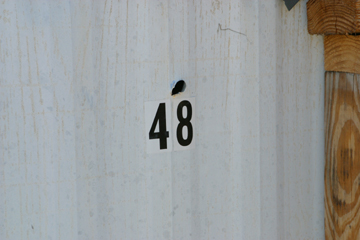 Some of the bullet holes in the trailer went through two walls and into an adjoining building.
A D V E R T I S E M E N T
A D V E R T I S E M E N T
Stealing a Life and Identities
Evidence in an abandoned truck brought Hank Nava to the trailer where he was killed.
By MICHAEL WHITELEY
It wasn't Stephen Lance Heard's long record as a petty criminal that led Fort Worth police to him last Nov. 29. It wasn't the rumors of his affiliation with white supremacist groups. And despite reports to the contrary, on the day that veteran Officer Henry "Hank" Nava was fatally wounded, he and two other officers apparently didn't go to the trailer home near Eagle Mountain Lake to arrest Heard on a parole violation.
Instead, Fort Worth Police Lt. Dean Sullivan said this week, the officers were at the trailer in Lake Crest Estates because of evidence found in a Dodge pickup truck the night before, when its driver abandoned it after a high-speed chase from a Sansom Park convenience store. The evidence linked Heard to a major North Texas identifty-theft ring. Heard told reporters the chase started after he drove off following a dispute over a gas payment, breaking the handle off the store's gas pump on his way out.
The evidence led police to Heard and to the shoot-out in which Nava sustained the head wound that killed him two days later, a gun battle that left at least 50 bullet holes in the walls of the dingy white single-wide.
A month after Nava's death, some of the facts surrounding Heard are becoming clearer. Reports from prison officials and others say that the 39-year-old ex-con was, at most, a hanger-on or wannabe associate of the Aryan Brotherhood. But police believe he was a part of an identity-theft ring connected to that prison-based hate group — a ring that a multi-agency law enforcement group has been investigating at least since the spring, with 500 to 600 potential victims stretching from Dallas across Tarrant County and west to Parker County.
The investigation is being carried out by a special crimes unit that includes officers from the Parker County Sheriff's Department and Weatherford police, aided by the U.S. Secret Service. The team has made a dozen arrests thus far, and the investigation is continuing.
Sgt. James Peel of the special crimes unit and Weatherford Police Chief Jerry Blaisdell said the ring is evidence of a significant change in the way that white supremacist ex-cons and some other criminal groups are funding their activities — they're trading in meth labs for identity theft and for sales of meth made in Mexico.
And new information is also casting further doubt on Heard's assertion that he didn't know that the black-jacketed men who entered the bedroom of the trailer that day were police.
One of the men arrested in the identity-theft investigation, Richard Allen Vaughn, told police he had talked with Heard about police interest in the ring, and that Heard assured him he would be ready for police if they came.
Heard was wanted for missing an October meeting with a parole officer back home in Texarkana, where he was on mandatory supervision on a conviction for unauthorized use of a motor vehicle. He'd been released in February from his second stay in Texas prisons.
Police said Heard had been living in the trailer, which was occupied by a woman named Sally Renae Smith, for about three months when papers found in his abandoned truck led them there. Heard later told reporters that the truck held some damning evidence against him — a computer with software from which he was learning how to build fake identities.
The officers knew Smith, a 36-year-old Fort Worth woman with four drug convictions, and they asked for her when they knocked on the door around 2 p.m. that day. By the time they arrived, Heard said later, he'd already done some pot and some poor-quality meth.
From there, Heard's story and the police version take drastically different paths.
In a press interview taped by KTVT Channel 11 and posted on the Fort Worth Police Department web site, Heard said he was convinced someone he knew had come to rob him and collect a $2,000 reward.
A police complaint filed four days after Nava's death says Nava and two fellow officers went to the trailer that afternoon wearing "black raid type" jackets with the word "POLICE" prominently displayed on the fronts and the backs.
Police said Smith told them Heard wasn't there but that she gave them verbal permission to search the trailer. When Nava opened the bedroom door, police say, Heard began firing. With Nava down, the two other officers began firing into the bedroom until Heard broke the window and fled.
Heard claimed a loud air conditioning unit running "wide open" kept him from hearing the officers identify themselves. The day was a chilly one, however, with a high of 59 degrees.
After he climbed out of the window, Heard ran to another house and took a 25-year-old woman hostage for two hours. Police said he used her as a shield.
A forensics expert appointed for the defense warned Heard's lawyer, Mark Daniel, that the crime scene would require a complex reconstruction and might yield new clues. Consultant Max Courtney wrote in a letter to Daniel that the grisly crime scene at 7021 Seth Barwise St. would need a complex reconstruction.
"I noted at least fifty purported bullet trajectories that were enumerated and examined by police investigators," Courtney wrote. "Most of these are comprised of more than one hole; many apparently pass through two or more walls."
Courtney said he found several possible trajectories from bullets that pierced the thin outer walls of the trailer and that an adjoining structure apparently was hit at least twice.
"This whole case is a tragedy from everyone's standpoint," Daniel said. "We're in the process of doing our own investigation. I really do anticipate there will be some things forthcoming a little bit different than what has been disseminated so far."
Heard was born in the Texarkana suburb of New Boston in May 1966 — one day before Nava was born in Austin. Heard carved a path of petty crime across North Texas over the course of three decades. But until he become involved in the identity theft scam, there was no hint in his jail records of any connection to hate groups.
The stepson of a law enforcement officer, Heard has a 6-year-old son — and apparently little else. On an indigency petition filed with the district court in Tarrant County, Heard said he wasn't paying rent, utilities, or insurance and that 10 weeks before his arrest he'd been laid off from a Frisco utility company. He listed his residence as his mother's home in Texarkana and reported one asset: the 2003 Dodge pickup that he valued at $28,000.
At the time of Heard's arrest, Sansom Park Police Chief Tony White identified him as a member of Aryan Brotherhood. He told Fort Worth Weekly that information about that tie had been passed on to the Secret Service. But police in Texarkana, who know Heard, said he was never identified there as a member of any gang or hate group. Nor do his prison records or prison officials mention any such affiliation, though Texas prisons have a national reputation as a recruiting ground for racial hate groups.
Heard first went to prison in 1992 on a 10-year sentence for forgery, drug possession, and unauthorized use of a motor vehicle — all crimes committed in Bowie and Parker Counties. He served four years and was released.
Sullivan, the Fort Worth police spokesman, said that, despite a police complaint that said otherwise, Nava and the other officers had not gone to the Lake Crest trailer to arrest Heard on the parole violation. Sullivan said it was the chase and the abandoned truck that led them to Seth Barwise Street, although the officers were aware of the warrant.
Police said Heard was working his way into the identity theft ring. Peel said several people in the organization have identified Heard. "The last six to eight people we have dealt with all know the same guy," he said.
The group rummaged through trash bins across the Metroplex for personal information on victims, manufactured checks, and a variety of money orders, Blaisdell said. They used computer software to build identities and establish bank accounts.
Weatherford investigators made the first arrest last May, charging Sarah Barr, 29, with trying to use a bogus check to buy a pizza. At her hotel, they found more than 1,000 blank checks and blank Texas drivers' licenses.
A report by the Anti-Defamation League, a New York-based watchdog organization that tracks hate groups, notes that in the past several years the Aryan Brotherhood has forged financial alliances with the Mexican Mafia to build major marijuana supply lines across the U.S. and also gotten into financial crimes, including identify theft.
Sullivan said Fort Worth police are participating in a Secret Service task force tracking identify theft in the Metroplex. He said Nava's death may sharpen the focus on Heard's associates.
"He may have been the bitter pill that helped bring this into focus," Sullivan said.
Michael Whiteley can be reached at mikewhiteley@sbcglobal.net.