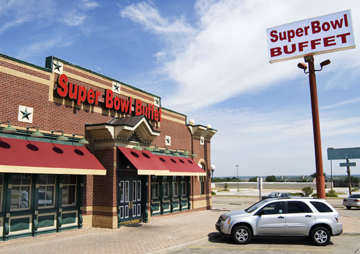 Come on in and just belly up to the trough.
800 E Loop 820 North, FW. 817-457-8885. Sun-Thu 10am-9pm, Fri-Sat 11am-10pm. All major credit cards accepted.

Super Bowl Buffet
Adult (buffet) $10.99
Children ages 2-9 (buffet) $4.99

A D V E R T I S E M E N T
A D V E R T I S E M E N T
Options
Super Bowl Buffet has a lot to offer in both Asian and Westernized fare.
By BY LAURIE BARKER JAMES

Late one Friday afternoon, out on a seemingly endless stretch of 820 — are we in Hurst? East Fort Worth? — my flesh-and-blood payload began to complain, "We're hunnnnngry." In my family's defense, stomachs were audibly rumbling. I was trying to find a convenient way to turn back around toward civilization, but then — like a mirage in the asphalt desert — there appeared the Super Bowl Buffet.
The Super Bowl, formerly Asia Super Chinese Buffet and no relation to any American sport whatsoever, is part of a mini-chain — there's only one other, in North Richland Hills. The Fort Worth location, just off John T. White Road, sits in a building that, once upon a time, housed a Black-eyed Pea – the homestyle-cooking chain's red-brick design is still intact. However, once my guests and I cleared the front door, any similarities ceased. Three sets of steam tables, all spotlessly clean, presented a mind-boggling array of meat, veggies, and, over in the back, more desserts than you can shake a can of whipped cream at.
The staff must have assumed we were regulars, because no one even offered to seat us. Although we didn't discover it until mid-meal, Super Bowl also offers take-out and entrées off a menu, if what you want can't be found in the endless buffet line.
As usually happens at a buffet place, one of our crew (me) held our table as the rest dived right in. Sitting there, I got the chance to observe the energetic staff in action, refilling buffet bins, busing tables, replenishing drinks. When my compatriots finally returned, I was pretty flabbergasted not only that they had so much stuff but so much cross-cuisine stuff. "Mostly Asian in style with a bit of a Western twist" is how the company describes its fare on its web site, and it's true.
The kids came back with chicken nuggets, hot dogs in egg-roll wrappers, and giant soft rolls. (Though there were plentiful salad items on the buffet, the only green thing on my daughter's plate was lime Jell-O.)
Beware of "the tyranny of small choices," for I stood in front of Super Bowl's immense selection and simply didn't know where to start. Some of the folks around me seemed to be regulars, so I asked them for suggestions.
The hot-and-sour soup was loaded with huge chunks of tofu in a mostly sour (not so spicy) broth, the sesame green beans were crisp and pretty flavorful, and the delicious mussels were baked in what I thought was a cream sauce but that our cheerful, helpful server informed me was mayonnaise. (!)
The spicy shrimp were plump morsels of garlicky goodness, though I could have done without having to remove the shells myself. The moist, tender spare ribs were covered in a scary-looking red-dyed sauce — the sweet, plummy flavor compensated for the garish color. The East-meets-Mex jalapeño chicken was a tasty suprise, as was the more traditional Szechuan chicken. And there was a never-ending supply of salty snow crab clusters.
Disappointingly, though, there were about as many misses as hits. Most of the fried items were soggy, the house salmon was moist but had an odd, overwhelming flavor of green pepper, and protruding from the crab puff was a little flake of shell, which led me to believe I was about to bite into real crab. Unfortunately, it was "krab." The egg-drop soup congealed unpleasantly before I had a chance to enjoy it.
On recommendation of one of the regulars, I tried the Cho-Cho Chicken — more like "so-so" chicken, on a stick. At the excited prodding of my spouse, I tried a corn nugget: a dollop of creamed corn, dipped in batter, and fried. Eh. OK. However, my husband dislikes most Asian food, and I didn't have the heart to tell him that fried corn isn't really, y'know, "Asian."
At the dessert tables, we also were greeted by an array of inconsistency. Fresh fruit, tri-colored Jell-O cubes, and two kinds of pudding mingled with the odd-looking something-in-whipped-cream. And there was a soft-serve ice cream machine, along with the ubiquitous fluffy yellow cake cubes and cookies. Moist macaroons were a wonderful treat, as was the dessert labeled "cobbler" (actually apple pie filling covered in a flaky phyllo-like pastry crust, more like a turnover than a cobbler).
At about $11 per adult and five bucks per kid, the buffet is surely an economic treat for large families with not-so-adventurous palates and occasionally a culinary treat for the average foodie.