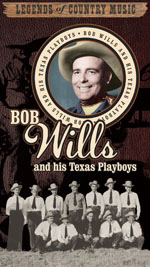 A D V E R T I S E M E N T
A D V E R T I S E M E N T
Bob Wills and His Texas Playboys
Legends of Country Music\r\n(Columbia/Legacy)
By Tom Geddie
Anybody who's ever seen old black-and-white cartoons and paid any attention to the background music understands the joyous appeal of jazz swing, especially its fun, frenetic vibe. Made in the sophisticated American cities where the sound was popular in the late 1920s and early 1930s, the stylings of Benny Goodman, Tommy Dorsey, and other early purveyors of the form nicely complemented the 'toons.
If those cartoons had been made out in the sticks, the soundtracks would have been Western swing. The main difference between the two styles is the instruments — jazz swingers didn't play fiddle, for one thing. They also didn't have country music's independent spirit, which is why jazz swing now seems sort of homogenous, especially compared to Western swing.
Just as Bill Monroe is considered the father of bluegrass, Bob Wills is often recognized as the king of Western swing. Wills' influence is so widespread, he's a member of both the country and rock halls of fame. As Rich Kienzle points out in his extensive liner notes to the Bob Wills and His Texas Playboys box set, Wills was the first country bandleader to regularly use a drummer. To his standard accents of fiddle, banjo, and steel and electric guitars, he also added brass and reed sections.
The four-c.d., 105-track package celebrates what would have been Wills' centennial this year. (He died in 1975.) The compilation begins in 1932 with his first recordings with the Fort Worth Doughboys and ends with his final session in 1973 in Dallas. In between, the bandleader — he was seldom the lead singer — gives us "Big Ball in Cowtown, A (We'll Dance Around)," "Bubbles In My Beer," "Roly Poly," "San Antonio Rose," "Stay A Little Longer," and so many more Western swing staples.
Over the course of more than 100 tracks, Wills' talking during the performances eventually becomes irritating, but the music is definitely feel-good stuff.