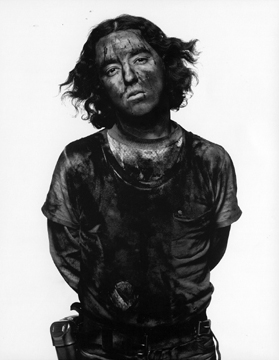 'Cruel'? No. Haunting? Yes. 'James Story, coal miner, Somerset, California' is one of 80 portraits that makes up 'In the American West.'
A D V E R T I S E M E N T
A D V E R T I S E M E N T
Kultur
Just in time for the dead of winter, we inaugurate a column on the arts scene.
Welcome to what we hope will become a monthly feature in the Weekly. This column will be a sort of HearSay Jr., but instead of the day-to-day activities of Flickerstick, Goodwin, and Daniel Katsuk ("Daniel ordered a personal pan pizza today — with no cheese!"), you'll get straight dope on the in's and out's of Cowtown's fine arts scene. I can hear you bitchin' now: "Fine arts scene"? Foat Wuth ain't got none o' that fancy-schmancy crap. What the hell you talkin' 'bout, boy?
Well, Jethro, if you must know, Fort Worth is the capital of fancy-schmancy in the Southwest. People (not-too-bright, easily disoriented people) will tell you Santa Fe is, but as anyone who's ever been to beautiful, quaint Santa Fe knows, the art there is mostly decorative, not, y'know, contemporary (a.k.a. good). Look at what Fort Worth has: not one, not two, but three world-class ballet companies (Bruce Wood Dance Company, Metropolitan Classical Ballet, and Texas Ballet Theater); one of the best-sounding if most outlandishly garish concert halls in the world (Bass Performance Hall); and not one, not two, but three world-class art museums (Amon Carter Museum, Kimbell Art Museum, and The Modern Art Museum of Fort Worth), each designed by a forward-thinking architect (Philip Johnson, Louis I. Kahn, Tadao Ando, respectively). To our impressive list of mainstream, family-friendly, highbrow stuff, also add our outrageously prolific and edgy underground scene, and you have a city unlike any other ... anywhere. Where else can you get world-class art and world-class barbecue? Only here.
We here at the Weekly, in Kultur's opinion, have been doing a so-so job of covering the fine arts scene. Unfortunately, we're often forced by the small size of our paper to forgo writing about mainstream fare in deference to edgy things. We're slaves to the logic that we'd rather cover the excellent, living artists in our midst who never get any press instead of long-dead white guys whose names are immortal. The column will allow us to continue providing insight into the inner workings of Fort Worth's underground and begin to discuss more of the masterworks that normally pop up in our three major museums and on our stages.
As for the name, the standard definition of the German word "kultur" falls somewhere between our English terms "civilization" and "art world." There may be no more perfect title for a column in which local artists and their creative projects are seen, critiqued, and talked about in the context of one of the planet's greatest, weirdest cities.
'Cruel' Intentions
In Fort Worth, there always seems to be an art exhibit that's perfect for otherwise normal, semi-intelligent people who are either intimidated by or condescending toward Art-with-a-capital-A. The show usually incorporates motifs from some other, more accessible medium, such as pop music or film. The "cross-over" exhibit up now is the Amon Carter's In the American West, a series of portraits by the late Richard Avedon of blue-collar people from the South, West, and Southwest. Commissioned in the late 1970s and first exhibited by the museum in 1985, the show was a big hot potato. Critics felt non-Westerner Avedon had exploited his subjects. His photos were called "cruel," "cynical," and "vicious." Of the exhibit, one rootin'-tootin' Star-T writer — pop guns ablaze — said, "This is not our West." That some of the subjects traveled to Fort Worth to stand next to their portraits on opening night really pissed the good ol' boys off.
But terms such as "cruel," "cynical," and "vicious" apply only to sentient beings, not to inanimate objects like photographs. What the critics were really saying was that Avedon himself was "cruel," "cynical," and "vicious" for daring to photograph non-Yankee territory and choosing to ignore its middle-class, beautiful side. As if he were a publicity mouthpiece on a mission to make everything look just peachy! Everyone knows that the first rule of writing criticism is — in the words of Alexander Pope — to "judge the poem, not the poet." Had Avedon been a Westerner or had some appreciable dirt under his fingernails, the critics would have said, "Avedon wrings joyous beauty from our sad underbelly, the side we try desperately to keep hidden." The sentiment is still wrong-headed, but it does illustrate how a critic can tailor a review to suit personal biases.
We recommend that new viewers let the photos speak for themselves. They're amazing, spellbinding, majestic even, and nearly every subject looks as if he or she was painted by the loving, humanist hand of Norman Rockwell. Shot in black and white and against Avedon's trademarked white backdrop, every photo of the nearly 80 in the series is a brief, skillfully directed, cinematic documentary on the sitter. Avedon's predilection for long exposures results in highly detailed tableaux. Almost every crevice in every fold of skin is visible. (In interviews, some of Avedon's subjects said the worst part of the shoot was standing still for so long.) Yes, walking into one of Amon Carter's mini-galleries and being surrounded by pieces of In the American West is pretty friggin' creepy — the heat-seeking stares all around are relentless. Still, to anyone who questions photography's worth as a viable fine art discipline, spend some time with In the American West. Like a good movie, realist novel, or chance meeting with an interesting person, the exhibit will resonate in your head for a long time. Thru Jan 8, at 3501 Camp Bowie Blvd, FW. Call 817-738-1933.
Grand Slam Champ
Bet you didn't know that Fort Worth is also lousy with top-notch spoken-word poets. In a nationwide slam competition in New Mexico at the end of summer, Fort Worth's team finished a close second, beating out nearly 30 other teams from such allegedly "hip" enclaves as San Francisco, New York City, Seattle, Santa Fe (ha!), and Detroit. In the individual category, Fort Worth's Janean Livingston tied for first place. Kultur ran into the champ last Thursday at the Black Dog Tavern's weekly poetry slam. Though she said she didn't expect the victory to make her recognizable on the streets of Fort Worth, she expected some recognition from the local media. The Dallas Examiner, as far as she knew, was the only publication to even acknowledge her coup (and when a spoken-word poet from Fort Worth bests other spoken-word poets from much larger cities all over, the victory is indeed a "coup").
A slam is like a boxing match except that instead of upper-cuts and jabs, the combatants throw crafty metaphors and well-timed rhymes. There's no referee, but there is a panel of judges. Until Livingston — the 2002, 2003, and 2005 Grand Slam Fort Worth champ — heads back into national battle next year, she'll be occasionally dropping in on the wisdom at the Black Dog (903 Throckmorton St, FW; 817-321-8190). Just look for the attractive, middle-aged black woman with the huge, gold-plated belt around her waist.
Young People Got No Reason ...
Ah, Kultur loves when our highfalutin' museums try to attract the 18-34 demographic. Why youngsters? Who the hell knows. "Young" rarely equals "intelligent." "Wealthy and bored"? Maybe, though a smart museum director should know better than to groom "wealthy," "bored" people as future patrons of the arts. She could end up turning her museum into a piece of shit like the Guggenheim, where motorcycles and haute couture clothing are treated with as much reverence as canonical paintings.
Of the different museum events for brats around town, Kultur has grown partial to the Kimbell's monthly happy-hour mixer. (You think that when Kahn was designing his modernist opus, he ever dreamed that the front entrance would someday be trod upon by gaggles of chain-smoking, light-beer-drinking arrivistes? Hmm. Actually, he probably did.) The most popular get-together, however, happens at the Modern on the first Friday of every month. On Nov 4, in the lobby of Tadao Ando's gray ode to sterility — among the cheese trays, boxes of wine, and, yes, the arrivistes — bluesman James Hinkle and his trio will be performing, and I'm sure they'll bust out some tracks from his most recent c.d., Straight-Ahead Blues?, a sterling full-length that harks to the days when jump blues and big band jazz begat greasy-haired rock 'n' roll. If you swing by the Modern, don't forget to congratulate Hinkle. His disc made the short list of Grammy nominees in the Blues Album category. The jumpin', jivin', and wailin' goes from 5 'til 8pm at 3200 Darnell St, FW. Call 817-738-9215.
Contact Kultur at kultur@fwweekly.com.