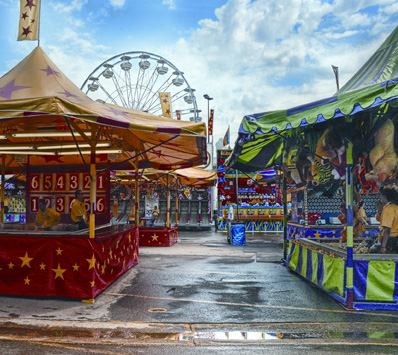 A D V E R T I S E M E N T
A D V E R T I S E M E N T
Unknown Instructors
Funland
(Smog Veil Records)

By Ken Shimamoto
Sorry, kids. This isn't the resurgence of unsung and never-properly-recorded Dallas outfit Funland. Rather, it's the third installment of a poetry-rock project with punk rock-turned-experimental musos, helmed by Ohio versifier/spoken-word artist Dan McGuire, who's made three "collaborative compilations" of his spiels over face-melting psych-rock sprawl on his own. This time around, McGuire cedes vocal honors on three out of the 12 tracks to Pere Ubu mastermind David Thomas, two to bassist Mike Watt, and one to graphic artist Raymond Pettibon.
What makes this combination work is the interplay between Watt, his Minutemen/fIREHOSE drummer George Hurley, and Saccharine Trust/Universal Congress Of guitarist Joe Baiza. The ex-Minutemen lock it in the pocket like the funk-and-jazz-fueled engine they always were. Baiza employs a lighter touch than you might expect, weaving delicate filigree patterns on the 10-minute, all-instrumental "No Chirping," and he spews feedback filth all over the sonic canvas behind McGuire's remembrance of a teenage rock 'n' roll epiphany, "Those Were the Days," the disc's finest moment. ("Illicit carnival / Embedded / Within a quotidian county fair / Transience / Makes everything possible / Negotiable up to a point / Bootleg Sabbath, Zeppelin, and Hendrix shirts sold wholesale / No fucking around with rubber softballs, weighted milk jugs / Cold beers, no question, a dollar.")
Otherwise, the best vocal performance belongs to croaking behemoth Thomas, whose closely-miked squawk and squall on "Later That Night" recalls avant-godfather Captain Beefheart's on the obscure 1968 album Mirror Man. As if to acknowledge this linkage, McGuire and crew follow it up with a "cover" (Beefheart's words over new improvised backing) of "Frownland," the leadoff track from the Captain's masterwork, Trout Mask Replica. Cleveland independent label Smog Veil deserves kudos for documenting this ongoing odyssey.

Mike Watt & The Missingmen
W/Lions and Golden Boys, Mon, Apr 20, at Granada Theater, 3524 Greenville Av, Dallas. 214-826-1885.