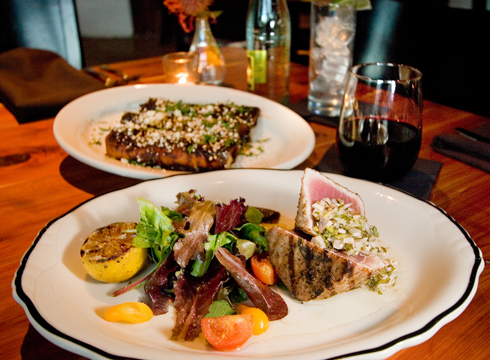 Red Chili Cheese Enchiladas (background), accompanied here by grilled ahi tuna, hint at Lambert's approach to down-home cooking. Naomi Vaughan
Lambert's Steaks, Seafood & Whiskey
2731 White Settlement Rd, FW. 817-882-1161. Mon-Sat 11am-2pm, 5pm-10pm. Sun brunch 11am-3pm. All major credit cards accepted.
Lambert's:
Achiote-seared chickpeas......................... $8
Frito pie...................................................... $9
Beef salpicon............................................. $9
Cauliflower gratin...................................... $5
Coconut cream pie.................................... $6
Oak-grilled salmon w/asparagus
and Texmati rice ...................................... $14

A D V E R T I S E M E N T
A D V E R T I S E M E N T
Brawny
Down among the auto shops, Lambert's puts upscale spins on traditional American faves.
By LAURIE BARKER JAMES
In March, the mostly industrial area around White Settlement Road and Foch Street got a little fancy. Now sitting alongside the car dealerships, auto shops, a lumberyard, a venerable barbecue joint, and a couple of mom-and-pop diners is Lambert's Steak, Seafood & Whiskey. Owned by Lou Lambert, a TCU alum now in the process of relocating here from Austin, Lambert's is a funky fusion of down-home and upscale that, judging by a recent lunch-hour visit, is attracting a devoted following.
The subtly sweet smell of oak-wood smoke permeates the parking lot, but you'll barely notice the aroma inside, even though the wood is used to cook or grill pretty much everything but the salads and desserts. The décor is a mix of worn and fancy and is blessedly free of any kitschy old road signs on the walls. It's like Martha Stewart meets Marfa, Texas (at least the Giant-era Marfa). The concrete, tile, wood, leather, and white-painted brick live peacefully with marble accents and the giant gilt mirror over a banquette. Saddles hang from the ceiling. Outside on the patio, a riot of pink flowers and a wooden fence hide the fact that you're sitting in an industrial zone. The menu includes salads, several seafood choices, and a lot of beefy He-Man meals. In fact, if nothing on Lambert's menu sounds appetizing to you, you probably aren't hungry.
The Frito pie kicked off the meal. Lambert's upscale version of the Friday-night-lights classic features not the traditional chili but barbecued beef, plus a generous layer of melted cheese and a drizzling of piquant pico de gallo atop the corn chips. Though identified as "cheddar" on the menu, the cheese, according to manager Aaron Williams, is actually more like queso: a blend of cheddar and tangy goat cheese, maybe with a little easy-melting cheese in there as well. The barbecue, as sweet and flavorful as it was, just didn't taste right, though. Authentic Frito-pie lovers might find Lambert's a little too experimental.
A better choice: the achiote-seared chickpea appetizer. The spice-infused chickpeas come with mouthwateringly sugary caramelized onions, roasted tomato, and goat cheese. To borrow a Southern phrase, it's heaven on a pita and almost a meal in itself.
Beef salpicon (literally, spicy Mexican beef salad) was a picky foodie's dream — the ingredients arrived separately, to be mixed according to your druthers: a pile of tender shredded beef spiced liberally with ancho chile and sprinkled with Mexican cheese, chunky avocado salsa, and lettuce.
The seafood offerings include a "bacon-cured" salmon. Order it as an entrée with Texmati rice, asparagus, and a cucumber-mint-and-tomato relish or as a sandwich with butter lettuce and tomato on brioche. As an entrée, the smoky, salty fish had a wonderful glaze and was cooked perfectly. The asparagus was sublime, and the relish was deliciously fresh, providing an interesting hint of exotic flavor.
The bed of Texmati rice was MIA, though. When we asked about it, our server brought out a bowlful. Texmati rice isn't supposed to be crunchy, or so I'd thought. However, since it was on the side, it was easy to avoid.
Lambert's offers family-style sides, including mac-and-cheese, sautéed spinach, and loaded mashed potatoes. The cauliflower gratin, ordered because it sounded healthier than everything else, came with a delightfully browned top and creamy, gooey sauce. At least half a cow's worth of butter and cream made up the béchamel base, and the tangy jack cheese provided just the right kick. We disagreed about whether the cauliflower was served al dente on purpose or by accident. If you prefer veggies on the crunchy side, the dish is for you.
There were a variety of glitches, and the service was kind of uneven. It took a long time for the second appetizer to appear, and we basically had to re-order the cauliflower side. Still, our server was courteous and seemed knowledgeable about the menu.
Although we almost didn't have room for it, "Lou's famous" coconut cream pie beckoned. The Bunyanesque slice, which could have easily served two, was dense, moist, and mousse-like, heavily flavored with coconut and topped with whipped cream, a decadent end to a good meal at a comfortably upscale place.