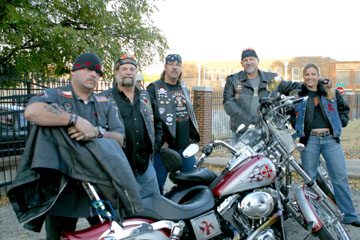 When these bikers got in a beef with one group, they created a new group to help kids: left to right, Brian 'Cowboy' Downey, John 'Beaz' Beasley, Richard 'Joker' Shelton, Ken 'Colonel' Fiihr, and Cindy 'Cena' Fiihr.
A D V E R T I S E M E N T
A D V E R T I S E M E N T
Biker Bash
A fight among current and former members of \r\na charity for abused children gets gritty.
By DAN MCGRAW
In late April of this year, members of the volunteer organization Bikers Against Child Abuse were meeting in a hotel room down in the Stockyards. Known as BACA, the volunteer organization provides several kinds of help to abused children, ranging from taking kids out to sporting events or amusement parks to being there for support, especially when a child has to testify in court.
But the April meeting wasn't really about abused kids. The members of the BACA Texas board of directors was meeting to kick out five members of the group's Fort Worth chapter, and the proceedings were almost like a court-martial. BACA members earn a patch that they usually wear on their leather vests, and the state board was demanding that the Fort Worth members have their patches ripped off.
The reason for the ceremonial booting? The Fort Worth BACA chapter leadership was questioning what the state chapter was doing with the money it raised. The state board wanted 10 percent of money raised by local chapters to go into their hands (another 10 percent was going to the national BACA organization) and even wanted all of the local chapter's share of the proceeds from Fort Worth Weekly's "Spring Rally" charity event to be handed over. All told, the amount of money going to the state group from the Fort Worth chapter was about $1,000 a year.
"The issue had been coming up for some time, and we just wanted the state chapter to tell us how all this money was going to be spent." said Ken "Colonel" Fiihr, one of the Fort Worth BACA members who was forced out. "We basically wanted the money we raised to go directly to the kids here. But when we kept asking the questions, we got no answers. Then we got kicked out."
Some of the ousted Fort Worth members said they believe the state chapter is taking in about $15,000 to $20,000 a year from about 18 local chapters. "The state BACA chapter can survive on less than $1,000 a year," said Brian "Brass" Humble, a former member of the Fort Worth BACA chapter. "I was state treasurer for four years, and the state president and vice president might have small expenditures like travel. But almost all the work done by BACA is local. When we raise money, we need it going for kids. Not into the pocket of the state people."
The national and Texas BACA groups are listed as nonprofit organizations with the Internal Revenue Service. Under federal law, such nonprofits are required to open their books to inquiries from the public and to provide copies of their most recent IRS filings on request. However, Texas BACA officials for about a week have referred all questions about their financial records to Danno Hunt, state chapter president. But Hunt, according to Bryan "Torque" Johnson, a Texas BACA board member, is out of the country.
Other Texas BACA officials said Tuesday afternoon that they would be happy to show a reporter the group's financial records within the next few days.
The national BACA group, according to documents filed with the IRS, had $39,291 in income in 2000 and spent $30,233 on products (local chapters buy patches, pins, and clothing from the national organization) and $5,552 on travel.
The BACA fight is a bit different from the typical disagreement among nonprofits. BACA's state and national leadership have turned on the former Fort Worth members, sending e-mails that refer to the ousted volunteers as "sissy, thumb-sucking, turtle shit, gofer ass, squid lips, fish brains." All told, about 30 members statewide have quit over the dispute, according to several sources.
At the center of the dispute is Hunt, a former member of the Fort Worth chapter and now president of the statewide chapter. In August 2004, police were called to Billy Miner's Saloon because Hunt, according to witnesses, had grabbed the throat of Fort Worth BACA member Patricia "Grits" Valestro. The resulting police report said that Hunt and Valestro were having a dispute about money the chapter was spending, and eventually, witnesses said, Hunt "took his hand, placed it on her neck, while pushing against the wall." According to witnesses, Hunt was holding a knife at the time. Officers who investigated the incident told Valestro there wasn't enough evidence to bring charges against Hunt.
Hunt was then dismissed from the Fort Worth chapter but joined the Dallas BACA group soon after. A few months later he was elected president of the state chapter.
In an e-mail sent to the Weekly, Johnson, the state BACA board member, wrote that "in the past there were some chapter officers and members removed from BACA for their failure to fulfill the BACA mission and remain focused on the care of children in and around the DFW area. This came after repeated attempts of corrective action and mentoring of these individuals ... ." The message said that Hunt is still state president of BACA in Texas "and remains instrumental in the continued success of BACA."
BACA was started in Utah in 1995 by J.P. "Chief" Lilly, a licensed clinical social worker and former instructor at Brigham Young University. Lilly saw a need for support of abused children that extended beyond immediate safety and medical care. Basically, local chapters all over the country find kids who have been involved in court cases and provide support during their ordeals.
Lilly and Johnson both said via e-mail that they were happy with Hunt's work. Gary "Gambler" Peak, a BACA state representative and president of the Big Country chapter, called the former Fort Worth chapter members' accusations against Hunt a "witch hunt."
BACA's work doesn't get unqualified support from other local agencies involved with abused kids. Most are unfamiliar with the biker group. Both national and local representatives of Court Appointed Special Advocates (CASA), an organization that works on behalf of abused children, said they have heard of BACA but have never worked with them.
Most of the volunteering done by the local BACA chapter has been with the Child Advocacy Center of Denton County, where the group has worked with about 45 kids. "BACA can do some good work; they have done some presentations at conferences," said Wendell Teltow, executive director of the nonprofit Prevent Child Abuse Texas. "But sometimes they work on the fringes. They will go to a victim's home and have a show of support, but a lot of victims' families don't want to be outed, and when you have 20 bikers riding up, it's a signal that a child is being abused."
Teltow says he hasn't heard of any volunteer work that the Texas BACA chapter does on a statewide level, such as lobbying or media campaigns.
State BACA leaders defend their financial policies, saying the state leadership helps direct local chapters. "BACA is here to help the kids, and to do that members have to remain focused on the mission," wrote Peak. "When we get off the mission there are disagreements, and it is sometime necessary to ask the problem be solved by folks leaving. It is a matter as simple as that, and there is no need to air dirty laundry in public. The effort to do that in and of itself should show you the goal of the few asked to leave is to harm BACA and thus our kids. Since this removal of troublemakers BACA has four new chapters and is helping more abused children than ever."
The "troublemakers" say that was their focus as well. "My personal problem was the politics involved behind the scenes," said former Fort Worth BACA member Tim "Tiny Tim" Miller of Euless. "I left because they were just insulting us and calling us malcontents. All we wanted was to help kids better. We should be thinking about helping kids and not playing around with some guys on power trips."
A number of former Fort Worth BACA members have now formed their own organization, called Child Guardian, to support abused kids. The new group is working with the All Church Home for Children, a Fort Worth child advocacy group that provides assistance to about 3,000 children and families. All Church has about 20 different programs, including counseling, residential group care, and arranging foster care.
"The Child Guardian organization has been tremendous for us," said Barbara Clark-Galupi, vice president of marketing and development for the All Church Home. "They have donated clothing and worked on landscaping and do whatever we need in volunteer services. BACA was limited to court cases, but these volunteers are broadening what they do to help a lot of abused children in different ways."
Such continued efforts to help children haven't softened attitudes among remaining BACA leaders. Founder Lilly wrote in an e-mail last week that he "never questioned the leadership of Texas ... . Just getting a little short with my patience with these malcontents."