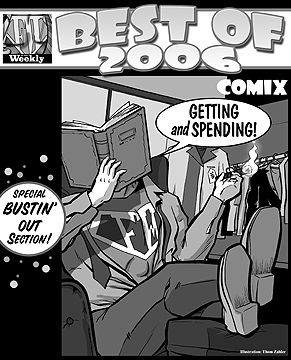 A D V E R T I S E M E N T
A D V E R T I S E M E N T
Getting and Spending
GETTING AND SPENDING
Place to Run Up Credit Cards
Readers' choice: New Orleans Nights, 7101 Calmont Av, FW
Staff choice: Target, several locations
You go in for toilet paper, milk, trash bags, and socks and end up spending $50. Plus, this was the second time you went this week. It's hard to keep focused on your small shopping list of necessary items in a place that's so big and bright it's like being on 'shrooms (not that we would know). You probably won't put a thousand bucks on your credit card in one big spree of affordable ottomans and colorful dishes here, but Target will max you out in the long run. It's more appealing than Wal-Mart and still has almost everything, so you go in frequently and pick up something completely frivolous each time. Those jackets marked down to $13 will get you every time.
Customer Service
Readers' choice: Double Exposure, 6201 Sunset Dr, FW
Staff choice: Norma Rodriguez, Los Alamos Cafe, 1446 N Main St, FW
For 15 years, Rodriguez has been waiting on tables and making customers feel special at this eatery just south of the Stockyards. Her gentle demeanor keeps customers returning week after week, year after year; they look forward as much to seeing Rodriguez' sweet face as to tasting the café's delicious entrées. An illness forced her to take a leave of absence earlier this year, and you never saw so many regulars moping around like something vital was gone from their lives.
Barber Shop
Readers' choice: 7th Street Barber Shop, 3218 W 7th St, FW
Hair Salon
Readers' choice: JKS International Salons, several locations
Tattoo Parlor
Readers' choice: Randy's Tattoos, 6467 E Lancaster Av, FW
Staff choice: Psycho Clown Tattoo Parlor, 1307 NW W 28th St, FW
The requirements for a great tattoo parlor are great artists, reasonable prices and cleanliness. Psycho Clown has all three, plus a great name and a cool building. It's multicolored, bright, and has the namesake psycho clown up top. They do body piercing and tattoos by several different artists and are open late. They also have a great web site with lots of sample photos at psychoclown.com. While it's a bit off the beaten track, it's not too far from the Stockyards, and the trek is worth the effort for something you'll be stuck with forever.
Masseuse
Readers' choice: (tie) Wendy Nugent, Jennifer O'Malley, Jennifer Riddle
Staff choice: Bridget Wells, Azle Therapy, 1708 Florence Dr, Azle
Wells is a reflexologist with a firm but never harsh technique and an uncanny knack for zeroing in on body areas knotted by nerves and clearing them out in less than an hour and a half. She keeps a boom box at the ready, so you can listen to the sounds of ocean waves and dolphins or bring your own cd's and jam out on Sade, Polyphonic Spree, Johnny Mathis, or whatever helps you relax. Wells is popular among her large clientele, so appointments are necessary.
Thrift Store
Readers' choice: McCart Thrift Center, 5203 McCart Av, FW
Staff choice: McCart Thrift Center
You can get anything you want at this big old warehouse of a store — well almost anything — and it's cheap. How about a classy Banana Republic knit sweater for $4? Brand new. The clothes range from cheap to cheaper, from menswear to togs for wee tots — nothing over 20 bucks, most under five. There's gaudy jewelry, kitchen stuff, linens, whole sets of dishes ($6), cups (there are a zillion cups being made in China just for the shelves of America's thrift stores), small appliances, office equipment, toys, and sometimes wheelchairs. It's a fun place to browse just to see what you might find for two dollars that's gonna wind up on Antiques Roadshow with an appraisal of 25 thou. But it's also the place to look for bargains in everyday stuff, from jeans to a good winter jacket that the kid'll just outgrow in a year.
Enviro-Friendly Business
Readers' choice: Spiral Diner, 1314 W Magnolia Av, FW
Staff choice: Ben Boothe & Associates, 9800 Verna Trail N, FW
From a clean water project in Ulaanbaatar, Mongolia, to development of "green neighborhoods" in Tucson and Cleveland to an environmental impact study of an old bombing range on a Fort Worth suburb, Ben Boothe is proving that you can "go green" and make a buck at the same time. Author, sometime political candidate, and head of a multinational financial consulting firm, Boothe added environmental consulting to his portfolio a few years ago. The move was based on his belief that global warming is the single greatest threat to the planet — and on an entrepreneur's vision of turning changing times into profit. His clients range from governments to municipalities to private developers, but in each case his message is clear: "Green is profitable, it improves living standards, and the public wants it," he said. "The people are way ahead of our government on this issue."
Fashion Fad
Readers' choice: Headbands
Staff choice: Jersey dresses
We're not talking about the polyester dress with Dirk's name across the back. What we really like are the super-soft jersey dresses in retro colors and funky-to-flattering fits that you can buy everywhere from Target to Neiman Marcus. As comfortable as a shirt and jeans (and much cooler in 100-plus heat), this is something even the most low-maintenance woman can wear for a bit of feminine flair. No need to worry about wrinkles, and if you spill something on it, there's no dry-cleaning necessary. When weather gets cooler, just put it on over jeans and with a long-sleeved shirt. Think of it as your most comfy t-shirt — just a little bit longer.
Secret Bargain Bin
Readers' choice: Double Exposure
Staff choice: 75-Percent-Off Days, Double Exposure
These usually happen at the end of a season. This place is always crammed full of the outtakes from Westside folks' closet-cleanings, much of it high quality and ranging in style from funky to chic. The prices are always great — you can take home pants, two tops, a belt and a jacket for what they charge you to breathe the air at a boutique. But roll up in, say, September or January and, honey, it is bargain-hunters' heaven. What you can get for a dollar in this place would make your Depression-era granny — and your perpetually broke twentysomething kid — weep with gratitude.
Guitar Shop
Readers' choice: Guitar Center, 5250 S Hulen St, FW
Staff choice: Craig's Music, 115 E Spring St, Weatherford
Guitar Center is slowly taking over the world, but Craig's Music continues to offer healthy competition. Their large and comfy building offers a wide selection of acoustic and electric guitars and other musical accoutrements, on-site guitar techs, and a knowledgeable sales staff that doesn't hound you to death but can answer most any question about those beloved pieces of wood and steel.
Toy Store
Readers' choice: Hobby Town USA, 6080 S Hulen St, FW
Staff choice: Designs for Children, 4804 Camp Bowie Blvd, FW
Most of today's big-box toy stores are bursting at the seams with commercialized action figures, stuffed animals, dolls, and other advertised playthings. Designs for Children is different. No sky-high shelves packed with pink Barbie trinkets or Spiderman knick-knacks here. Instead, shelves are kid-sized and hold dinosaur-building kits, pirate and cowboy costumes, sparkly dress-up outfits, and (gasp) educational stuff. Basically, the place is jam-packed with simple toys that jostle the kiddos' neurons.
Craft Shop
Readers' choice: Hobby Lobby, several locations
Place To Buy:
Books
Readers' choice: Half Price Books, several locations
Staff choice: Barnes & Noble, 401 Commerce St, FW
It's sad but true, but Barnes & Noble and their ilk are the only ones left around to win this prize. And the B&N in Sundance Square just blows away the competition for sheer size and selection. With Amazon.com encroaching on the book industry, big retailers like B&N are the only new book place left to even browse. This particular store has a huge magazine collection, a nice café and plenty of places to sit and read through all those books you know you're going to buy later for half the price at Amazon or Half-Price Books. But, the giant store still impresses and is great for killing time in the evenings before the square scene gets really heavy.
Books Not On Best Seller List
Staff choice: Friends of the Fort Worth Public Library Book Store, 5332 Trail Lake Drive, FW
From Texas' best-known authors to children's books in Spanish to offbeat cook books to musty black-bound copies of Plato, the Friends' bookstore is a treasure chest of the written word. And the books are cheap. A hardbound copy of Katherine Anne Porter's Ship of Fools goes for $4; Shel Silverstein in Spanish is $2.50. And if you're thinking that TXU's latest bombshell about building a half-dozen nuclear plants might be a good idea, pick up a 15-year-old copy of Jay Gould and Ben Goldman's Deadly Deceit about the government's cover-up of the dangers of nuclear power — for a buck. The books come from donors and discontinued titles at the public library, and most sell for under $5. And because the store is affiliated with the public library, you can always find the annual report of the ACLU's list of books banned in Texas schools (36 last year, by authors from Judy Blume to Harry Potter's creator J. K. Rowling — go figure). If there is anything worse to a librarian than illiteracy, it's book banning. The store, in the old Wedgewood shopping center, is open Wednesday through Saturday afternoons. Proceeds benefit the library and, therefore, all of us.
Comic Books
Readers' choice: Generation X, 239 N Industrial Blvd, Euless
Staff choice: Y2Komics, 5276 Trail Lake Dr, FW
With comic book stores today, your favorite tends to be the one near you that stayed in business through the collapse of the market in the late '90s. Y2Komics gathers in the locals with their large selection and weekly comic releases but keeps them coming back with great customer service and plenty of community events. They have tables for gaming of all sorts, including HeroClix, and host tournaments on many nights. Also, there's always someone there to explain the rules, point out a new book you should read, or just argue with you about whether Heath Ledger will be a decent Joker in the next Batman movie.
Used CDs/Records
Readers' choice: Half Price Books, several locations
Staff choice: Hastings Entertainment, 2311 Colorado Blvd, Denton
It would be one of Denton's best-kept secrets, if anyone knew about it to keep it a secret. Located near the Golden Triangle Mall, Hastings carries books, music, and dvds, all in used and new versions. They boast one of the largest selections of c.d.s in the area, larger than Best Buy's and definitely more diverse. They have imports, lots of local music, and some vinyl. And if they don't have it, they can get it. They also host artist signings, release parties, and live music in their café on weekends. As a place that keeps a focus on music in an iTunes-dominated world, while packing in books, movies, rentals, and coffee around the edges, Hastings can't be beat.
New or Used Videos/DVDs
Readers' choice: Blockbuster, several locations
Staff choice: Movie Trading Company, 4604 SW Loop 820, FW
Movie Trading Company was the anti-Blockbuster of movie rental chains until Blockbuster bought them. Now, they still do OK, while succumbing to some of the trappings of the corporate regime. They set themselves apart by allowing any dvd or game to be rented or purchased, fostering a try-it-before-you-buy-it mentality that the big-box retailers have been trying to stamp out. Rent anything you like from their large selection, including boxed sets, and if you like it enough to buy it, just come back and pay the difference. They also discount all their used items and feature frequent sales and clearances, so there's always a deal to be found.
Cool Gifts
Readers' choice: Hobby Town USA
Staff choice: Retro Cowboy, 406 Houston St, FW
Retro Cowboy has girly gifts, manly gifts, kiddy gifts, wine-lover gifts, and regular goofy gifts. The little store in Sundance Square offers items in all price ranges, including things for tourist friends or out-of-town relatives looking for Texas-themed post cards, magnets, and shot glasses. If all else fails, you can pile into the old photo booth in the corner, and for $2 you'll get a strip of four black-and-white photos to hang on the fridge.
20th-Century Relics
Readers' choice: Namaste, 4125 W Vickery Blvd, FW
Staff choice: Lemon Tree Antiques, 804 Pennsylvania Av, FW
This is the kind of place where you have to move slowly and watch your elbow to avoid knocking over the merchandise, but going slow is a good idea anyway, because just when you've decided there's nothing on that shelf of interest, you spot the plate/mug/photo/keepsake that maybe you can't live without. The proprietor will be happy to give you a commentary, but then she'll leave you alone to browse. Check out her bin of old photos. If you like exploring dusty recesses in the hunt for unexpected gems, this is your kinda place.
Antiques
Readers' choice: Montgomery Street Antique Mall, 2601 Montgomery St, FW
Staff choice: K. Flories Antiques and Pease Cobb Antiques, 3915 and 3923 Camp Bowie Blvd, FW
While the bulk of the merchandise at K. Flories Antiques is previously owned upscale furniture and accessories, an eclectic selection of desirable antiques is on hand at moderate prices. Part of the joy of a visit is finding the hidden treasures. Next door is Pease Cobb Antiques, with its own collection of handsome antiques and collectibles.
Cheap Fuel
Readers' choice: QuikTrip, several locations
Staff choice: Green Mountain Energy Company
We could have given the nod in this category to Murphy's gas stations again — where prices are generally a few cents better than anywhere else — but instead we're going with Green Mountain Energy, for their work with non-polluting solar, wind, biomass, water, and geothermal power. Check out their web site at www.greenmountain.com. For just a few dollars more per month than TXU charges, you could have your home's electricity supplied directly from non-polluting wind power and keep an average 1,700 pounds of carbon dioxide from fossil-fuel burning plants out of the atmosphere. And if you go with Green Mountain's non-polluting combo energy sources — wind and water — your electric bill will be lower than TXU's. Best of all, with Green Mountain there's no threat of a nuclear mishap.
Cheap Finery
Readers' choice: Double Exposure
Staff choice: Thrift Town, 6601 Grapevine Hwy, FW
Exhibit One would be the drop-dead gorgeous dress a Weekly staffer bought there recently for a song, but since she intends to wear it to a hoity event, describing it any further would be, well, uncool. However, her find does point up one of the great reasons to make this one of the stops when looking for party duds and other finery: While it's not really chic to talk about having bought something at, say, Neiman's, it's big fun to brag about the bargains you found at a place like this. The store has huge inventories of clothes, and even though there's certainly plenty of dross, on the racks you will also find high-dollar brand names, often in like-new condition. Think of it this way: If you buy your prom dress/formal/tux here, that leaves a lot more bucks to spend on the limo/dinner/accessories/honeymoon/whatever.
Cheap Casket
Staff choice: Budget Casket, FW and Bedford
Ten years ago, Bob Davis was laying his father to rest. And like the rest of us, he was shocked by the cost of the burial — $20,000 for the entire funeral, including $8,000 for the casket. "I didn't know anything about caskets," Davis said. But he knew that when he went to the feed store and bought a watering trough for his horses, the only difference between the trough and a casket "was it didn't have a lid on it — and it cost only $40." So Budget Casket was born, with locations in Fort Worth and Bedford. If you want a plain wooden box for Grandma, it will cost only about $300; a top-of-the-line model with interior trim costs about $3,000. As for us, get out the horse trough, put a lid on it, and dig the hole about six feet deep. We won't care — at least we don't think so.
Jewelry
Readers' choice: Francesca's, 1600 S University Dr, FW
Staff choice: Earth Bones, 308 Main Street, FW
Need earrings with the Virgin Mary on them? Earth Bones will probably have a pair. It's the kinda-cramped store in Sundance Square that carries funky, trendy, classic, and pretty stuff for budget-minded shoppers as well as those looking for finer pieces. The goofy gag gifts, unique clothing, and home décor items are fun, too.
Western Wear
Readers' choice: Cavender's Boot City, several locations
Staff choice: Leddy's Boot & Saddlery, 2455 N Main St, FW
Leddy's makes killer cowboy boots that last and last. Doubt the quality of these tooled jewels? Vintage and used Leddy's boots typically sell for double or triple what Justin, Tony Lama, Nocona, and other brands of Texas boots bring. The company has been around for almost a century and opened its Stockyards store in 1941. They sell extraordinary shirts, coats, and other Western wear, the building is one of the oldest and coolest in the Stockyards, the rustic furniture is extraordinary, and the outdoor advertising sign — a large boot perched on the building — is a beloved landmark.
Cowboy Hats
Readers' choice: (tie) Peters Bros Hats, 909 Houston St, FW; Shepler's Western Wear, 2500 E Centennial Dr, Arlington
Staff choice: Fincher's White Front Western Store, 115 E Exchange Av, FW
Any store that's been selling Western wear for more than 100 years knows the importance of stocking a full line of cowboy hats at prices that won't make a buckaroo blanch. Plus, after you're hatted up good and proper, you can amble across the street to the White Elephant Saloon and find some charming cowboy or cowgirl to tip your hat to. And while you're crossing the street, you can look at all the tourists who just bought themselves and their kids the Day-Glo-colored plasticky straw hats, usually a size too small, and feel even more superior than you usually do.
Adult Toys
Readers' choice: Christal's, several locations
Staff choice: Erotique Shop, 1623 N Crowley Rd, FW
We still can't quite figure out what one would do with a 16-inch-long, 4-inch-wide strap-on replica of male prowess, but if we were going to buy one, we'd buy it at the Erotique Shop just north of Crowley and not far from the tight-ass Johnson County line. Despite its product line, this tiny establishment has a small-town vibe that makes even the most perverted among us feel right at home. Like a blue version of a country store, it's got a little of everything, from condoms, edible goodies, handcuffs, and dirty movies to gag gifts and bachelor and bachelorette party favors, and it makes up in ambiance what it lacks in stock. It's thin on lingerie, so to speak, but there are plenty of places to buy sexy undies these days. Let the lovely Alicia, who's not old enough to buy a beer, give you the tour, and see if you can keep from blushing.
Video Games
Readers' choice: Gamestop, several locations
Staff choice: Gameonyx.com, FW
For cheap video games, you'd best go with the big-box retailers. For selection and knowledgeable staff, you won't do better than the Grapevine-based chain Gamestop. However, the Fort Worth-based online company Gameonyx offers repair work and customized consoles and controllers that you won't get at any of the brick-and-mortar locations around here. For mod chips or a clear case for your PlayStation or Xbox, this is the place for hardcore gamers.
Cigars
Readers' choice: Tobacco Lane, several locations
Staff choice: Pop's Safari Room and Wine Bar, 2929 Morton St, FW
For a retired filmmaker (Playboy Channel's Mermaid series, and Skinemax's Singapore Sling), Pop's owner Perry Tong is a veritable scientist of the leaf. Everything from Monte Cristo to Romeo y Julieta to Perdomo is available at his Cultural District tribute to Hemmingway-esque relaxation. Last year he began acting as co-chair for the Fort Worth Public Library's Cigar Smoker Benefit, and the advocacy group raised more than $75,000.
Kitchen and Tableware
Readers' choice: Williams-Sonoma, several locations
Staff choice: (tie) Dishes From the Past, 3701 Lovell Av, FW; Target
Target seems to have invented cheap chic, and nowhere is it more evident than in its kitchen department. Riedel wine glasses, some nice ceramic patterns — even small appliances and lowly utensils get the cool treatment from big-name designers. Meanwhile, over on Lovell Avenue, Dishes From the Past is the place to go for aisle after aisle of beautiful tableware from all the ages. They do a great business at replacing the plate from your heirloom china pattern that your darling niece broke last Thanksgiving — and if they don't have it, they'll put your name on a list in case it comes across their counter in the future. Brides register there (what a great way to get what you want while reducing the pocketbook pain for friends and family). And they offer layaway — when was the last time you heard of a store that did that?
Home Furnishings
Staff choice: Target, Montgomery Plaza,
2600 W 7th St, FW
Let's get one thing straight: We Weekleteers are not now nor have ever been the type of people who can afford to shop at any one of Cowtown's finer home-furnishing establishments (Chiffoniers, Domain XCIV, Leigh-Boyd). So we shop at Target — and we like it. As for its fellow big-box competitors: Bombay Company is a little too brown; Pier 1 is creative and affordable but somehow brings out the inner old lady in its customers; and just about everything at IKEA is overpriced crap. Target's fare isn't only inexpensive, it's expertly designed. Major names in the field, including Isaac Mizrahi, Sean Conway, and eminence grise Michael Graves, all have stuff on the shelves.
Shoes
Staff choice: Shoe Gypsy, 2966B Park Hill Dr, FW
Lime-green sneaker-sandals with short, hard heels — and butterflies — come from the only place in Tarrant County that carries them: Shoe Gypsy. In addition to footwear from Medium, the cobbler of said wheels, the independently owned joint near TCU also offers footwear from Gola, Ben Sherman, and Puma. For women and men.
Lingerie
Readers' choice:Victoria's Secret, several locations
Motorcycle Shop
Readers' choice: Iron Horse of Texas, 3020 Alta Mere, FW
Bike Shop
Readers' choice: Panther City Bicycles, 1306 W Magnolia Av, FW
Gym or Health Club
Readers' choice: 24 Hour Fitness, several locations