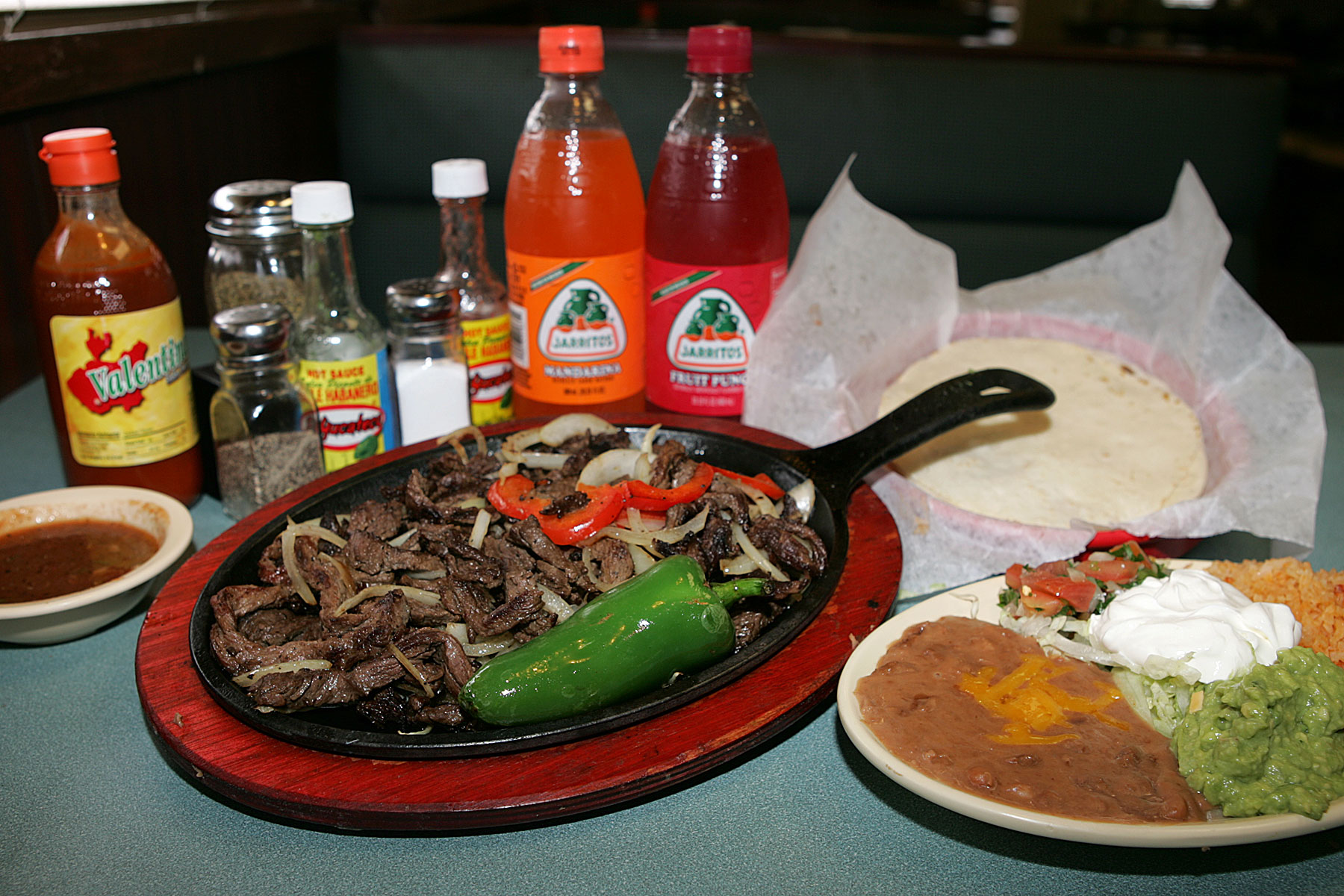 Los Pastores' beef fajita plate served with all the Mex-Mex fixins. Photo by Lee Chastain.
Los Pastores Restaurant and Bakery
1823 W Pioneer Pkwy, Arlington. 817-804-1988. Daily 7am-4pm. MasterCard and Visa accepted.
Los Pastores Restaurant and Bakery
Chilaquiles in salsa verde $5.95
Chile relleno plate (Fridays only) $5.49
Shredded beef taco (each) $1.35
Two-enchilada plate $5.99
Super burrito plate $5.49
A D V E R T I S E M E N T
A D V E R T I S E M E N T
Herd the News
Set in West Pioneer Parkway, Los Postores is a pastoral, authentic Mex oasis.
By LAURIE BARKER JAMES
There are two Los Pastores restaurant locations at opposite ends of Pioneer Parkway in Arlington, both owned by the same people and both in areas that are decidedly industrial as opposed to pastoral, so the name –– which means "the shepherds" –– must be some kind of inside joke. Still, if you're looking for simple, tasty Mexican food, you'd be herded in the right direction no matter which end of the street you flocked to.
The West Pioneer Parkway location features a gaudy window painting announcing the various specials and proclaiming "Real Mexican Food," which is truth in advertising. Sitting in the vividly orange dining room, replete with mini-piñatas hanging from the ceiling, you'll overhear mostly Spanish conversation, with a little English. Helpfully, Los Pastores' menu is in English and extremely pocketbook-friendly.
The menu says that desayuno (breakfast) ends at 11 a.m. However, the nice ladies let me order the chilaquiles verdes plate long after noon. Chilaquiles are traditionally fried corn tortilla strips smothered in sauce and stewed or simmered. The cooks at Los Pastores simmer the chilaquiles until the strips have the consistency of polenta. The spicy verde sauce was pleasantly, sinus-openingly strong and made a nice contrast to the table salsa –– it was more vinegary than spicy. The whole dish was topped with melted cheese and was deliciously satisfying.
The enchilada plate featured corn tortillas with an unusual texture. They were fluffy, which was a nice change of pace from the occasionally rubbery tortillas you might run into at less, um, authentic places. The chicken enchilada was full of flavorful white and dark pulled poultry. The cheese enchilada was mostly tortilla, although the spicy meat queso sauce that topped both enchiladas was delicious.
The so-called "Super Burrito" plate comes with your choice of traditional ground meat, or what the menu calls "roast beef," swaddled in a giant flour tortilla and covered with more of that queso con carne. The beef was not quite the consistency of either fajita meat or ground beef but was tender and flavorful, courtesy of a rich, slightly spicy sauce.
All plates come with a generous side of rice and beans. The rice was average, but the beans managed to be simultaneously silky and chunky. In a world of less expensive easy-melting cheeses, the cooks at Los Pastores are still using real cheddar cheese on the beans –– and in everything else –– and you can definitely taste the difference.
The standalone desebrada (shredded beef) taco featured brisket-like meat wrapped in not one but two corn tortillas per taco. The flavor came more from the cilantro and lime slice, because there was very little meat inside. Still, it all was pleasantly spicy and just the right degree of messy.
I made my anonymous visit to Los Pastores on a Monday, which is when I noticed the hand-written sign at the cash register announcing the chile relleno special on Fridays. Back I went on Friday and was not disappointed. The giant egg-battered poblano chile packed enough (but not too much) heat and covered two-thirds of the plate. The pepper was stuffed with a generous amount of melted Monterrey jack and was served with more beans and rice.
Los Pastores' menu also features a list of torta options, including jamon con queso (ham and cheese), a Cuban sandwich, and something called the Viking, also featuring ham. On weekends you can get menudo.
The web site is solamente en español, but the web menu is subtitled in English, which will help you in ordering from Los Pastores' convenient drive-through window.
My only complaint: A place that also advertises itself as a panaderia ought to have some kind of dessert: maybe some flan or some tres leches cake. Los Pastores is a bakery in the "call ahead and order your cake" sense. Confusingly, the bakery appears to be heavily into the business of birthday cakes shaped like Disney characters. Ultimately, Los Pastores is a pleasant little oasis of Mexican home-cooked goodness tucked into a long stretch of asphalt.