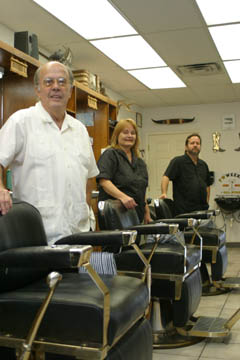 At the West Seventh Street Barber Shop, (left to right) Buddy Moore, Brenda Smith, and Mike Moore have clippers and conversation at the ready.
No, not the emperor's crown jewels, but a 19th century Russian ikon, part of the collection at Carter Bowden Antiques.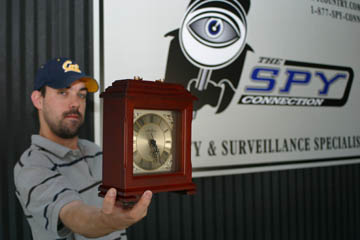 An ordinary lock? Fooled you again. It's a cleverly concealed camera from The Spy Connection.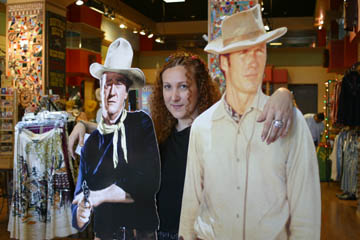 Darlin Inkelaar spends the day with her heroes at Retro Cowboy.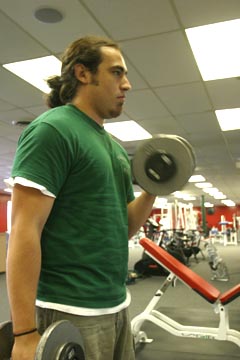 Ruben Lira pumps up at Fazekes.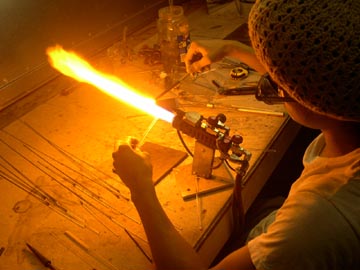 The pipes are home-blown at Glass Peace, in a Riverside area that's being redeveloped.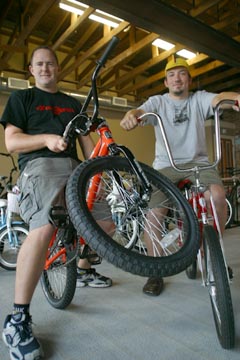 Panther City Bicycles owners Jason Magby, left, and Bernie Scheffler are more into city streets than pleasure-pedaling.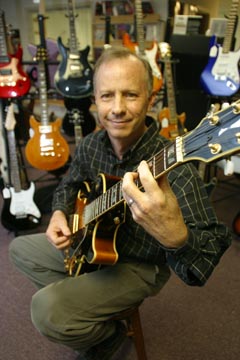 Billy Robertson Jr. shows off the merchandise --- and can show you how to play it -- at Plasterini Guitars.
A D V E R T I S E M E N T
A D V E R T I S E M E N T
Getting and Spending
Place to Run Up Credit Cards
Readers' choice: Neiman Marcus, Ridgmar Mall, FW
Staff choice: Stockyards, FW
Yes, you have to make your way among the tourists and sift through the schlock. (And occasionally avoid the authentic Western souvenirs left on the sidewalk by the steers and cow ponies.) But as a place to be tempted to buy a whole passel of enticing things you may not actually need, the Stockyards beats the malls and mega-stores hands down. Jewelry, antiques, hats at Fincher's, gorgeous Western wear at Maverick's, boots at Leddy's that are unique works of art (and priced accordingly), home furnishings, wine (how about a nice picnickers' backpack to go with your cabernet, madam?), tooled leather everything — and if your credit card is still healthy after that, go rest your tootsies at the Lonesome Dove and refuel with some kangaroo nachos or whatever elegant delicacy the Dove is offering that day.
Customer Service
Readers' choice: Perfect Touch, 3023 Bledsoe St, FW
Staff choice: La Familia Restaurant, 2729 W 7th St, FW
This goes way beyond the handshakes of Al Cavazos, the friendliest host in town. At La Familia, as opposed to that Italian chain restaurant, you are family. Everybody who works in the place is both nice and working hard to please. Service is fast, even at the busiest lunch hour. Food is fresh. Go there a few times and, if they don't know your name, they at least will know what you want to drink and it will hit the table (Al remembers where you like to sit) at about the time your butt hits the seat. Besides, where else do they threaten to sell your car for scrap if you park illegally in their spaces? The restaurant will be moving soon, around the corner a block south of west seventh, but we doubt a single regular will miss a day.
Barber Shop
Readers' choice: West Seventh Street Barber Shop,
3218 W 7th St, FW
Staff choice: West Seventh Street Barber Shop
What constitutes a good barber shop? As we get older, the haircut seems less important (less hair, less care). What we like the most is the conversation. The West Seventh Street shop has a weird variety of barbers, so the conversation is always different — inane, provocative, doesn't matter. Three favorite topics during the last few visits: how to keep the wife from catching you at a strip joint (always cash, never credit cards), how Nostradamus predicted terrorism and the war in Iraq, and how to save money on air conditioner repairs. All this while staring at a picture of the 1949 Fort Worth flood.
Hair Salon
Readers' choice: Goldwaves Aveda Spa & Salon,
5137 El Campo Av, FW
Hair Salon
Staff choice: JKS International Salon, Fort Worth and Keller
"I want someone to cut my hair as if it were an art project." When this plaint was voiced recently in a group containing both men and women, nobody batted an eye. "Go to Eric," one woman said. A man seconded the notion. Turns out that Eric works at one of JKS Salon's two Camp Bowie locations. The new gal loved her first haircut and was equally impressed with the follow-up visit. And, no, she doesn't look weird or multi-colored, although no doubt that's an option. We've seen people walking out of the salon with looks ranging from trendy to perfectly corporate, but nothing obnoxious. They do color well too. (At least we assume that some of the folks whose locks we admired were not born with that shade.)
Tattoo Parlor
Readers' choice: Munkee Wrench Tattooz and Body Piercing, 2903 W Berry St, FW
Massage Therapist
Readers' choice: Jerry Yeats, Perfect Touch, 3023 Bledsoe St, FW
Staff choice: Mary Beth Packer, On-Site Associates, 101 Summit Av, Ste 114, FW
If you're cursed with an office job, particularly one that requires you to toil over a keyboard in a workspace with Soviet-era ergonomics or that requires you to deal with mutant co-workers and fanged bosses, chances are you've had more than a few days in which the muscles in your neck, back, and shoulders feel as if they've been hammered with a pound of 10-penny nails, doused with diesel, then set ablaze. Fifteen blissful minutes in Mary Beth's chair will work the hitch out of your get-along. Plus, her office is minutes away from downtown and has ample parking, making it theoretically possible to work in a surreptitious massage between errands for the fanged one. For people with more serious problems, she also specializes in relief from chronic debilitating pain. To make an appointment, call 817-879-1340.
Thrift Shop
Readers' choice: McCart Thrift, 5203 McCart Av, FW
Staff choice: Berry Good Buys, 1701 W Berry St, FW
A few years ago we'd almost given up on this resale store. But after two of our longtime faves closed down, we wandered in again — and now we check in every couple of weeks to donate and browse. The shop is clean and well-organized. Daily specials are really special: All books for 10 cents was a recent temptation. There's a nice little alcove devoted to "better clothes." These are for women, but men's clothing takes up an entire spacious room. Best of all, stock turns over quickly, so you're never looking at the same thing you saw last month. Well, really the best thing is that all proceeds go to Women's Haven.
Enviro-Friendly Business
Readers' Choice: Spiral Diner, 1314 W Magnolia, FW
Staff Choice: City of Fort Worth
A rare example of government actually rising above the governed: One in eight of the 3,200 vehicles operated by the City of Fort Worth are now either hybrids or equipped to use propane. The bulk of the emission-reducing fleet is made up of propane-powered cars and trucks, but it also includes 10 recently purchased hybrids, 9 Toyota Priuses, and one Chevy pickup. (The pickup wasn't so much a concession to clear air as to practicality. It doubles as a power generator for some of the city's environmental test equipment.) If only in this one case, Cowtown air would be much improved if the rest of us would follow our leaders.
Pharmacy
Readers' choice: CVS Pharmacy, various locations
Staff choice: Sam's Club, 4400 Bryant Irvin Rd, FW
Like some other staff selections you'll see in this issue regarding parts of Sam Walton's empire, this is a reluctant admission of truth: If you've got serious prescription bills every month, you can't beat the prices here. And the folks who work in the pharmacy are also nice and efficient.
Head Shop (Smoke Shop)
Readers' choice: Smokies House of Pipes, 6031 Camp Bowie Blvd, FW
Staff choice: Glass Peace Inc., 2920 Race St, FW
Not long ago, Race Street in the Riverside area was a place to go if you were looking for a piece of ass, not a piece of glass. But the Race Street renovation has transformed the area from a home for prostitutes, dirt-cheap apartments, and dimly lit bars to something more akin to the Magnolia Avenue strip, without the hospitals. One of the first new businesses to stake its claim here is Glass Peace Inc., perhaps the only smoke shop in the Metroplex with a rotating group of glassblowers working on site who make not only custom pipes but also lamps, jewelry, marbles, pendants, goblets, or just about anything else you want. And, by blowing on site — so to speak— they keep a rein on prices.
Car Wash
Readers' Choice: Colonial Car Wash & Lube Center, various locations
Staff Choice: Flagship Car Wash & Lube Center,
3124 Collinsworth St, FW
If you're too lazy to change the oil or wash your own ride, you want to attend to these automotive ablutions with as little damage to your wallet as possible. Flagship distributes periodic coupons for a reasonably priced two-fer — $23.99 gets your vehicle cleaned and lubed. Check www.apro.ws, newspaper ads, Kroger receipts, or the nearby IHOP for coupons.
Gym or Health Club
Readers' choice: Larry North Fitness, 615 Commerce St, FW
Staff choice: Fazekes, 3817 Rutledge St, FW
So maybe the free-weight plates are randomly racked. And there's no military press bench. And the floor moves, which is especially frustrating when you have 315 lbs. over your head and some guy on the treadmill nearby decides to go into a full sprint. BFD. Fazekes is as close to an old-fashioned, ass-kicking gym as you'll find in town. The space is airy and, like a good workout warehouse, a little grimy. And the patrons — unlike the social butterflies at the chain clubs — are interested only in pumping iron. Incidentally, the influence of Pumping Iron can be felt throughout Fazekes (pronounced like "physiques"). Most of the equipment, though clean and perfectly functional, looks like it was made 25 years ago, and the cost of a month-to-month membership is $25 — probably what Ah-nold was paying in the 1970s while on his way to his first Mr. Universe title.
Bike Shop
Readers' choice: Panther City Bicycles, 1306 W Magnolia Av, FW
Staff choice: Panther City Bicycles
This bike shop is the perfect place for people who love this city and this planet. With their 1920s brick-walled store, the two owners have created a community feel via Monday-night rides along the Trinity River Trails, a fridge and couch in the store, and giving away bikes at Fort Worth Cats games. Panther City beats the strip-mall bike shops, including the one the co-owners used to work for, by focusing on transportation-oriented biking. For the biker who doesn't have "panniers" in her lexicon yet, that means you can buy a cloth sack that attaches to your bike and carries your veggies and cereal as you pedal through the city streets.
Guitar Shop
Readers' choice: Competition Music, 3318 E Lancaster Av, FW
Staff choice: Plasterini Guitars, 2304 W Park Row Dr, Arlington
Small guitar shops are going the way of the T-Rex, victims of online auction sites and super-sized megaplexes such as Guitar Center. Truth be told, the one-year-old Plasterini Guitars in Arlington can't compete with GC for sheer number and quality of guitars (although the smaller shop does boast an impressive selection of jazz archtops). What elevates Plasterini is its quality of guitar instructors. A half-dozen teachers — all with music degrees — can teach everyone from snot-nosed beginners to high-level professionals. Shop owner Billy Robertson, Jr. is a well-known local guitarist who has been teaching since 1969. Instructor Lou Carfa has toured with Maynard Ferguson, and colleague Jozef Bobula is completing his master's in music at the University of Texas at Arlington. The shop also sports a wide selection of instructional books and tapes; offers reasonable prices on strings, straps, tuners, and the like; and provides friendly guitar repair services from Warren Watkins.
Toy Store
Staff Choice: Fort Worth Zoo Gift Shop, 1989 Colonial Pkwy, FW
Now that Zany Brainy's closed up, what are we left with in the toy department? Rare indeed is the grown-up with more than a few minute's tolerance for the big, brassy, over-bright, too-loud typical toy store — we need a quiet room and a gin and tonic just to think about it. Alas, there's also a corresponding paucity of kids these days willing to bang about on the kitchen pans and craft little dolls from corn husks. The fact is, we need to go out and buy toys from time to time.
So we suggest a pleasant trip to the Fort Worth Zoo, an excellent excursion in itself, followed by a bit of shopping in the gift store. From kites to realistic plastic models to cuddly stuffed critters to books and models, you'll find plenty of wonders for the children in your life without any nasty sensory overload. (As an auxiliary plan, visit the museums in the Cultural District when you're looking for good toy sources. Maybe in the dark past "educational" translated into "boring," but those days are gone.)
Candy Store
Staff choice: The Schakolad Chocolate Factory, 106 E 4th St, FW
This is a haven for serious chocoholics, a place where they can feed their habit with every conceivable shape or kind of chocolate. Buy a mixed bag or get creative. If you're a chess fan, buy a chocolate chess board with white and brown chocolate pieces for $50, so you can eat your opponent's king, post-checkmate. The store also has chocolate versions of race cars, a backgammon game, a large white chocolate swan, cowboy hats, college insignia, and on and on. You can get your chocolate personalized, with your name or picture on it — and even watch some of the sweets being made.
Nursery
Staff Choice: Weston Gardens, 8101 Anglin Dr, FW
Autumn's always been a better time than spring in these parts for gardening. Just too darn hot by the time things start to flower and fruit. And the prettiest place around for buying that greenery is historic Weston Gardens. You're welcome just to stroll around the grounds, admiring the Italian grotto, English borders, and expanses of beautiful plantings. There's even a huge ship made of stone that used to serve as a party palace back in the day. When you're ready to start shopping, pleasant and knowledgeable people are ready to help you make choices. If you do have plenty of sunshine, Weston Gardens carries antique roses — hardier and more fragrant than the hybrids of this century. Historical lore surrounds this place, so if it isn't crowded when you visit, ask for a story.
Apartments
Staff choice: Dorothy Lane Apartments, 908 Dorothy Lane, FW
These downright charming apartments were built back in the 1930s for single professional women. (And there was probably room for all of them.) Later on, traveling performers working at Casa Mañana made the place their home away from home. Still later, it fell into disrepute and disrepair. When the current owners acquired the property, they restored it to much of its original sweetness. Tiled bathrooms, chandeliers, and other period pieces accentuate the vintage ambiance. The good-sized pool is said to be the oldest still-functioning one in Fort Worth. Best of all, the Dorothy Lane attracts interesting people.
Craft Shop
Staff choice: The Artful Bead, 5304 Trail Lake Dr, FW
The only places that can rightfully qualify as overall retail craft stores are gigantic and overwhelming. Better to pick your craft and find a specialist. Guessing that more of us are interested in jewelry than scrapbooking, we give the nod to this beautiful bead store just south of I-20. New products arrive almost every day. There are plenty of tools, materials, and books and, by the register, some stones and other materials already made into drops, charms, and earrings. Owner Mary Harrison and her cadre of professional jewelry-makers are on hand to give advice about repairing a favorite broken bracelet or recreating a lost piece — and lots of "real" classes are scheduled as well.
Place to Buy:
Books
Readers' choice: Half Price Books
Staff choice: Booked Up, Inc., Archer City
Not everyone in Texas is happy with the way millionaire author Larry McMurtry has portrayed the state's denizens in his fiction, but then most of those folks don't read books. What true-blue bibliophile didn't rejoice when, early last month, McMurtry announced that, thanks to reductions in overhead and an uptick in patronage, his 400,000-plus collection of new, used, and rare titles would remain open? The ornery McMurtry was probably trying to shake up folks so they wouldn't take for granted this North Texas smorgasbord of words. If you're wondering whether Booked Up is truly worth the day trip, stop the speculation and go.
Books Not on the Bestseller List
Readers' choice: Half Price Books
Staff choice: Roots n Kulture Bookstore and Resource Center, 3116 E Rosedale St, FW
If you want books on how to knit sweaters or a biography on some lame politician, gulp down your triple café latte and hightail it to Barnes & Noble. If you want books on alternative history, the New World Order, and other underground philosophies, travel to East Rosedale Street. Roots n Kulture carries things you will probably never see on popular bookstore shelves. Delve into the realms of Spike Lee and Alex Haley, or check out New Dimensions in African History by Dr. Yosef ben-Jochannan. And pick up a figurine, some art, or some cool clothes while you're at it.
Comic Books
Readers' choice: Y2 Komics, 5276 Trail Lake Dr, FW
Staff choice:Generation X Comics, 239 N Industrial Blvd, Bedford
Comic book appreciation these days has leapt from the page to include everything from card games to major movies to internet porn. Several good comic stores in the area stay current with these phenomena, but only Generation X also nods to yesteryear. In addition to nearly every contemporary title imaginable, the 10-year-old establishment also offers action figures from Miracle Man (!) to Spawn characters, a great selection of other hero-related merchandise, boxes of back issues, and some relatively new "classics" that range as high as $250 (Collectors of Silver Age and Golden Age comics now trade almost exclusively online.) Still, this is fanboy swoon territory.
New C.D.'s/Records
Readers' choice: Best Buy, various locations
Staff choice: Borders Books & Music, 4601 W Fwy, FW
Borders, bless their corporate hearts, has made a niche for local music at their stores, and we like it. On a recent visit, the local selection was quite decent (although far from complete — there was a glaring absence of records by the Weekly's resident musician, Jeff Prince). Forty Winks, Zac Maloy, Mazinga Phaser, and Flickerstick (natch) had prominent placement in Borders' racks. And the local music was priced considerably cheaper than other offerings. The Acoustic Mafia's First Monday, Worst Sunday, featuring Calhoun, Collin Herring, and John Price, among others, is a standout bargain at $9.99.
Used C.D.'s/Records
Readers' choice: Half Price Books
Staff choice: Half Price Books
What's not to love about Half Price? If you're looking for oldies, you can take a leisurely browse through the store's vast collection of vinyl. Those in search of the hits of the '90s are certain to find hundreds of c.d.'s by the one-hit wonders of the decade on sale for a couple of dollars. And when music alone will not do, there are tons of books and magazines begging to be recycled into your hands. Who knows? Maybe you'll even find that rare album you've been seeking for years.
New or Used DVDs/Videos
Readers' choice: Half-Price Books
Staff choice: On Video,
1900 Baird Farm Rd, Arlington.
This is a tough category for an alt-weekly to deal with. The major chains like Wal-Mart and Best Buy sell Hollywood movies cheaper than anybody else, and the foreign and art-house flicks are best ordered either over the internet or through places like Barnes & Noble or Borders. So we're dealing with rentals here, and the best place to rent remains this spot in a strip mall off I-30. Not only are there obscure flicks here (impressive Bollywood collection), but the store also rents out tv shows on DVD one season at a time — at Blockbuster, you have to rent each of the three or four discs for The L Word or Deadwood individually.
Cool Gifts
Readers' choice: Earth Bones, 308 Main St, FW
Staff choice: The Artful Hand, 6248 Camp Bowie Blvd, FW.
Now, this isn't the place where you go to buy tchotchkes for the whole book club or Junior's scout troop or all your friends at work. This is the place to go for those one-of-a-kind gifts for someone special. Gorgeous handcrafted mirrors and picture frames. Beautiful, unique tableware. Arty, one-of-a-kind furniture pieces. Where else are you going to find salt-and-pepper dogs? (You'll just have to go see.) We could live without the butterfly-shaped park bench, but other than that, the whole place is on our Christmas list.
20th Century Relics
Staff choice: Montgomery Street Antique Mall,
2601 Montgomery St, FW
Hundreds of booths feature everything from furniture to jewelry to whatever — some things made last week, others from a time before all of us were born. For a nice break while shopping, be sure to stop by the tea room.
Antiques
Readers' choice: Montgomery Street Antique Mall, 2601 Montgomery St, FW
Staff choice: Carter Bowden Antiques, 4704 Bryce Av, FW
The shop is small, but the selection is choice, and unique for the area. Instead of focusing on traditional English and French antiques, Carter Bowden favors the wonders of Italy, which he hand-picks and imports directly from Europe. Architectural details from the 17th and 18th centuries figure prominently in the collection.
Cheap Gas
Readers' choice: Race Trac, various locations
Staff choice: Murphy USA,
various locations
The cost of oil is through the roof, and there's not a damn thing anyone can do about it — except to boycott the pump, of course. But Fort Worth's gas-guzzling dually pickup and SUV drivers won't have that, and finding reliable public transportation in this town is nearly impossible, so the Cowtown masses can only stick it to the man (sort of) by lining the oil industry's pockets a little less. Murphy USAs are the best places to go for a half-assed gas price protest. They are located at various Wal-Marts around the city, and, according to www.fortworthgasprices.com, a web site that monitors the city's gas prices, the stations undercut their competitors nearly every week. Costco's gas prices usually come in second.
Cheap Cigarettes
Readers' choice: Murphy USA
Staff choice: Murphy USA
Smokers, you're killing yourselves slowly, so you might as well save money while doing it. If you want to get around paying $4.50 for a pack of smokes, go to any Murphy USA in town. Think of it this way: Conoco is to Neiman Marcus as Murphy USA is to Goodwill. They've got the cheapest cigarettes, chewing tobacco, and cigars. Camel Lights are $2.86 on special, and Marlboros run about $3.12 per pack. You can find the stations, fittingly, in Wal -Mart parking lots across the city.
Cheap Groceries
Readers' choice: Wal-Mart
Staff choice: Wal-Mart, too many locations
Forget about the ugly parking lots, overcrowded shopping lanes, and ridiculously long checkout lines. Wal-Marts have the cheapest groceries in Fort Worth (and in nearly every American city). Plan on taking a Valium if you want to shop there on Saturdays, but know that you're getting the biggest bang for your buck despite the headache. Where else can you buy a chicken and a DVD player while getting an eye exam and an oil change? Of course, you'll also have to forget about union-busting tactics, sex discrimination lawsuits, crappy benefits for workers, and all the mom-and-pop stores and manufacturers driven to the breaking point to bring you those low prices — but sometimes there ain't no help for it.
Cowboy Hats
Staff choice: Peters Bros. Hats, 909 Houston St, FW
This institution has been around since 1911, making great hats for presidents, oilmen, and cowpersons of the working, rodeo, and drugstore persuasions. They have a great variety, from the name brands to custom-made hats for those who really know what they want. Peter Bros. has even brought back the headware style Fort Worth was once known for — the Shady Oaks hat made famous by Star-Telegram publisher and raconteur Amon Carter. One of our favorites is the straw hat called the "LBJ Open Road," based on the Texas president's love of the short brim with a short crown and cattlemen's crease. The place is truly part of Texas history.
Western Wear
Readers' choice: Cavender's Boot City, various locations
Staff choice: Retro Cowboy, 406 Houston St, FW
This downtown shop can be a little expensive, but it has some pretty cool Western wear that ain't just Wrangler jeans and big belt buckles. Most of the clothing is vintage style, with a good choice of men's and women's apparel. The jewelry is also classic stuff. The old cowboy boots are very colorful and priced at about $50-$75. But what's really cool is the way Retro Cowboy mixes the Western wear with more modern things for younger audiences. Even emo kids might find a vintage Western shirt that fits in with their look.
Last-Minute Party Dress
Readers' choice: Whatchamacallit, 4601 W Fwy, FW
Staff choice: Double Exposure, 6205 Sunset Dr, FW
Only gonna wear that dress once or twice a year? Then why fork over half your paycheck for a brand-new one when you can probably find something fun at Double Exposure for about the price of a double espresso? Those Junior League ladies offer great deals on some excellent duds, and the offerings change frequently. And it's a group dressing room, so you usually can get several fellow shoppers' opinions on whether that little black number is too tight or just right.
Adult Toys
Readers' choice: Christal's, various locations
Staff choice: The Spy Connec-tion, 5733 Camp Bowie Blvd, FW
Usually, "adult toys" means sex toys, but — excuse the pun — screw that. Adults can play around outside of the bedroom, too. If you cringe every time you see a James Bond movie but still can't tear yourself away from the tube, The Spy Connection is for you. For wannabe Bond babes, there's the lipstick knife. For international men of leisure who also happen to fight crime, there's the classic cane sword. And for gangsta rappers, there's the 16-inch solid steel nightstick.
Lingerie
Readers' choice: Victoria's Secret, various locations
Jewelry
Readers' choice: Namaste, 4125 W Vickery St, FW
Staff choice: Gift Shops, Cultural District museums
Granted, this isn't a one-stop shop. But if you're looking for something more creative than what they offer in the malls, something other than silver and turquoise, then you have to hit the museums. (And if you are looking for the Southwestern stuff, you can't do better than the National Cowgirl Hall of Fame.) The Kimbell, the Modern, and the Amon Carter all offer unique pieces, many of them by local artists — and not all of them are pricey. The Kimbell's offerings are as eclectic as the museum's holdings. The pieces at the Modern are more expensive and probably even more fun. — (But watch out for those beautiful bracelets made of tiny silver cylinders — they're magnets). You wouldn't want to wear them while you work at the computer — or to hug anybody with a pacemaker. Not, that is, unless you're planning to be the bad guy in the next episode of Monk.
Costume Jewelry
Readers' choice: Earth Bones
Staff choice: Jewelers on the Boulevard, 3913 Camp Bowie Blvd, FW
A trip to this store is like being transported back in time. Clocks line the walls and chime in the background as you sift through the plastic boxes of beads. There are beads for every Crayola in a 64-crayon box: yellow turquoise, wine-colored freshwater pearls, sky-blue Murano. On some nights, you can learn next to a flame about how to create glass lampwork beads. But if you don't have enough time to string your own, there's jewelry hanging in the store, waiting to sparkle on skin at precious and semi-precious prices. Necklaces run anywhere from $20 to $150.
Cigars
Staff choice: Tobacco Lane On the Square, 512 Main St, FW
It was a sad thing to see tobacconist/social critic Zayd Jenkins part ways from downtown's exclusive stogie shop earlier this year (though Jenkins will soon rejoin Cowtown's smoke ring with his own store, slated for a December opening), but despite the change in staff, Tobacco Lane On the Square is still the largest cigar peddler this side of Six Flags Over Texas. Aside from myriad trinkets and lung-cancer paraphernalia for sale up front, the back room (actually a walk-in humidor, where thousands of smokies are kept fresh) is the size of a frickin' submarine. Add the weekend wine tastings, and you're hooked, even if you just went in for a pack of Zig-Zags.
Kitchen and Table Ware
Staff choice: Williams-Sonoma, 1620 S University Dr, FW
This is mostly a drool-don't-buy kind of place, but between the sale table, the little gadgets, and some beautiful but modestly priced glassware and dishes in the back, we amateur Emerils can usually find a few affordable things to spice up our cooking and dining. Besides coffeemakers that look sleeker than new Maseratis, and cookware that can probably withstand the fires of hell and dishwashers, the store offers some fancy ingredients and prepared foods you won't find in most other places. If you go around Christmas, they're usually offering free samples of goodies that are whipped up on the spot.
Hardware
Staff choice: Fort Worth Bolt and Tool Co., 2822 Bledsoe St, FW
Not the place for a weekend DIY-er. In fact, you can't go there on weekends — the 6:30 a.m.-4 p.m., Mon.-Fri. hours are clearly aimed at those who use pipe wrenches and tool belts for a living, not to fix the commode that keeps running or as party props. This unassuming shop between the Cultural District and downtown has been serving the needs of the construction industry and toolheads for more than 50 years. To figure out prices you have to cart stuff to the counter and ask. But if you want to make points with your own personal fixer-upper, buy her (or him) a Klein tool bag — they're classics, man — and you'll never have to unplug your own drains again.
Frame Shop
Staff choice: Bowie on Bowie Custom Framing, 4821 Camp Bowie Blvd, FW
These folks have been in business a long time, having moved to their current location a few years ago from a spot farther northeast on Camp Bowie. They are friendly, reliable, cheaper than a lot of places, and will do their best to help customers with rush jobs or odd requests. If it's Junior's kindergarten graduation certificate you're looking to hang on the wall, you're better off going to Target than to any frame shop, but for things truly worth preserving and showing off — whether it's the undies that some rock star signed or Great Grandmama's portrait (or better yet, a photo of G-G-ma getting her undies signed by Mick Jagger) — you can't go wrong here. Look for the old red VW bug out front.
Pet Supplies
Staff choice: Family Dollar,
various locations
Studies show that parents will spend upwards of a quarter-million dollars to raise a child to adulthood. Dogs, cats, and other pets can be just about as expensive. We know a guy who spent $900 on vet bills after his dog was struck by a car and began bleeding from his mouth — only to find that the pooch had suffered only a broken tooth. One way to reduce pet owner pocketbook pain is to purchase the essentials at a Family Dollar Store. Canned dog food is priced four for $1. Bags of name-brand food, such as Purina, for a few bucks a bag. Various packets of rawhide sticks sell for under $2, along with food bowls and various other sundries. Most pets would give this store two thumbs up, if they had thumbs.