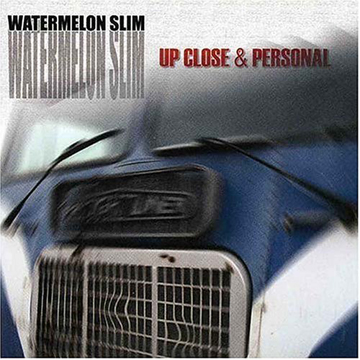 A D V E R T I S E M E N T
A D V E R T I S E M E N T
Watermelon Slim
Up Close & Personal\r\n(Southern Records Group)
By Tom Geddie
Watermelon Slim writes, sings, and plays the blues apparently not in the hopes of redemption but of staying even. His are the timeless subjects of work, women, and mortality.
Slim, whose real name is Bill Homans, seems older than his fiftysomething years. The son of a prominent Boston lawyer and civil rights activist, Slim has a master's in political science and two bachelor's degrees. Throughout his life, he's been a working man — truck driver, factory worker, and farmer — as well as an activist and musician. Over the years, he's shared stages with Bonnie Raitt, Robert Cray, John Lee Hooker, and Country Joe McDonald. But a heart attack in 2004 convinced him to turn to music full-time. In late 2005, Up Close & Personal earned him a W.C. Handy Award for best new artist debut — the disc is a consistently fine, uncluttered collection of 18 songs, including 14 originals. The rest are covers of tunes by Muddy Waters, Howlin' Wolf, Sonny Boy Williamson, and Fred McDowell.
Slim sounds like an old-timey, traditional acoustic-blues shouter. He's a patient singer, and his voice is expressive and has lots of character — he frequently slurs his words, and, as the air passes through the space where his front teeth ought to be, he whistles his "s"'s. In his woe-is-me voice, he can turn a mid-tempo number like "The Whaler's Battle Cry" into a contemplative, eerie, nearly 10-minute talking-blues meditation. Slim also plays the dobro and harmonica as if he were born to them.
Up Close & Personal doesn't mimic the blues. The c.d. fully respects the somewhat nebulous boundaries of the genre while dragging them into the 21st century. —