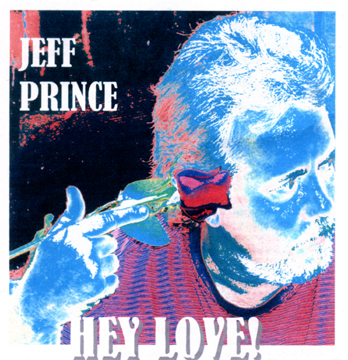 A D V E R T I S E M E N T
A D V E R T I S E M E N T
Jeff Prince
Hey Love!\r\n(Reload Record Company)
By Tom Geddie
Jeff Prince is half of the PrinceRodriguez duo that's been mixing originals and covers, rock, country, blues, and soul around the Fort Worth area for about 20 years and released its debut c.d. recently. On the sincere, low-budget Hey Love!, the singer-songwriter and guitarist does his own thing.
Prince wrote seven of the 10 songs and co-wrote the other three. His catchy, inspired songcraft nicely complements his often unabashedly florid poetic lyrics — familiar images of champagne and roses, rain on windows, and burning candles.
The album is sort of conceptual in its various explorations of love — of the familial, romantic, and fraternal kind. On the opener, the title track, Prince observes a magic night in which a couple eventually waltzes and tangos "in sheets all a-tangle." The c.d. begins to reach its high point a little more than halfway through when "On the Highway" Prince finds himself a thousand miles from home and his love. A straightforward road song, it's followed by the dramatic, revenge-filled "Rage" and then "Higher Walls," a smooth ballad about reluctantly falling in love again. On the bouncy c.d.-closer, "Last Call," Prince and producer James Michael Taylor find themselves in a bar ordering another round.
Prince's singing begins somewhat toward the high end of the register, and, like the music veteran he is, he knows his limitations — he seldom ventures beyond his range. The instrumentation is thin and minimal but well-orchestrated and performed: Prince plays acoustic and electric guitars and electric bass, while producer Taylor adds background vocals, viola, squeeze box, and whatever other sounds come along. The adroit studio mixes bring a little more moody fullness to the project. For the sparse, limited-bucks production that it is, Hey Love! delivers.
For more information, visit www.princerodriguez.com.