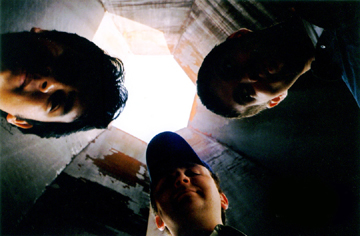 Though still eminently poppy, Briley is more concerned with slightly complex songs than verse-chorus-verse ditties.
A D V E R T I S E M E N T
A D V E R T I S E M E N T
Time For Change
Indie rockers Briley solidify their new, minimalist line-up with a new disc.
By JENNIFER ROBERTSON
Much has changed since the four original guys of Briley met at East Texas Baptist University and decided to try the band thing. For one, they're no longer a quartet but a trio. For another, they're based in Fort Worth. For yet another, they're capable of making a living off their music.
Their latest c.d., Thanks for the Time, was released in March, and the disc represents a band that's finally stopped mimicking its influences and has begun developing its own sound.
Briley, whose name comes from a university official they loved to traumatize, started out like most other university rock bands — answering the call of the battle of the bands. From an inauspicious beginning with cover songs, the bandmates soon moved on to writing their own. Stepping out was a no-brainer — what else are two music majors and their two buddies gonna do in East Texas?
The first to graduate, guitarist Donnie Williams took a job offer at a huge church in north east Tarrant County. Guitarist Jeff Stark, bassist Chris Brockhan, and drummer Chris Cox soon followed him to the Fort Worth area — smart decision No. 1. "When we got here in 2003," Stark said, "that was the beginning, when we really got started."
What the transplants found was a cosmopolitan music scene that was receptive to new bands like theirs. The Briley musos quickly befriended musicians in several other groups, including Goodwin and Denton's Halto Alto; released a three-song e.p. (Dreamless Nights); and made a commitment to music as well as to their future. "We came to the conclusion that we don't want to be left in the dust with our careers," Stark said. "We want to move on in our lives, we just want to be playing in a band at the same time." Well, most of them did. One member was making it clear he was moving out.
But we're getting ahead of ourselves. In the meantime — shows, shows, shows. Briley played everywhere. A gig at Six Flags here, an opening gig for new friends Goodwin there. The Briley boys were clearly committed. They decided they needed to record a full-length, to be sold and not to be given away at shows, like the e.p. But everyone knew Williams' interest was beginning to wane. "Donnie was ready to go," Cox said. Stark added: "But we wanted to record the full-length, and everything we had was geared toward the two guitars." So Williams agreed to stay around long enough to finish the recording.
The young and bold Briley members thought nothing of just picking up the phone and calling Jon Congleton, producer extraordinaire and mastermind behind the avant-rock band the pAper chAse — smart decision No. 2. "He understands the limitations of a local band," Stark said. "The most important thing he did was get the most [value] for our time."
Though the c.d. marked the band's first time in the studio, it was more than just a learning experience. Most of the songs are strong, pop-punk-oriented rockers, with just a tinge of indie-ish emo.
After the c.d.'s release in early 2005 and Williams' departure, the band dynamics changed. Stark had to play his guitar in an almost wholly different manner to make up for the thinner arrangement. The result was a band that focused less on neatly structured songs and more on soundscapes, the kind of stuff that's captured nicely on Thanks for the Time.
After taking months to rework and enlarge their catalogue of songs and practice a lot, Briley has just signed to start-up San Antonio label, Ellenchild — smart decision No. 3. Since the label's just getting off the ground itself, there's an eagerness on the label's part to begin work. Stark said he and his bandmates will continue doing what they can to build the Briley brand — and also help the North Texas scene. The Briley boys are active supporters of the Fort Worth Arts Consortium, a nonprofit organization devoted to promoting the arts — all of them — within the boundaries of the 817 area code. "The music side is trying to promote a stronger scene than, say, Dallas ... where all these bands come through and play," Cox said. "Fort Worth has plenty of great venues here. We're just glad there are people out there that want to help out and realize the importance of having a strong community. As musicians, we welcome that."
The band's next show is on Dec. 16 as part of Experience the Art of Music, FWAC's annual fundraiser. For more info, go to www.thisisbriley.com.