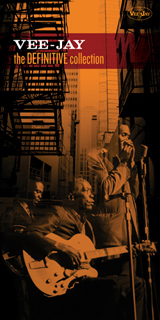 A D V E R T I S E M E N T
A D V E R T I S E M E N T
Various artists
Vee-Jay: The Definitive Collection
(Shout Factory)
By Tom Geddie
For nearly 13 years, from the mid 1950s to the mid 1960s, Chicago-based Vee-Jay rivaled both Motown and Chess in defining urban blues and soul — and helped lay the foundation for the Southern soul and gospel that Stax and Atlantic eventually popularized.
The 86-song, four-disc set Vee-Jay: The Definitive Collection shares straight-ahead blues, doo-wop, R&B, and soul with a sprinkling of The Staple Singers, the original Blind Boys of Alabama, and the original Five Blind Boys of Mississippi.
Radio DJ Vivian Carter and record-store owner Jimmy Bracken got started by borrowing $500 from a pawnbroker to record The Spaniels' "Baby It's You." The duo then found the often-slurred harmonica blues of Jimmy Reed ("Big Boss Man," "Bright Lights, Big City"), who was working in a slaughterhouse at the time, and then, in no particular order, Jerry Butler ("For Your Precious Love"), Betty Everett ("The Shoop Shoop Song"), John Lee Hooker ("Boom Boom"), Elmore James ("It Hurts Me Too"), Little Richard ("I Don't Know What You've Got But It's Got Me"), and Joe Simon ("Let's Do It Over"), among others. Vee-Jay also was the first black-owned label to sign a white act, The Four Seasons. All of the aforementioned names, and more, are represented here.
The songs are presented mostly chronologically. The sound in the early ones is way too hollow, not surprising since they were recorded more than 50 years ago with limited technology.
Vee-Jay also is noted as the American label that released the Beatles' first album and first few singles here in 1962, two years before the band's big American breakthrough. None of those songs are on these discs, although much of this collection is at the root of the Beatles' early work. Vee-Jay eventually lost the Fab Four — the label couldn't offer them what EMI's American imprint, Capitol, could. (Capitol had its shot at the Beatles before Vee-Jay but rejected them.) As a nation, our memories are often too short.