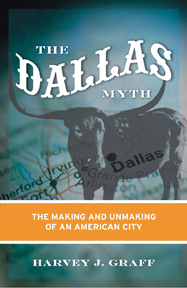 The Dallas Myth: The Making and Unmaking of an American City
by Harvey J. Graff. $34.95
University of Minnesota Press
388 pps.

A D V E R T I S E M E N T
A D V E R T I S E M E N T
Fear and Loathing of Big D
In his new book, historian Harvey J. Graff has nary a kind word for our neighbor to the east.
By JIMMY FOWLER
Fort Worthians who've followed the longtime rivalry between Cowtown and Dallas will get a shot of schadenfreude from The Dallas Myth: The Making and Unmaking of an American City. Author Harvey J. Graff lived in Big D for 23 years, teaching history at the University of Texas at Dallas before moving on to a professorship at Ohio State University. Although Graff insists that his long-researched urban analysis offers constructive criticism, the picture that emerges from The Dallas Myth is not flattering: If Dallas were a person, she'd be a desperately insecure twentysomething celebutante who leeches off the fame of more accomplished peers and believes that each fresh Botox injection conjures an entirely new identity.
The author didn't set out to write a straightforward history or a conventional biography of a modern city. He insists his is not a chronology but a "choreography" that moves critically through the city's public image and private identity (or lack thereof). Whatever you choose to call it, Graff's book is problematic. It's muddled in places, repetitious, and bogged down with the tedious graduate-school jargon of deconstructionist theory. The Dallas Myth can be as unwieldy and stumbling as the city it attempts to dissect. Still, when the criticism hits the mark, the sting is unmistakable.
With each well-documented chapter, the professor dismembers Dallas' reputation and its reality, examining each bloody chunk through a skeptical lens. Subjects that draw scrutiny include the city's self-promoting and self-justifying myths; the ruling class of business elites who assume that their profitable ventures automatically dovetail with the public's needs; downtown architecture that's counterfeited from other metropolises and inconveniently placed within the urban grid; and the authentic history of the place and people of Dallas, which is alternately neglected and distorted by city Brahmins on a regular basis.
Graff is fascinated by the contradictory founding myths of Dallas: that the city has no history and that it is somehow destined for greatness. CEOs, developers, and newspaper publishers have touted these illogical twin fables for decades as proof that private commercial interests — again, perceived as indistinguishable from the public good — have the irreproachable sheen of a divinely sanctioned mission. "Public/private partnership" is the slogan that rules the city. Using taxpayer money for a pricey new arena with an under-trafficked restaurant/retail space or for a specious hotel next to the convention center is a de facto part of the city's version of manifest destiny. If you're a critic of such projects, well, you're just not believing in the city's always imminent "world-class" destination.
As Graff notes throughout The Dallas Myth, the lack of an official history can lead to some very peculiar beliefs about the past. In humdrum reality, Dallas began as a market town in the mid-19th century. Having snagged commercial railroad lines by the 1870s, it soon was playing a pivotal role in the regional trade and distribution of cattle, cotton, and wheat. (The fact that the city itself produced none of the resources that helped earn its reputation suggests the identity crisis started early.) But in the persistent and bizarre fantasy of some city leaders, Dallas was once a port city connected to the Gulf of Mexico via the aqua-fare of the Trinity River. The effort to make that connection a reality was abandoned by practical planners way back in the 1890s. The "port city" dream has been implicitly revived to justify the Trinity River Corridor Project, whose creators have started construction on an authentic Bridge To Nowhere designed by glamorous international architect Santiago Calatrava. Dallas may be a whore, but at least it has exquisite taste in designers.
Turning to downtown proper, The Dallas Myth snarkily catalogs further absurdities. Graff diagnoses the city with an addiction to "monumentalism": buildings that look big and important and that bear the imprimatur of revered architects but that aren't the least bit user-friendly. Downtown building patterns, he insists, have inadvertently turned city streets into wind tunnels that batter pedestrians on blustery days, as any longtime downtown Dallas worker will verify. The plaza of the I.M. Pei-designed City Hall was haphazardly angled so that daytime visitors who wished to enjoy the site baked in the Texas sun. "City Hall's grand plaza was designed as an architectural statement, not a people-friendly place," Graff wrote. "Defying architectural standards, the plaza occasionally turns rural for recreation, hosting mountains of dirt for weekend tractor and truck-pulling contests or tons of sand for summer beach parties hosted by popular radio stations." Me-ow, Professor Graff!
The author should've deployed this entertainingly bitchy tone more often, because The Dallas Myth too often plods along with anemic sentences like: "Through a complex social process, myth is translated into ideology, and ideology underlies promotion, action, and justification." That's ivory tower-ese for "Dallas thinks its shit don't stink." In that respect, as the author notes, Big D isn't different from many major U.S. cities. It has just grotesquely exaggerated the same problems — suburban sprawl, a coterie of business elites driving the entire city's future, an eagerness to jettison history for fast cash — for a lot longer.
Indeed, a creeping Dallas-ism can be detected throughout North Texas. Mr. and Ms. Working Class Arlington, have you purchased your skybox in Jerry Jones' stadium yet? Does anyone really know what Fort Worth will look like on the downward curve of the Barnett Shale-Chesapeake boom? Harvey J. Graff insists that Dallas has forever harbored an obsessive desire to be the leader of something. Maybe the city has finally earned its brass as head canary flying into the coalmine of the Texas economy.