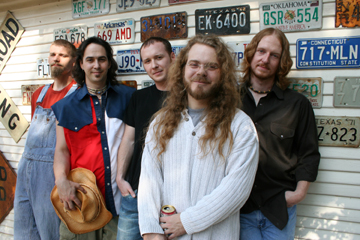 A D V E R T I S E M E N T
A D V E R T I S E M E N T
The Peach Truck Republic
Barnboard Blonde\r\n(Peach-Key Records)
By Tom Geddie
The Peach Truck Republic's Barnboard Blonde is an organic mix of southern rock and the blues without ever being exactly either of those things. It's also kind of somewhere between folk and alt-rock. You may know Peach Truck as a local jam band that's been around forever (about 10 years), but you might not even recognize 'em on this odd, enjoyable full-length. Introducing then defying its obvious influences — including the Allman Brothers — Peach Truck delivers a dozen concise, disciplined songs in about 45 minutes.
Founding member and guitarist Eddie Hord is gone. Guitarist Wes Dismuke remains, and the sound has become a little more diverse, a little less guitar driven. Jerry Jewell on bass, Evan Jones on percussion, and Justin Cook on keyboards have expanded roles. All four are masters at the harmony vocals that help define the band's unique sound.
"Laurel and Oleander" is a nice, bass- and percussion-bedded instrumental with electric guitar lines that slowly build from a lull to a trance to tension before finding some sort of release. "Son Deep" applies a sort of gospel-bluegrass vibe to a secular, toe-tapping love song. The bass groove and harmonies kick "Higher Ground" to the next level.
Lyrically, Barnboard Blonde plays with rich Christian imagery without praising or condemning the faith, thus adding to the c.d.'s appealing intrigue. —