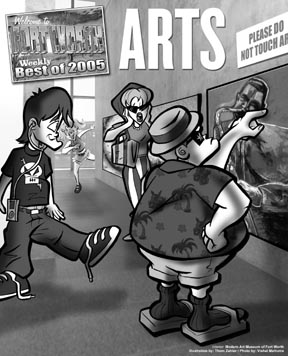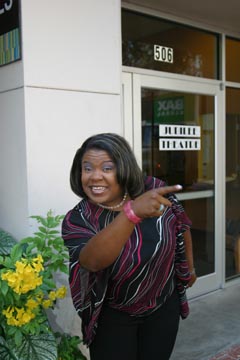 Melanie C. Bivens' performance in Harlem Blues was a show-stopper.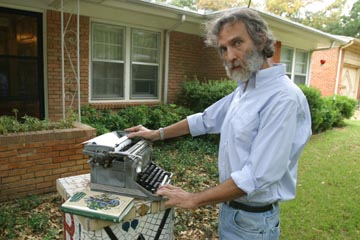 Author Mike Nichols' book inspired a break-in.
A D V E R T I S E M E N T
A D V E R T I S E M E N T
ARTS
Outdoor Cultural Event
Readers' choice: Main Street Arts Festival
Staff Choice: Fort Worth Symphony Orchestra's "Concerts in the Garden"
The downtown arts festival attracts more people, but the quality ranges from A to Z. And while Ballet Concerto's brief summer outing is always satisfying, the Fort Worth Symphony puts on three weeks of top-notch programs in the Botanic Garden, highlighted by spectacular fireworks each evening.
Gallery Art Show of the Last 12 Months
Readers' choice: Bras for Breast Cancer: Dance of Life by various artists, Firehouse Art Studios and Gallery
Staff choice:Bęte Noir by J.T. Grant, William Campbell Contemporary Art
In a rather bright season in which many of Tarrant County's best visual artists were occupied by the Terminal D project at Dallas-Fort Worth International Airport, J.T. Grant's Bęte Noir was thankfully as harrowing as the worst nightmare. From the Texas-based artist's hyper-realist brush came horizontal expanses of bruised storm clouds, a pregnant woman with a box for a head, and Dubya as a saint, though one with a coat hanger for a halo and his raised fingers crossed instead of signaling for peace. You can bet that after seeing the rather small exhibit, more than a few viewers felt as if they had done something very, very bad.
Museum Art Show of the past 12 Months
Readers' choice: Robert Bechtle: A Retrospective, the Modern Art Museum of Fort Worth
Staff choice:Dan Flavin: A Retrospective, the Modern Art Museum of Fort Worth
Different exhibits are special for different reasons. Some get their power from history. Others, from aesthetics. Still others, from history and aesthetics.
Dan Flavin: A Retrospective, at the Modern, had everything going for it — history, aesthetics, and, yes, even beauty. Known largely for his work in fluorescent light, the late conceptual artist would have loved the way his stuff was hung. By separating the pieces far enough from one another, the Modern's curators allowed each work to maintain its visual integrity, and the dim house lighting was just the right touch. The message that conceptual art can often be as warm as it is frequently icy came across loud and clear — and bright.
Performing Arts Organization
Readers' choice: Stage West
Art Gallery
Readers' choice:Artspace 111, 111 Hampton St, FW
Staff choice:(tie) Firehouse Art Studios and Gallery,
4147 Meadowbrook Dr, FW; Heliotrope, 3416B Bluebonnet Cir, FW; the
Warehouse Gallery,
1324 E Lancaster Av, FW
The number of serious galleries in Fort Worth is pretty much the same as it was 15 years ago — a handful. Interest in serious art may not be increasing, but it doesn't seem to be shrinking, either. Serious art lovers and appreciators should not fear the recent boom in populist, community galleries, including the Firehouse Art Studios and Gallery, Heliotrope, and the Warehouse Gallery, in addition to several non-traditional spaces where malnourished art is popping up. Since many of their artists aren't ready for William Campbell Contemporary Art or Gallery 414, they need galleries like the Firehouse, Heliotrope, and the Warehouse — and so do we.
Local Visual Artist
Readers' choice:Nancy Lamb
Staff choice:Todd McCollister
Though now a resident of scenic upstate New York, TCU grad Todd McCollister gets the nod this year for not only continuing to produce exceptional multi-media sculptural work but for sealing his ties to the region by participating in Gallery 414's recent 10th anniversary group show. What you gotta love about McCollister's pieces is that, while they're almost always conceptual and borderline academic, they're never bereft of beauty in the traditional sense and whimsy.
Dance Troupe
Readers' choice: Bruce Wood Dance Company
Staff choice: Texas Ballet Theater, Metropolitan Classical Ballet, Bruce Wood Dance Company
The area's three major dance companies explore different corners of the dance world with widely differing budgets, but they'll all excellent. TBT mounts sumptuous productions of the classics choreographed by artistic director Ben Stevenson, MCB offers smaller works from the Russian repertory and ballets from the George Balanchine legacy, and BWDC shows off the genius of founder-choreographer Bruce Wood. Each brightens the dance scene equally well.
Theater Troupe
Readers' choice: Jubilee Theatre
Staff choice: Amphibian Productions
There's no shortage of experimental theater troupes providing challenging, unorthodox fare for Fort Worth audiences, but this company with one foot in TCU and the other in New York has consistently put on the best productions, from their deeply unsettling theater-in-total-darkness 2003 show Julia Pastrana to the delightful Matt & Ben this past summer.
Arts Leader
Readers' choice: Joe Dulle, longtime theater angel
Staff choice: Darren Woods, Fort Worth Opera general director
It's taken four years, but general director Darren Woods finally has the Fort Worth Opera in the black. He inherited a $300,000 deficit, a fractured board of directors, and an eroded audience base. He's brought back the audience and has worked overtime healing the board's differences. This is the third company he has rescued from fiscal and artistic decline.
Production by a Local Theater
Readers' choice: Hedwig and the Angry Inch, The Other Half Theatre Experience
Staff choice: Harlem Blues, Jubilee Theatre
Director
Staff choice: Rudy Eastman, Harlem Blues, Jubilee Theatre
Female Actor
Readers' choice: Dana Schultes
Staff choice: Melanie C. Bivens, Harlem Blues, Jubilee Theatre
The unexpected loss of Jubilee Theatre founder Rudy Eastman has left a hole in the Fort Worth arts scene that may be impossible to fill. The writer-director's last musical production, Harlem Blues, was a revival of an Eastman-Joe Rogers show that had originally been staged in 1990. It provided an effortless showcase of what a joyous, subtle, and learned director he'd become over the past 15 years. It also fused his two great gifts, storytelling and teaching, into a spiffy revue exploring the enormous impact that the great composer W.C. Handy had on 20th century American music. Eastman created a loose plot involving the shenanigans at a Harlem bordello during Prohibition and the tragic trajectory of a woman (Eleanor T. Threatt) who loved gangsters too much. As the brothel's business manager Belle, Melanie C. Bivens managed to be a bright light in a cast of luminaries.
Male Actor
Readers' choice: Robert Rain, Hedwig and the Angry Inch, The Other Half Theatre Experience
Staff choice: Gary Moody, The Retreat from Moscow, Circle Theatre
The disintegration of a long-term marriage is fairly standard fodder for the theater, but The Retreat from Moscow, problematic though the script is, felt uncommonly accurate in its distribution of blame between both parties. Gary Moody as the easy-going, tea-sipping professor husband was the ambivalent, some might say passive-aggressive soul of the piece — a perfect match for the confrontational personality of his wife (played by Elizabeth Rothan) yet still someone who decides to split suddenly and without regret when he feels the arrangement has become a sham.
Show at Bass Hall in the Last 12 Months
Readers' choice: Movin' Out
Staff choice: Alvin Ailey Dance Company
The venerable dance troupe left a Fort Worth crowd elated by a brilliant show featuring the company's Revelations, set to traditional spirituals, and Ulysses Dove's ferociously abstract Episodes. The highlight of the evening, though, came with David Parson's Shining Star, a suite set to songs by Earth, Wind & Fire that combined soul and silky elegance. The troupe's iron discipline and theatrical flair lit up a Monday evening in March.
Classical Music Performance (Individual)
Readers' choice: Shields Collins-Bray
Staff choice: Renee Flemming at Bass Performance Hall
The darling of the opera circuit, Renee Flemming looks good, dresses glamorously, and sings like the divas of old. She's best in intimate songs that take you through the emotional depths that many singers today pass over.
Classical Music Performance (Ensemble)
Staff choice:Passions of the Homeland series, Fort Worth Symphony Orchestra
The marathon four-concert journey through the music of Eastern Europe, presented in Bass Performance Hall earlier this month, showed a more secure orchestra, especially the horns and trumpets, with a glistening new sound that far surpasses anything heard before. Conductor Miguel Harth-Bedoya has built his group into a first-class ensemble that's second to none in its league.
Book by North Texas Author Published in Last 12 Months
Staff choice: Balaam Gimble's Gumption by Mike Nichols
Balaam is the best and dad-gum funniest book written by a Texan since Kinky Friedman gave us 'Scuse Me While I Whip This Out. Fort Worth native Nichols' work is a marvelously written, gently satirical tale of part-time handyman Balaam Gimble, a Don Quixote in overalls who tilts at the windmills of greed and change in a fictional small Texas town from behind the wheel of his rusty Frankenford. Winner of the prestigious Texas Institute of Letters award for the best humor book by a Texas author, it's loved even by thieves. When Nichols' garage was broken into recently, the only things taken were a couple of dozen Balaams and an old manual typewriter. Copies can be obtained from Amazon, Borders, or the back of a pickup at a flea market.
Local Filmmaker
Readers' choice: Cliff Richhart
Staff choice: Matt Tompkins and Julio Cedillo
Based on the killings in the Mexican village of Ciudad Juarez, Matt Tompkins and Julio Cedillo's The Fragility of Seconds stands to be a filmic gem — not only because it looks good (based on a small sampling of footage), but because it's got Tompkins and Cedillo in the driver's seat. Tompkins has gone from doing voiceover work to recently wrapping up a lead role in the upcoming, locally produced revenge flick Killing Down. Cedillo, meanwhile, has graduated from the messenger boy in The Alamo to mugging for paparazzi at the Cannes Film Festival, after his performance as the titular character in Tommy Lee Jones' directorial debut, The Three Burials of Melquiades Estrada.
Locally Made Film
Readers' choice: Equilateral
Staff choice: Mardi Gras: Made in China.
The movie's locations are New Orleans and Fuzhou, China, but David Redmon's documentary was conceived when he was a student at TCU, and it was edited in these parts. The Mansfield native followed some cheap plastic Mardi Gras beads to the Chinese factory where they're made by young girls for pennies an hour. The film's snapshot of the global economy at work caught the eye of the Sundance Film Festival and us, and it will be one of the main attractions at the Modern's festival next week.
Dance Performance (Solo)
Readers' choice: Doug Hopkins (Bruce Wood Dance Company)
Staff choice: Olga Pavlova (female), Anatoly Emelianov (male) (Metropolitan Classical Ballet)
In Texas Ballet Theater's Swan Lake this year, Enrica Guana Tseng was a striking White Swan, and Carolyn Judson was a spitfire of a Black Swan. But Olga Pavlova broke your heart as the vulnerable Piaf in a fully realized characterization of the French chanteuse in Metropolitan Classical Ballet's production of Eddy Toussaint's Edith Piaf. Likewise, Anatoly Emelianov gave his best performance for MCB in a revival of George Balanchine's Prodigal Son. We knew his great leaps and turns from before but not his compelling dramatic gifts.
Dance Performance (Ensemble)
Readers' choice: Bruce Wood Dance Company's Liturgy
Staff choice: Bruce Wood Dance Company's Liturgy
Performing its namesake's ballets with polished energy, with individual solos and duets popping up here and there, the company works primarily as a well-oiled unit. Wood's latest work — Liturgy, a setting of five sections of the Bach B Minor Mass — is a powerful foray into florid, Baroque musical times. Few choreographers can handle this complicated, contrapuntal style with the finesse and awareness that Wood brings to the music.
Overall Arts Performance
Readers' choice: Fort Worth Symphony Orchestra
Staff choice: Swan Lake, Texas Ballet Theater
Putting on Tchaikovsky's four-act classic with all of its scenic demands, specialty dances, corps challenges, and principal dancer requirements is a daunting undertaking. TBT mounted a first-rate Swan Lake, one that satisfied on all levels.
Outdoor Art
Staff choice:Fort Worth Public Art's Long-Range Plan
Working closely with individuals and city government, Fort Worth Public Art has drafted a long-range plan that includes eight neighborhood projects near potential sites for public art. Though not yet adopted by city council, the plan is smart — and sorely needed. Other cities half the size of Fort Worth have more, and more well-crafted, public art. It's about time we entered the 21st century.
Film Series
Readers' choice: Q Cinema
Staff choice: 1919 Hemphill
We'd feel better about this choice if this weekly series didn't occasionally disappear. Still, for local lefties, this film series on most Sundays is the place for documentaries that expose the secret dealings of big conglomerates and the White House.
Movie Theater for Seeing Art Films
Readers' choice: Magnolia at the Modern
Staff choice: TCU Lecture Hall 4, Sid Richardson Bldg, 2955 S University Dr, FW.
Some find the screening times a tad inconvenient (6:30 p.m. on Wednesdays), but this venue for the nearly year-round KinoMonda film series has comfortable seats, food on most days, and a great selection of foreign movies. Best of all is the admission price of zero.