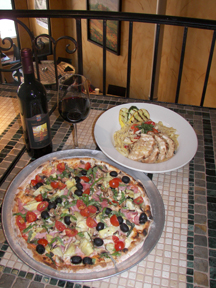 Flanked by a plate of fettuccine primavera with chicken and some vino, Pizza Capricciosa is a Campania specialty. Photo by Scott Latham
Campania Pizza and More
291 Grand Av, Southlake. 817-310-3116. 11am-10pm or later daily.
A D V E R T I S E M E N T
A D V E R T I S E M E N T
Serious, Neapolitan
Out in the faux authenticity of Southlake is a hyper-authentic slice of southern Italy.
By LAURIE BARKER JAMES
Campania, in the southwest corner of Italy, just above the toe of the "boot," boasts that thin-crust pizza originated in Naples, the region's largest city. In addition, the Neapolitans say they also created the calzone (basically, a pizza crimped into a half-moon and stuffed with ricotta cheese). So far, no word on their claiming to have invented the internet.
At Campania Pizza in Southlake, they take Neapolitan pie very seriously. The whole restaurant drips southern Italian countryside. Tile covers the floor, tables, and ornate front columns. There are balconies up and down the three floors of the impossibly big building in a back corner of the Southlake Town Center. You'd be tempted to shrug off the décor as merely being Southlake-y, until you realize that this place is the real, Neapolitan deal.
We started with a caprese salad as an appetizer: four rounds of tender, sweet mozzarella di bufala (literally, from the milk of water buffalo) over large slices of perfectly ripe tomatoes with impossibly fresh basil leaves. A sprinkling of other herbs and a touch of the kitchen's fruity EVOO completed the dish.
Most Italians don't eat their pizza the way it's cooked in America. If you were raised on Mr. Jim's or Pizza Hut pizza, you may be in for a shock — and not just from the prices. Campania offers one type of crust: thin. All of the pizza here is made with special Italian flour, using someone's secret Neapolitan recipe, and it's cooked in a searingly hot oak-wood-burning oven. The extreme heat of the wood and the short cooking time produces a pizza with a crunchy outer crust and soft center.
There are two kinds of pizza at Campania: the basica, with the traditional tomato sauce, and the Napoletana, which is sauced with EVOO and oregano. Dress either with your choice of toppings of the premium (Pecorino Romano, gorgonzola cheeses) or regular variety (cherry tomato, mushrooms, olives). You can also get 10 "gourmet Neapolitan pizzas" featuring Italian sausage, anchovies, eggplant, Italian tuna, and more.
We opted for a basica with mushrooms and olives. The perfectly crunchy crust was lightly sauced, with a generous amount of mozzarella, olives, and fresh mushrooms. Be advised: If you order toppings a la carte, Campania will add $2 per topping for a medium pizza, rendering the cost closer to the average gourmet pizza.
The Neapolitans are proud of their calzone, so we tried one. The note on the menu warns that the calzones are "quite large," and Campania is serious about that. We opted for the Luciano: ricotta cheese, basil, ham, mozzarella, and parmesan, to which we added Italian sausage. The rich ricotta was the perfect buffer for the spicy sausage, and the calzone could have served three hearty eaters.
Campania lets you build your own pasta dish with a choice of four kinds of fresh noodles and several different sauces. The pomodoro sauce on top of traditional spaghetti was chunky, almost like a salsa. It was a combination of sweet (tomatoes and basil) and spicy (hunks of cooked garlic and herbs). On the day we visited, Campania also featured a fettuccini special with an herbed white wine sauce, zucchini, yellow squash, and parmesan. The larger noodles soaked up the light, flavorful sauce perfectly.
The panino sandwich is made with pressed traditional Italian bread. We picked the vegetarian Doso — cherry tomatoes, basil, oregano, and more buffalo mozzarella — from among the seven versions. The crispy bread was enhanced beautifully by the barely warm tomatoes as well as a shot of red pepper in the olive oil.
Finally, Campania makes a killer Caesar salad, maybe the only thing on the menu that isn't authentic Neapolitan. Campania's version of the salad (created by an Italian chef in Mexico), features an incredibly creamy dressing, shaved parmesan cheese, and a generous serving of optional salty, Italian anchovy strips.
The only flaw in our lunch was the less-than-attentive service. However, we made several special orders or modifications, and everything came out as requested. After lunch, we wandered up to the third floor rooftop bar/seating area, an impressive locale, even if you're mostly looking at other rooftops or parking lots. The second-floor dining space featured hidden alcoves and an area that just screams "romance."
Campania is open daily for lunch and evenings until 10 p.m. or later, depending, they say, on what else is happening. They also deliver their pizza throughout Southlake. The pizza at their Dallas location on McKinney Avenue was voted "best of" by some magazine in Dallas, but don't let that stop you.