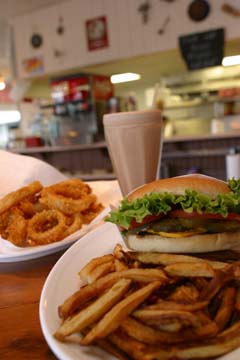 What a burger: Molly's does ground chuck patties right. The onion rings are killer, too.
Molly's Burgers and Shakes\r\nThird-pound burger $3.79\r\nFoot-long chili-cheese dog $3.99\r\nMilkshake $2.89
A D V E R T I S E M E N T
A D V E R T I S E M E N T
Food, Fast
Molly's Burgers and Shakes is a step above its competitors in simple American fare.
By PETER GORMAN
Molly's Burgers and Shakes
4720 Little Rd, Arlington. 817-563-4834. Mon-Fri 11am-10pm, Sat-Sun 6am-10pm. All major credit cards accepted.
The newly opened Molly's Burgers and Shakes has a lot going for it, from great burgers to a cheerful staff. There are also some bumpy spots, though you wouldn't know from the sizable crowd that always seems to jam the place.
Located in a strip mall on Little Road, Molly's is a large, comfortable space anchored by a big-screen television tuned to sports. The interior is simple red brick and white-painted wood with a large chalkboard menu hanging over the counter. The floor is spotless terracotta tile, and the four-tops are shiny laminate plastic. In other words, Molly's is a cut above fast-food joints in both appearance and cleanliness — and with better food, too.
The plusses begin with the burgers. Served in either third- or half-pound sizes, these juicy bad boys are made of excellently broiled, freshly ground chuck. They come on either white or wheat buns with the usual fixin's (including mushrooms and nicely crunchy dill slices) and, for a little extra, cheese, bacon, and chili.
On a recent visit, four variations of burgers all turned out to be top-notch. The cheese was ordinary, sliced American, but the bacon was generous and fresh and the burgers themselves were moist and hot. (Tip: Add mushrooms, jalapenos, and A-1 sauce.)
A foot-long chili-cheese dog was also tasty. While the tube itself appeared to be high-grade store-bought, it came out piping hot and got bumped up a notch by the topping. Who knows how it would have tasted alone in a bowl, but covering Molly's foot-long, the chili was light and flavorful rather than thick and overpowering. One minor gripe: The 12-incher is served between two normal-sized, flavorless buns that overlapped in the middle, turning the center bite into a crumb-y mess.
A real surprise — in a good way — was the side of onion rings. Made from thick-cut white onions coated in an unusual, light breadcrumb-cornflake mix, the rings were crunchy, not greasy, and sweet but with enough salt and pepper to give them a double-edged bite.
The shakes were equally delicious. To people whose tastebuds have grown accustomed to those super-thick, fake ice cream disasters, one of Molly's will be a real eye-opener — Blue Bell ice cream, milk, syrup, and nothing else. It's not too thick, not too thin, and loaded with lots of real, rich flavor. Sweets lovers may also want to sample the brownies — not too dense, with a non-flaky consistency and lots of chocolate zip.
And then there were the fries. Seasoned with salt, pepper, and brown sugar (!), and billed as "home-cut," they were among the blandest, mushiest, most forgettable fries ever served in Cowtown. Maybe Molly's got stuck with a bad batch of potatoes. What else could explain the success of the other, possibly more complicated dishes and the fries' failure?
As forgettable though not nearly as awful was an order of fried okra, one of the few non-homemade items on the menu. Fans of this dish would be better off either making it at home or swinging by Denny's.
Molly's owner, John Conn, has nearly 20 years in the restaurant business, including four as the owner of the now-closed Bellagio Italian Bistro in Fort Worth. Surely, he'll figure the fries out soon enough.