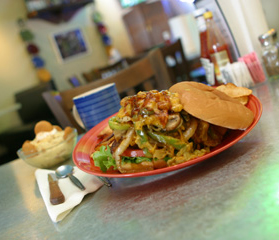 The new Tommy's, on West Seventh Street, doesn't quite live up to the local mini-chain's great reputation.
Tommy's Hamburger Grill\r\nHamburger $5.29\r\nGreen chili cheeseburger $5.99\r\nChicken-fried steak $6.99\r\nSlim cheeseburger $4.79\r\n(5 cents on Tue)
A D V E R T I S E M E N T
A D V E R T I S E M E N T
Strike Three?
Tommy's Hamburger Grill tries another location near downtown Fort Worth.
By DAN MCGRAW
Tommy's Hamburger Grill
3431 W 7th St, FW. Sun 11am-8pm, Mon-Sat 11am-9pm. All major credit cards accepted.
Though a meal of hamburger with fries is an American culinary staple, there's no consensus on what constitutes a great 'burger-and-fries experience. At a truck stop in the middle of nowhere, maybe it's the oceans of grease. At a decent sports bar, maybe it's the spices that give just the right kind of kick that seemingly can be quenched only by copious liters of beer.
At Tommy's Hamburger Grill, the benchmark is tasty half-pound burgers served with fresh-cut fries in baskets. With locations in Fort Worth and Lake Worth, the 20-year-old family-run business is neither kitschy like Fred's Café nor highfalutin like the Chop House but is generally regarded as one of the better burger joints in Tarrant County.
Tommy's newest location, in Chicotsky Center on West Seventh Street, is actually where another branch of Tommy's was several years ago. It's in the same spot that housed Shiraz, another failed eatery.
Like other established restaurants, Tommy's has a reputation to uphold. The bad news is that the new location isn't helping. On several recent visits, the burgers were often too big and sloppy, the fries were sometimes so greasy they fell apart and so undercooked they tasted chalky, and the service was inconsistent. Even though on every visit my guests and I were the only people in the place, servers pretty much watched tv while our drink cups stayed empty.
The wait staffers also seemed a little green. On a Saturday night visit, we ordered a mushroom Swiss burger but didn't learn until about 10 minutes later that the place was out of mushrooms. (How can you run out of mushrooms at 5:30 p.m. on a weekend? Why does it take 10 minutes to find out?) We changed our order to a green chili cheeseburger. Sounds great, but the oversized patty kept falling apart, and the fresh lettuce and tomato added next-to-no flavor. But the worst part was the titular topping, something like chopped chili pepper relish. Even after I scooped some off the bun and into my mouth, I couldn't detect any taste. I wasn't expecting a firecracker to go off in my mouth, but a teensy-weensy sizzle of spice would have been nice.
Even Tommy's successes were tainted. The chicken-fried steak was awesome — the cream gravy wasn't lumpy but had a wonderfully thick consistency, the meat was chewy and juicy, and the breading was perfectly crunchy. The menu said the dish came with two veggie sides, but all Tommy's had on the night of my visit was corn — and it seemed as if it came straight from a freezer bag. So instead of two veggies, we got frozen corn and fries.
Which brings us to the fries. Some restaurants like to take real potatoes, slice them into planks, and then deep-fry them. Delicious? Yes. Easy? No. These kinds of fries have to be deep-fried twice: once, to soften them up, at 300 degrees; then, after cooling down briefly, once more, to crisp the outside, at 375 degrees.
At Tommy's you expect fresh-cut fries, but they were uniformly horrible on every visit but one, when they were crisp and a little stringy.
In addition to the CFS, the other stand-out dish also happened to be the cheapest. On Tuesday nights, when you order a regular-size burger, you can get a Slim Burger and potato chips for five cents. No bigger than a hockey puck and capable of being held in one hand, Tommy's Slim Burger was juicy and flavorful. Little burger with chips? Great. Big burger with greasy fries? A flavorless mess.
Thanks to the previous owners, who did some serious remodeling, the interior of this Tommy's is beautiful. Apparently the restaurant is taking the hoity-toity influence of the Cultural District — and next-door neighbor Michael's — to heart: Though Tommy's is essentially a simple burger joint that serves food in baskets and doesn't offer anything for more than $8, the place now has a wine list and wonderful art by photographer B.J. Lacasse for sale on the walls. (Some pieces are going for $1,250.)
Maybe therein lies the problem with the new Tommy's — they're paying too much attention to what the place looks like rather than what's going on in the kitchen. l